In the fourth quarter of 2014, the Duke University/CFO Magazine Global Business Outlook Survey examined the issue of diversity on boards of directors, focusing in particular on the inclusion of women on boards.
The survey found that nearly all of the companies in the survey (96%) report that they have no specific goals or guidelines for board diversity. In fact, diversity ranks only seventh among the attributes that U.S. firms are looking for in their next director, trailing the discrete set of skills, experiences, and capabilities shown in the chart below.
Among those companies around the world that have set diversity targets for boards of directors, nearly all fall short of their goals. Target percentages for women on boards of directors range from the 20s (Asia) to the 30s (United States, Latin America) to 40% (Africa, Europe). Target percentages for minority directors are nearly 40% in Africa, 20% in the U.S., and less than 15% in the rest of the world. Companies around the world fall about 10% short of both women and minority director targets.
It seems clear from the survey findings that finance executives focus more on the characteristics and qualities that they feel contribute more directly to corporate growth and success, such as previous board experience, familiarity with their industry, C-level experience, and out-of-the-box thinking.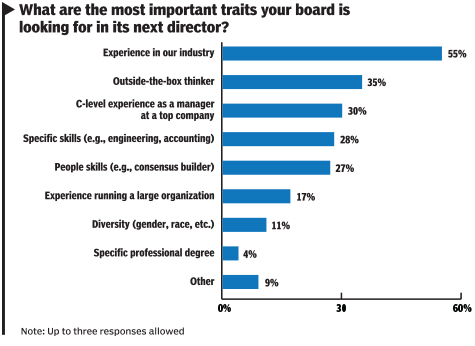 In expanding on their companies' thinking on board diversity, respondents most often made comments such as "we select board members based on qualification — sex and race have nothing to do with qualifications" and "minority status was not a first consideration — it would only be looked at if there were a tie in qualifications." Overall, executives' sentiments could be summed up by this respondent's response: "We select those best suited for the role regardless of gender."
One respondent, however, was offended by the line of questioning. "This is irrelevant and today it is insulting," he wrote. "Anyone on a board needs to be qualified, and if people are looking at gender, they should be out of business." Other finance chiefs stated that they feel no social or societal pressure to increase their boards' diversity. Commented one CFO: "We have felt no need to be politically correct. We will not be forced to accept someone who is not capable of working with our organization."
"No obstacles"
Half of U.S. survey respondents indicated that their companies have "no particular challenges or obstacles" to adding women to their boards, and another 17% said that they don't know (see chart, below).
One-third of U.S. survey respondents did cite challenges to adding women to their boards. Among this subset of respondents, the challenges cited most often were: too few available women with desired industry experience (41%), board experience (19%), C-suite experience (17%), and desired skill sets (14%).
In addition, nearly 30% of firms citing challenges indicated that, to appoint a woman, they must first wait for a current board member to retire, which could be a long wait. Indeed, according to a study of S&P 500 companies by executive search firm Spencer Stuart, board turnover in 2014 was just 7%. The average director tenure was 8.4 years, and only 16 S&P 500 companies had term limits for directors, Spencer Stuart found.
Focusing on Skills
When asked to cite the specific reasons why their companies had added their most recent female board member, U.S. respondents again tended to focus on specific skills and capabilities rather than on gender. Sample responses include "experience marketing in China," "IT expertise," "strong financial background," "character and ethics," "skills in investor relations," and "C-suite and industry experience."
Other reasons cited included "community leadership," "political strength," "influence in the industry," "business contacts," "cultural fit," " role at primary lender," "independence," "subject matter expertise," "common sense and wisdom," "high curiosity," "leadership skills," "corporate oversight experience," "marketing skills," "conceptual planning experience," "analytical thinking," "driven nature," and "people skills."
A number of respondents from privately held and family-owned companies said that they feel their board's gender composition is not a subject of scrutiny or concern. Several respondents from these companies noted that the most recent woman to join their boards was elected primarily because she was a family member, a significant investor in the company, or a current member of the firm's C-suite. One respondent did, however, acknowledge that her company's most recent woman director had been added, in part, because of the need to "demonstrate that the attractiveness of the company goes beyond older Caucasian males."
Other respondents simply noted that their board members are elected or are appointed in a political process. Two noted that Japanese ownership of their firm effectively prevented the inclusion of women on their boards.
The key takeaway from the Duke/CFO survey is that finance leaders are thinking in terms of finding board members that will help their firms manage their businesses in difficult economic times, generally without regard to the optics of board composition. Most respondents simply said they want the best board members, and therefore gender and ethnicity may remain secondary considerations in the selection of new board members.
Even so, the issue of board diversity remains in the spotlight, and progress toward more-diverse boards is evident. In 2014, according to a report by Institutional Shareholder Services, cited in Fortune magazine, almost 30% of new board nominees for S&P 500 companies were women — a 15 percentage point increase over 2008. The ISS study also found that for Russell 3000 companies in 2014, women constituted 22% of all new board nominees, double the 2008 count of 11%, noted Fortune.
Moreover, according to the Spencer Stuart study of S&P 500 boards, 30% of new independent directors in 2014 were women — the highest ever, noted the executive search firm, and "a demonstration that boards are more conscientious of adding diversity in the boardroom."