Most conference calls are too boring, plagued with technology problems, and lacking in physical context to hold anyone's full attention. But with the right adjustments, organizations can make such calls more relevant and productive, Rob Bellmar, Intercall's executive vice president of conferencing and collaboration, wrote in a Harvard Business Review blog post on Wednesday.
According to recent InterCall research, 82% of workers admit to focusing on other work while on a call, "along with other, less tasteful non-work distractions," raising questions about the productivity and value of the calls, Bellmar wrote.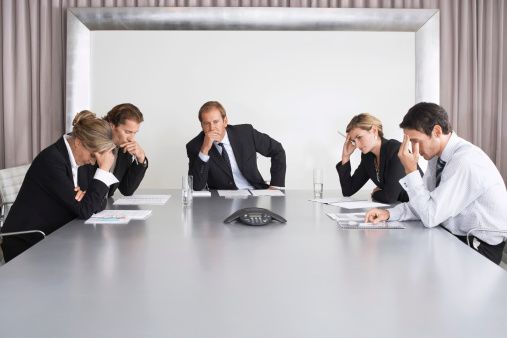 Some helpful tips: first, stop "striving for inclusiveness," and invite only the employees most relevant to a call's agenda, or stagger times for others to join the call when their topic is up for discussion. Second, start using video conferencing, mainly to figure out what may be causing employees to tune out, and also to lessen the chance they'll do other things while on the call.
Bellmar cited Wainhouse Research, which found that of the employees who use video and webcams during meetings, 74% like the ability to see colleagues' reactions to their ideas, and nearly 70% feel it increases connectedness between participants.
Physical conference rooms can also get makeovers, evolving from just long tables and phones to include white boards, projectors, flat panel screens, web cameras, and surround sound — all of which foster further collaboration, he wrote.
"That said, it shouldn't take 20 minutes for a presenter to figure out how to use a webcam; he or she shouldn't have to restart an audio or web-based call in order to distribute multimedia content, either," Bellmar wrote. "Digital accessibility works when it's inherent, intuitive, and seamless."
Bellmar cautioned that managers should also adopt a form of "meeting technology" etiquette. "Just because you can video conference from your iPhone before boarding a flight doesn't mean you should," he wrote.
Image: Thinkstock