The widening income gap is the single biggest impediment to economic growth, according to a report by the Organisation for Economic Cooperation and Development that urges policymakers to be more concerned about the "vulnerable lower-middle classes."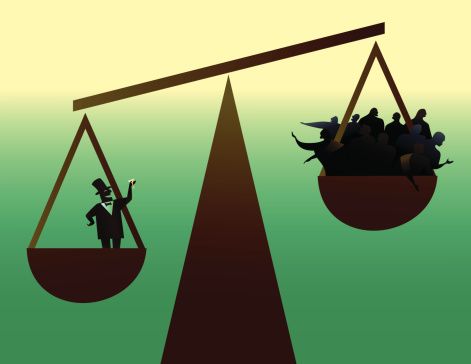 There is clearly a a "long-term trend toward higher inequality" in incomes across the OECD's 34 member countries, the report says. While in the 1980s the top 10% of earners had incomes that were seven times as large as those of the bottom 10%, that ratio rose to 9.5 by 2011.
Rising income equality translates into slower growth, the OECD theorized, because by hindering "human capital accumulation," it undermines education opportunities for disadvantaged individuals, lowering social mobility and hampering skills development.
"This compelling evidence proves that addressing high and growing inequality is critical to promote strong and sustained growth and needs to be at the center of the policy debate," OECD Secretary-General Angel Gurría said in a news release. "Countries that promote equal opportunity for all from an early age are those that will grow and prosper."
Most developed economies suffer from income inequality but the Wall Street Journal noted that there is a lot of variation among OECD members. In some northern European countries, the measure of inequality was much lower than the OECD average. In Sweden the number was 6.3, compared with 9.6 in the United Kingdom and 16.5 in the United States.
Inequality was highest in Mexico, where the top 10% of earners have incomes that are 30 times as large as those of the bottom 10%.
As far as addressing the disparity, the OECD said anti-poverty programs are not enough. Policymakers policymakers "need to be concerned about how the bottom 40% fare more generally," it recommended. "This includes the vulnerable lower-middle classes who are at risk of failing to benefit from and contribute to the recovery and future growth."
In the United State, Standard & Poor's recently reported that state tax revenues are taking a hit from the growing income gap in the United States, calling income inequality a "macroeconomic problem" that states cannot necessarily address through tax reform.
The OECD report is based on new research using the group's Income Distribution Database.
Image: Thinkstock