With a steady stream of near-catastrophes in the U.S. economy and a slowly recovering but still shaky global economy, there's a lot happening that might give companies pause about their growth prospects.
But at least for now, a relative sense of optimism reigns. In a recent CFO survey of 125 senior finance executives at organizations with less than $500 million in revenue, 59% said they have set more aggressive growth targets than they did a year ago, compared with 29% looking at slower growth.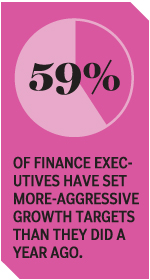 Companies haven't, though, thrown away their postrecession lean-operating habits. While their top priority was growing revenue (74% of the respondents said so), cost savings was a solid second (38%) on a list that included expanding into new geographic markets or product lines, and making acquisitions and developing new partnerships.
That doesn't mean they're going to be sitting on their cash, as large, mature companies have been doing for years. Seventy-five percent of survey respondents said they plan to spend more cash over the next two years than they did in the previous two. Eighty-three percent said their most significant use of cash will be for expanding operating activities and head count.
Fifty-seven percent of respondents said their companies will likely use cash to pay down debt, and 45% will spend on research and development.
Is there a contradiction between hiring more people and keeping costs trim? Not necessarily, says Bruce Goldstein, business manager at accounting firm CBIZ and until recently finance chief at Titan Tool Works, before its acquisition by Benz Metal Products.
"At Titan we had overstaffed the front-office infrastructure in anticipation of growth, and our manufacturing staff was growing linearly based on revenue," he says. "At a certain point, we didn't need as much admin as we'd thought we did. It was a rebalance of head count."
---