Detroit finance chief Jim Bonsall, who suggested in a CFO interview last August that he was a "pit bull," apologized Thursday "for having offended coworkers over comments I made at a recent meeting," according to a press release issued by the office of Kevyn Orr, the city's emergency manager.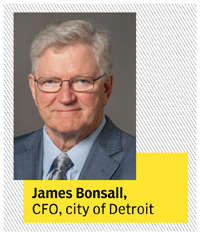 Bonsall, who started work on July 18 and was hired by Orr, has been suspended with pay pending Orr's assessment of the results of an internal investigation by the city's human resources department into the comments and "other allegations made by one of his subordinates."
In an October 8 letter to Detroit human resources director James Tyler (link provided by The Detroit Free Press), city treasurer Cheryl Johnson, who is black, asserted that Bonsall, who is white, "has created a hostile work environment." She added that although "[t]his pattern extends beyond ethnic and racial lines, [it] is more pronounced with minority women." Neither Bonsall nor Johnson could be reached for comment.
In particular, Johnson's letter recounts comments she alleges the CFO made at a Sept. 18 meeting during a discussion of Angel's Night, an upcoming annual volunteer effort that encourages residents of Detroit to patrol their neighborhoods to prevent crime. Detroit has the highest rate of violent crime of any city in the nation with a population of 200,000 or more.
Johnson, who reports to Bonsall, told him that city appointees were expected to participate by patrolling the city, accompanied by colleagues, family members or friends.
Bonsall asked "if he could have three police officers ride with him if he had to patrol," according to Johnson's letter. Stating that he wouldn't subject his family to that risk, Bonsall, in an apparent reference to the Trayvon Martin case, allegedly said, according to Johnson, "can I shoot someone in a hoodie?"
In his statement in the emergency manager's press release, Bonsall said: "Regardless of the outcome of the internal investigation or whether I keep my job as a result of it, it was never my intention to offend anyone."
In her letter, Johnson charges that Bonsall's decision to demote her from her previous position as finance director and bring in John Naglick to replace her in that role on Oct. 7 stemmed from her disclosure of "the facts that he has created a hostile work environment, in addition to subjecting us to ethnic harassment."
Johnson, having served as both finance director and treasurer for two years, now is solely treasurer. "Jim has brought in a friend of his, who happens to be a white male" to be finance director, she wrote. Bonsall and Naglick, the former finance director of the city of Pontiac, Mich., both previously worked for Alix Partners, a consulting firm.
In an interview with CFO following his first two weeks as the city's finance chief, Bonsall said, "I haven't tried to bring my own people in and am working very much within the structure, which hasn't been defined as we speak. There might be an announcement later."
At the time, Bonsall saw his job as spearheading a turnaround not in the city's finances but in its ability to provide essential services, especially in the form of more police and firefighters. For that, the financial restructuring of the city, led by Orr, would provide the needed funds. "To improve responsiveness, we need to have the right number of [police] cars on the road. All the initiatives there, along with those of the fire department, require a slug of cash. And the restructuring provides that," he said.
Asked about his relationship with Orr, Bonsall, a former turnaround specialist at Alix Partners, said that while he "really" liked his boss, they had "style differences; I'm used to running companies and now I'm reporting to somebody. He's got to get used to pit bulls."