Step forward, CrackBerry Kevin. Many months ago Kevin Michaluk vowed not to cut his hair until BlackBerry 10, the smartphone's long-delayed new operating system, was launched. In New York on January 30 Mr. Michaluk, who runs CrackBerry.com, a web site devoted to the device, submitted himself to the scissors. He had had time to grow a handsome ponytail. Research In Motion (RIM), the Canadian company that makes the BlackBerry, also adopted a new style, renaming itself: BlackBerry. Why bother? Perhaps because only pedants ever called it RIM.
To complete its makeover RIM — sorry, BlackBerry—unveiled a new "global creative director," Alicia Keys, a singer and songwriter whose talents it hopes will tune up the brand. More substantively, it also showed off two phones, the Z10, with a full touchscreen, and the Q10, with a physical keyboard. The Z10 went on sale in Britain on January 31. Many of BlackBerry's bosses, including Thorsten Heins, the chief executive, and the chief marketing and operating officers, are new too, having been in their jobs for a year or less. They are bursting with conviction that BlackBerry 10 will revive the company's fortunes.
Once the BlackBerry was the smartphone of choice for everyone from Barack Obama to corporate road-warriors. Granted, in some places, such as Indonesia and Venezuela, and for some British teenagers, it still is. Chief information officers wary of staff using their own phones for work still swear by it. So do those who find typing on touchscreens infuriating. A BlackBerry's keys are more forgiving of clumsy thumbs.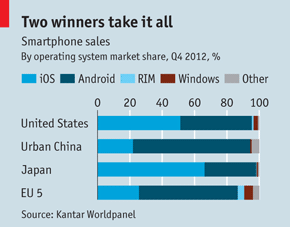 But the BlackBerry has been pulped by Apple's iPhones and by Android smartphones. In the 12 weeks to December 23 only 4% of smartphones sold in Europe's five biggest markets were BlackBerrys, estimates Kantar Worldpanel, a market-research firm. In America the BlackBerry's share was an even feebler 1.1% (see chart). Lately the company has been operating at a loss. Although its share price has more than doubled since September, it is still only a quarter of what it was two years ago. It slid by more than 10% on the day of the launch.
In many ways the new BlackBerrys are ingenious. You can, for example, see and deal with messages, tweets, and so forth in a central "hub" without needing to switch applications. The Z10's touch keyboard learns which words you are likeliest to type, so you can enter them by a flick of the thumb without having to finish. It also adjusts itself to habitual typos.
BlackBerry is also aiming at the corporate market in which it first made its name. BlackBerry 10 phones allow the strict separation of applications and content for personal life and work, which may attract companies that do not yet let staff use their own devices. For the many that already do, the latest version of BlackBerry Enterprise Server, which supports corporate smartphones, is being opened to iPhones and Android devices too.
Mobile carriers are desperate to see a third operating system take on iOS, which sits in iPhones, and Android. They have welcomed BlackBerry 10's belated arrival wholeheartedly. Alas, technical brilliance and the cheers of carriers are no guarantee of success.
Android and iOS are well entrenched. Because the leaders have such a huge market share, developers may prefer to create and update apps for them first, and wait to see whether people buy the phones that run on other systems. And people will be less likely to buy them without the latest versions of their favorite apps. BlackBerry has thought of this: it says it has made it easy to code or adapt apps for BlackBerry 10. It boasts 70,000 apps already and more are promised. Even so, this may not be enough to pull customers away from Apple and Android.
BlackBerry 10 is not the only pretender to the number-three slot. The smartphone version of Microsoft's Windows 8 beat it to market by a few months. Mozilla, a non-profit organisation best known for its Firefox browser, is working on a mobile operating system, with the backing of some carriers. At least BlackBerry has 80 million users, many of whom will be keen to give the new version a try. CrackBerry Kevin has waited long enough.
© The Economist Newspaper Limited, London (February 2, 2013)