Large companies — those with annual revenues north of $5 billion — make up 21% of the companies in the CFO/EVA Dimensions profitability performance ranking of all nonfinancial companies in the Russell 3000 with revenues above $100 million. Interestingly, the biggest companies are underrepresented at both the top and the bottom of the list. 
If profitability performance was evenly distributed across companies of all sizes, one would expect to find 21 of the largest companies among the top 100 in the ranking and 21 among the bottom 100.  But only 8 of the top 100 companies in the ranking, and just 9 of the bottom 100, have revenues above $5 billion. Stated another way, the very best and very worst performers tend to come from the ranks of smaller companies. The tables here show where the top 25 and bottom 25 among the largest companies placed in the overall ranking of 1,815 companies.
CFO and EVA Dimensions rank profitability performance on the basis of a measure called EVA momentum, which is the change in a company's economic profit (or EVA) in a period divided by its sales in the prior period. The period in question for this ranking is the four quarters ended in the second quarter of 2011.  Dividing by sales converts EVA from a monetary measure to a ratio, and makes it possible to directly compare companies of different sizes.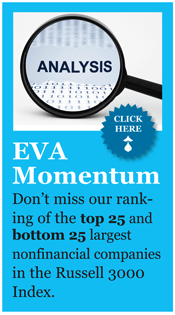 Because it is based on the change in EVA rather than the level, EVA momentum captures profitability performance where it matters most — at the margin.  Companies that are losing money but cut their losses dramatically score well on EVA momentum. In contrast, and as you will see, even extremely profitable companies can score poorly on this performance measure if their economic profits are static or declining. As a result, EVA momentum is a great measure for spotting turning points in performance. It is the ultimate "what-have-you-done-for-me-lately" measure.
The company with the best EVA momentum score among the largest companies in the Russell 3000 is Cliffs Natural Resources, a producer of iron ore pellets and metallurgical coal that ranked 17 overall. Coming in at number two in the large company ranking is international cable operator Liberty Global, which ranked 33 overall.  The very worst performer among large companies was another media company, Charter Communications Inc., which came in at number 1,805. 
The winners and losers among large companies are a diverse group. Both the top and bottom 25 include companies from 16 industries, and 8 industries have companies at both ends of the spectrum. As a result, no sector really stands out as a clear winner or loser among large companies.
The two most interesting companies are the ones that have fallen from very lofty perches. The biggest tumble was taken by Gilead Sciences, a company that had a remarkable period of rapid and highly profitable growth from 2004 through 2010. For the five years ended in 2009, Gilead, a biopharmaceutical company, had the highest EVA momentum of any company with revenues exceeding $1 billion. It ranked fifth for the five years through 2010. The company had an extraordinary run, churning out ever larger EVA profits by both improving its EVA margin — from less than 10% in 2004 to more than 28% in the four quarters through June 2010 — while also growing sales at a prodigious rate of more than 30% compounded from 2005 through 2010. (EVA margin measures a company's economic profit margin net of all operating and capital costs and is an indication of how much wealth the company is creating.)
In the latest ranking, though, Gilead ranks a lowly 1,636,  just 17 spots from the bottom among large companies. What caused the slide? To start, Gilead's EVA margin declined by 2.7%, down from 28.1% to a still very lofty 25.4%. Gilead's EVA margin still is so high that it ranks 19th in the Russell 3000 by that measure. But EVA momentum is based on the change in profitability rather than the level. With its very high EVA margin, Gilead still might have increased its EVA and had positive EVA momentum if its sales growth had remained robust. But Gilead's sales growth came to a virtual halt at just 2% in the latest four quarters.
With stagnant sales and a declining EVA margin, the company's EVA declined by $175 million  — from $2.203 billion to $2.028 billion — and its EVA momentum was a poor negative 2.2%. The company remains famously profitable, but not as profitable as it was a year ago. Hence, Gilead's very poor showing with respect to EVA momentum.
The other notable decliner was Google, which had consistently been at or near the top of the ranking ever since it went public. Its decline was much more modest, but still significant.  Google placed at 182 in the most recent ranking. That's still in the top 25 among large companies, and Google's EVA momentum remained a robust 6.4%. But that's down considerably from past years. The reason is a slowing rate of sales growth, which had to happen at some point. Google's sales grew 27% in the latest four quarters. That's high, but it's down from compound sales growth of 37% per year over the five years ended in 2010. So Google's EVA momentum contribution from profitable growth was 5.4% in the most recent four quarters, about a third of its average contribution from profitable growth over the prior five years. The company's EVA margin actually improved slightly in the latest period, from a high 18.7% to an even higher 19.8%. 
Al Ehrbar, chief operating officer of EVA Dimensions, writes a regular column based on the EVA Momentum Ranking for CFO.