Cloud technology company Twilio has reached a deal to buy SendGrid, an email technology firm, for $2 billion in an all-stock transaction, the companies announced.
Twilio is offering about $36.92 per share, a premium of 19.4% to SendGrid's closing price on Monday but about $1.70 lower than the stock's all-time high.
Twilio's stock is up more than 200% this year, but news of the deal sent the shares down 12% Tuesday morning. The stock gained back some of its losses by midday. Shares of SendGrid were up 15% by market close.
"While [the transaction is] expensive at 10 times [SendGrid's] 2019 revenue, I think it is a good deal for Twilio that should work out well over the long term," Pat Walravens, an analyst for JMP Securities, told Reuters. Walravens pointed out that Salesforce recently bought MuleSoft for 12 times future revenue.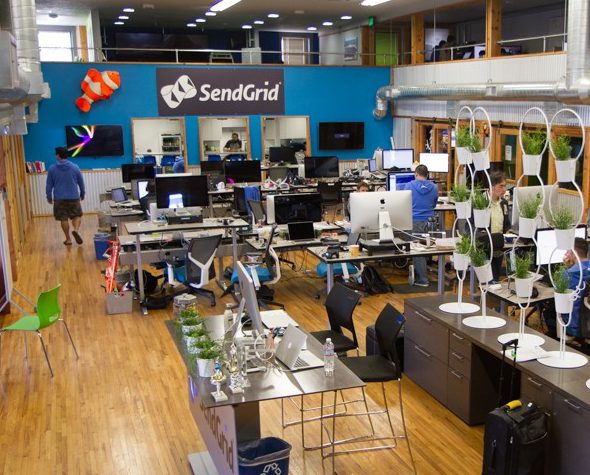 Twilio's software allows developers to incorporate voice and text message services into their applications. SendGrid, which went public in November 2017, sells an email marketing platform that, as of late last year, sent about 36 billion emails a month for customers, including Uber and Spotify.
SendGrid Chief Executive Officer Sameer Dholakia told Reuters that many of Twilio's products earn more revenue per user than do SendGrid's.
"A huge part of the calculus for both sides was the cross-sell opportunity," Dholakia said.
On a conference call, Twilio Chief Executive Jeff Lawson said: "We started Twilio by building voice, then SMS, video, web and mobile chat, channels like Facebook Messenger, WhatsApp. Along the way, email has been something that customers have asked us about."
Analysts said it would have been difficult and expensive for Twilio to build its own email service.
Dholakia said he would remain CEO of SendGrid, which would operate as an autonomous division within Twilio.
The companies expect the deal to close in the first half of 2019, subject to approval by shareholders.