Tyson Foods has agreed to buy Tecumseh Poultry, the parent company of the brand Smart Chicken, as it pushes into organic food, Tyson said.
Terms of the deal were not disclosed.
"Consumers want choices. More and more consumers want options for fresh, organic food that fits their lifestyles," said Eric Schwartz, chief marketing officer of poultry for Tyson Foods. "The Smart Chicken brand is a leader in this key organic category, and the category's growth makes this acquisition a strategic fit for Tyson Foods."
The deal comes as U.S. poultry producers are building up a presence in the organic sector.
Pilgrim's Pride converted a plant to produce organic chicken in 2016. Last year, it spent $350 million to buy GNP, which markets organic chicken under the Just Bare brand. Perdue Farms entered the organic market in 2011 with its deal for Coleman Natural.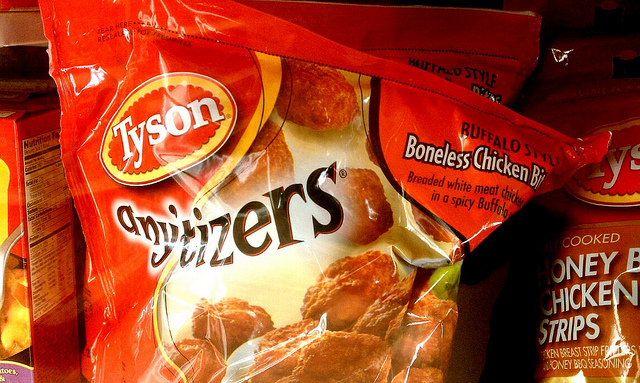 In the last four years, sales of frozen or refrigerated organic chicken have grown by about 66%, according to research firm SPINS. Sales of organic chicken grew nearly 12% for the year ended April 28, according to data from Nielsen Perishables.
Sales of conventional chicken, meanwhile, grew 3% to $7.7 billion over the period. Organic chicken sales, in comparison, were $333 million.
Tyson, the largest U.S. meatpacker by sales, has been shifting its business toward brand-name products, and away from commodity meats, which are prone to market swings.
Tyson has spent nearly $12 billion on deals since 2013, adding Jimmy Dean and Ball Park hot dogs. Under this latest deal, Tyson gets the Smart Chicken organic band and two Nebraska plants as well as the live-chicken operations supplying them.
Tecumseh president Kevin Siebert said the company has spent 18 years perfecting its chicken. "We're very proud of that, and it's not going to change," he said.
Tecumseh produces air-chilled, fresh chicken, as well as deli-style chicken and chicken sausages.
Tyson on Monday also announced it was selling its Sara Lee Frozen Bakery and Van's businesses to private equity firm Kohlberg & Company.
Photo: Quinn Dombrowski, via Flickr, CC BY-SA 2.0