For finance executives, the binge on borrowing may be nearing its end. And they know it.
In recent years, as interest rates drifted to record lows, companies craving liquidity didn't have to look far. The low cost of debt, as benchmarked against historical standards, and the easing of lending standards meant stable companies with sturdy banking relationships could leverage that rapport into cheap loans.
What's changing? As it turns out, both sides of the equation are recalculating their positions. On the banking side, the Federal Reserve's more-cautious-than-expected approach toward raising rates has tightened margins even as post-downturn reforms require financial institutions to hold more capital against loans. More recently, troubles in the massive energy sector have added to banks' skittishness, drilling the fear of loan defaults into them.
But determined finance leaders aren't likely to be deterred from looking for capital to fund their ambitious growth plans. In a recent survey conducted by CFO Research, in collaboration with TD Bank, finance executives reaffirmed their intention to "invest aggressively for long-term growth," as one respondent puts it. Their objectives include seeking to "gain market share in emerging markets" and using additional liquidity to fund a "strategy to be more competitive." One survey-taker succinctly summed up his company's two-pronged plan for deploying new capital: "Acquisitions for growth. Capital investments in factories."
The survey, which drew responses from 209 U.S.-based senior finance executives, explored their funding strategies and preferences, as well as identified their priorities. The respondents were evenly split between those representing middle-market companies (with annual revenues between $10 million and $250 million) and those from larger organizations (with sales above $250 million).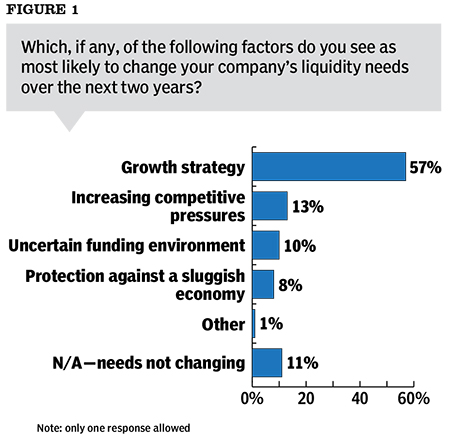 In addition to describing the challenges that their own companies face, respondents hinted at shifts they detect in the wider economic landscape. "Currently out of cash and the bank will lend no more," writes one finance executive, answering a question about possible changes in cash-management strategy. "In an environment of such a minimal return on excess funds," writes another, "it feels foolish to hold cash."
Changing Interest
While the Fed's actions may eventually change that calculus around excess cash, they are not likely to deter finance executives at middle-market or large companies from aggressively chasing growth. In the survey, about three-quarters (74%) of respondents say they expect their company's liquidity needs to increase over the next two years. The reason? They'll need the funds to exploit the kind of business opportunities that will propel and sustain growth.
In fact, a majority of survey-takers (57%) cite their appetite for supporting growth as the key factor in their company's desire to load up on liquidity. Other possible reasons, such as increasing competitive pressures and the uncertain funding environment, drew much smaller numbers of survey respondents—13% and 10%, respectively (see Figure 1, above). And only 8% of respondents said they would need liquidity to protect against a sluggish economy. The survey-takers, it seems, have clarity regarding their reason for needing capital. As the CEO of a private equity firm explains: "We see many interesting opportunities, and the greater our investible capital, the more transactions we will conclude."
The movement in interest rates—no matter how gradual it may be—means that finance executives must focus on funding sources other than debt, which will rise in cost. That shift in mindset is reflected in the survey; respondents know they need to turn their attention to the hard work of boosting working capital performance, optimizing areas such as inventory, payables, and receivables. In other words, companies need to look at internal sources of cash rather than relying on external lenders. But it won't be easy: According to The CFO/REL Working Capital Scorecard (see the July 2016 issue), last year the amount of time cash was tied up in working capital increased by 7%—or 2.4 days—among the largest nonfinancial companies. So it's no surprise that more than half of respondents (55%) to the CFO Research survey say their organizations will need to make substantial improvements in working capital efficiency over the next two years.
Currently, only one in five survey respondents (20%) say that all their companies' liquidity needs are met through working capital. A much higher number of survey-takers, about 6 in 10 (61%), report that working capital is the source of 75% or more of their liquidity. But CFOs realize they may need to up those numbers. In fact, 62% of respondents say they believe that their companies' ability to increase capital spending over the next two years depends on the finance function's skill at boosting working capital efficiency.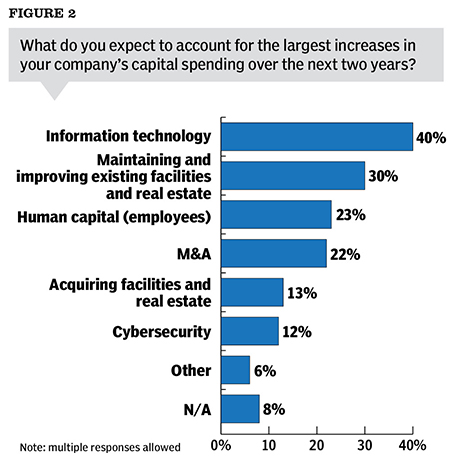 In terms of which dimensions of working capital they plan to focus on improving, 60% of respondents set their sights on receivables, where upgrades in days sales outstanding (DSO) can reduce costs, optimize cash flow, and alleviate risk. Respondents also identified the factors that they expect will play a critical role in improving working capital efficiency. Among the responses, those cited by more than half of respondents included internal process improvements (83%), better information management (81%), additional investment in IT and data processing (70%), increased use of electronic payments (64%), and greater electronic integration with supply chain partners (52%).
Funding organizational growth requires streamlining processes, supporting speedier access to information, imposing tighter controls, and abolishing bottlenecks. In other words, companies need to invest in—and implement—technology.
More Spending on Tech
Among survey respondents who expect their company's capital spending to increase over the next two years, technology is a priority. A plurality of those respondents, 40%, report that information technology is expected to account for the largest increase in capital spending. Another 12% specify cybersecurity as targeted for investment—a proportion that is likely to grow with the spread of such innovations as the Internet of Things (see Figure 2, above).
As for the scale of their anticipated IT spend, slightly more than one-quarter of respondents (27%) say they expect capital investment in IT systems and applications to increase by more than 10% over the next two years. As one CEO writes, describing the magnitude of the IT challenges ahead of him: "This company is two generations behind in its application of technology to business problems, whether day-to-day business activities or products for production and delivery of data." Other respondents cite a variety of technology-related needs, including, most prominently, upgrading or integrating information systems infrastructure or enterprise resource planning systems.
As focused as they are on ramping up technology, respondents are also cognizant of the importance of investing in employees with relevant skills. "Properly-skilled IT professionals," as one respondent notes, "have been among the more difficult employees to recruit." And, after all, technology alone isn't enough to make the smart decisions necessary to embrace strategic growth.