In today's rapidly changing world, finance executives of midsized companies agree on one thing: growth is good. That sentiment became evident in a recent CFO Research survey sponsored by commercial financing firm CIT. The survey asked finance and other senior executives from midsized companies (between $25 million and $1 billion in annual revenues) about how they expected they would pursue growth for their companies in a still-uncertain business environment.
The survey found that very few finance executives think their companies can afford to stand pat. In fact, 8 in 10 survey respondents acknowledged that their companies must review and revise their growth strategies frequently in order to adapt to changes in the business environment. Overall, executives in the survey listed a wide variety of challenges that they expected their companies would face in the coming year, including stiffening competition, the need for better cost control, and the push to acquire and retain talent.
To help them cope with the increasing demands on their attention and resources, finance executives in the survey were looking for whatever help they might find — including from their financing partners. Overall, respondents were fairly well satisfied with the commercial lenders they were using. However, one out of four respondents (25%) indicated that they were less than satisfied when it came to helping their businesses navigate regulatory and documentation requirements.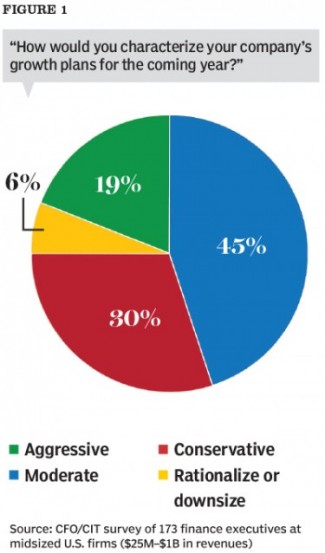 Indeed, this may be an area where commercial lenders can step up their game. About one in five respondents cited the challenge of increasing regulation, and several commented on the drag of those rules on their businesses. A CFO in the health care field commented on the "federal and state government changes in laws and regulations affecting our industry — often without any revenue associated with the changes." And one bank's SVP wrote that the "regulatory environment and costs associated with compliance … will limit organic growth, so growth will come from acquisition of another bank."
Finding Growth Capital
Choosing the right path to growth — or rather, to profitable growth — can be one of the biggest challenges for a CFO in a midsized company. More than three out of four executives in the survey (77%) agreed that their companies needed to invest more for growth, but almost as many (69%) said they also needed to cut costs to improve profitability. So, in fact, the right path might turn out to be several paths.
Asked to characterize their companies' growth plans for the coming year, nearly one in five (19%) said they were "aggressive." Nearly half (45%) said they were planning on "moderate" growth, 30% believed their companies would be even more conservative, and 6% believed their company would shrink. (See Figure 1, above.)
When asked to pick their top strategies for growth, executives were primarily looking to gain share in their existing businesses (selected by 57% of respondents). Considerably fewer respondents expected to rely on higher-risk strategies, such as developing new products or services (40%), moving into new or adjacent markets (26%), or expanding internationally (16%).
Considering Cash
Survey respondents expressed a preference for relying on their own resources to fuel growth plans. About two-thirds (67%) of the respondents said that operating cash flow will be one of their three most important sources of funding for growth, and nearly 38% said they will use cash reserves. (See Figure 2.)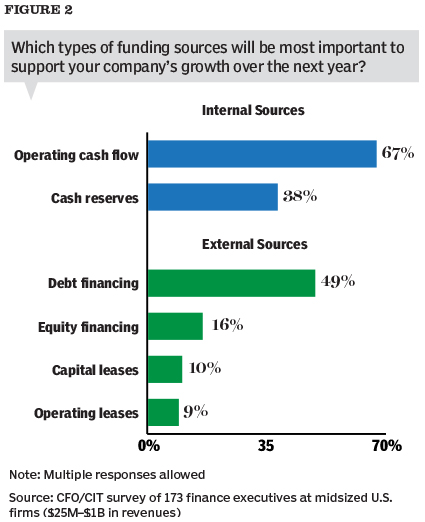 Not surprisingly, the ability to generate cash was uneven among the surveyed population. A majority of finance executives (57%) reported that their companies' revenues were higher than they were a year ago; however, 45% said either that revenues have stagnated (24%) or that they are doing worse than a year ago (20%).
The controller of a manufacturing company noted: "Increased inventory, slowing cash flow, [and] increased A/R … will be a drain on our cash flow, which could impact the growth initiatives we have in place for the year. We may have to draw down our credit line to sustain operations while cash is tied up in inventory and A/R."
Such companies are more likely to find themselves between a rock and a hard place when it comes to finding the funds for growth. This may explain why the CFO of a firm in the wholesale/retail trade lamented, "We have curtailed all but necessary investments in people and capital projects."
Other companies, however, find themselves in the enviable position of trying to keep up with their own growth ambitions, and such companies are actively seeking new sources of funding to fuel those ambitions. A head of finance from a private telecommunications firm wrote that the company's most significant challenge these days is "finding lending sources with sufficient capital to meet our needs as demand accelerates for our assets and technology."
For such fast-growing companies, the pace of growth is simply taxing their ability to keep up. A CFO in the health care industry noted, "Expanding to new territories has an impact on our cash, as new ventures don't produce the necessary cash flow to support themselves. This has led us to either use our free cash flow or borrow more money from the bank."
Seeking the Payoff
Not surprisingly, then, respondents who characterized their companies' growth plans as "aggressive" had a more favorable view of debt financing than those who said they are moderate, conservative, or expect to rationalize. Two-thirds of these growth-focused executives (67%) rated debt financing as one of their most important funding options, compared with 45% of all others.
But even aggressive growers sounded a note of caution. A CFO from the defense industry wrote that, now, "ROI must be higher due to the higher risk of winning projects [that require] large investments." What that means is that they must work all the harder, not just to find the funding, but also to make sure that it will pay off.
In sum, the good news is that midsized companies have growth opportunities. The bad news is that some companies may be scrambling to find the capital to fund them. It's clear that senior finance executives at midsized companies are looking for help in meeting the variety of growth challenges they say they are facing. These challenges were articulated in many ways by survey respondents, including having "more opportunities than capital," seeing regulatory costs "inhibit organic growth," being forced to use free cash to expand "into new territories," shifting "more business to the internet," and "finding lending sources with sufficient capital."
And in many cases, being able to put together a diversified plan to bankroll their ambitions can be what separates the growth companies from the also-rans. As the CFO of a company in the wholesale/retail industry noted, "We need to obtain more financing and invest in PP&E [property, plant and equipment] and increase staffing to meet growing demand." Finding ways to support corporate growth ambitions is the new name of the game.