Nearly five years after the Dodd-Frank Wall Street Reform and Consumer Protection Act of 2010 was signed into law, the Securities and Exchange Commission has entered the final stretch of the rulemaking required of it under the act.
The agency is drafting new provisions regarding executive compensation disclosure, and like previously implemented Dodd-Frank rules — such as those involving whistleblowers, derivatives, conflict minerals, and proprietary trading by banks — the new provisions have generated much controversy.
According to a proposal released by the SEC for comment in April, companies will be required to disclose the relationship between executive pay and performance, starting with 2016 annual schedule 14A and schedule 14C proxy and solicitation statements issued prior to shareholder meetings. The proposal, dubbed "Pay Versus Performance" and mandated by Dodd-Frank Section 953(a), would require a company to disclose CEO pay and performance both for itself and for companies in a peer group in a table, and to tag the information using the XBRL reporting language.
Unlike other disclosures already required, this rule will require reporting of bonuses and other compensation actually paid out (as opposed to accrued or vested) to a company's chief executive. These are to be placed in the table alongside the performance of the company and its peers, defined by total shareholder return. The amount disclosed for the remaining C-suite members would be the average compensation actually paid to those executives.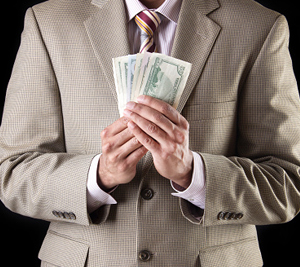 All companies would be required to disclose the information for the last five fiscal years, except for smaller companies, which would only be required to disclose the last three fiscal years. This would add an overall 67,500 hours to the internal company time (or a per-company average of 15 hours) for all companies completing schedules 14A and 14C, plus an overall $9 million for the services of outside professionals, according to the federal Paperwork Reduction Act notice submitted as part of the SEC proposal. (Companies have until July 6 to comment on the proposal.)
The pay-for-performance proposal is only part of the Dodd-Frank-mandated disclosure package involving executive pay. Section 953(b), the other shoe waiting to drop, will arguably generate more headlines, highlighting wage disparity by requiring the reporting of a ratio of CEO or "principal executive officer" pay to that of his or her company's rank-and-file employees. This latter rule has yet to be finalized.
Is It Worth It?
Depending on whom you ask, these new disclosures are either yet another unjustified incremental addition to a CFO's financial reporting workload or a valuable enhancement of transparency that will benefit investors.
Jon Faulkner, CFO of The Dixie Group, a Chattanooga, Tenn.-based floor covering manufacturer, is among the many corporate financial professionals who question whether these new disclosures would serve any useful purpose. Faulkner says he has already gone through preparatory work on the proposed pay-for-performance rule and found it to be more burdensome than the SEC estimates. He questions whether the rule is worth the trouble.
"Basically I had to go through all the past records, recompile them, and match them up with performance," he says. "I probably spent 16 hours' worth of work, or a day and a half of time, and I couldn't see where it gave my readers any more information."
Adds Faulkner of the disclosures, "They've already got the data in two different places. What they're attempting to do, any investor can [find it] at Yahoo.com."
Particularly galling to the Dixie Group CFO is the requirement to tag the details of the disclosure with XBRL, a task that he estimates would take up about 5 of the 16 hours of company time. "I can't find anybody who's using the detailed tagging," he says.
According to Faulkner, although the impact of the SEC's proposed rule on his time and that of his staff may not be that great all by itself, it is yet one more example of the additional incremental burdens that have been imposed on reporting companies in recent years. "I've seen a lot of extra work for us and no additional time to file," he says.
Labor Weighs In
Taking another viewpoint is Brandon Rees, director of the AFL-CFO's Office of Investment. With organized labor being one of the main proponents of the disclosures, Rees says he is "largely satisfied with the commission's proposal, although it's been slow in moving forward."
At the same time, he says he is anxious for action on Section 953(b), which calls for public companies to disclose the ratio of the CEO's annual total compensation to the median annual total compensation of all other employees. Originally proposed in 2013, the pay-ratio rule is scheduled to be issued no later than October 2015. "Executive pay has gotten out of alignment with the rank and file," argues Rees. "There's been tremendous frustration in the investor community over 953(b) and a growing sense of outrage."
The unions under the AFL-CIO umbrella are a significant part of the investor community, and they will be able to make great use of the disclosures, as Rees says, pointing to a possible reason for resistance to them: "Our pension plans will use it when voting on 'say on pay' because [wage disparity] can affect morale and productivity," he says. (Rees is referring to the already-implemented Dodd-Frank rule that requires companies to conduct nonbinding shareholder votes on executive pay.)
But beyond the questions of whether it's worth the trouble and will benefit investors, Rees says the pay-for-performance disclosures as proposed may be measuring the wrong stuff, both from the compensation and performance points of view. He also sees problems with the SEC's proposed means of measuring the pay end of the equation. According to Rees, one of these problems is the timing of the recognition of executive pay, which relies on the dates on which bonuses and other compensation are actually paid, rather than earned or accrued. "We believe that the grant-date fair-value measure of the award is the best way to measure compensation," he says.
"We pay bonuses in the year after the performance occurs," says The Dixie Group's Faulkner of the mismatch between compensation and performance timing in the proposal. "You actually have to be on the job in the first quarter to get the bonus."
On the performance end, Rees says he sees problems with the selection of peer groups and their use in comparison with company performance. "Some companies select aspirational peers," he says. "But I've yet to read a proxy statement that says, 'We pay below the median.' Not all CEOs are above average."
TSR Bugaboo
In addition, Rees sees the use of total shareholder return as problematical. "You can't gauge CEO performance based solely on TSR," he argues. "Anyone can temporarily increase total shareholder return by cutting costs."
At least in this last respect, Rees's take on the pay-for-performance proposal is shared by others in the financial community. SEC commissioner Michael Piwowar, who cast one of the two dissenting votes on the proposal, said at the SEC session at which the proposal was approved that "the singular focus on one-year TSR may make corporate executives more likely to engage in efforts such as increasing debt, cutting research and development, and engaging in stock buybacks to increase stock prices in the short term to the detriment of long-term performance."
Mark Van Clieaf of Organizational Capital Partners, a consultancy that has studied the issue in cooperation with the Investor Responsibility Research Center Institute, says that the way the disclosures as currently proposed "will be of limited value."
"Even some of the commissioners had a problem with using total shareholder return," he says. "It could end up reinforcing the wrong metric." Van Clieaf calls for other measures such as earnings growth, return on invested capital, and innovation milestones to be considered. "A certain portion of the valuation of a company is not based on this year's or next's performance," he says.
Company directors also see problems with both 953(a) and 953(b), according to Peter Gleason, president of the National Association of Corporate Directors. "I don't think that the pay-versus-performance disclosures will have a significant impact on the work of compensation committees," he predicts. "It's another disclosure point so there's more to look at, but most of it is already there."
He also questioned the reliance on total shareholder return, saying "I'm not necessarily sure that's a good thing."
Gleason also had harsh words for 953(b)'s required disclosure of the ratio of CEO pay to employee pay: "I'm still trying to figure out who is interested in this other than labor unions and the media," he says. "We already know what CEOs make, so what is this telling us?"
Legwork Ahead
While the financial community debates the merits of the SEC's executive-pay proposal, some companies, particularly smaller ones, have yet to determine its impact.
"I haven't looked at it too much," admits Dorothy Cipolla, CFO of LightPath Technologies, an Orlando, Fla.-based manufacturer and distributor of optical components and assemblies. "Our compensation structure is pretty simple, with a salary portion and incentives based on revenue levels and profit margins, which we haven't met in any case for a few years."
Looking farther ahead, she also worries that the CEO-to-employee pay ratios may be misleading when applied to LightPath, which has two-thirds of its 150 employees based in China. "We could hire three people in China for every one in the United States," says Cipolla.
In the meantime, despite the availability of compensation and performance data, companies still have some research legwork and decision-making to do to get ready for the new rules, says Tony DaSilva, a tax principal specializing in compensation and benefits at KPMG.
"There's a little less than a year left until the 2016 proxy, and that's not a lot of time for companies to respond and make certain judgment calls," he says. "Companies have got to select a peer group and compare their total shareholder return to that group. Companies can choose their peer group between the one they currently use for their stock performance graph and what they use for their Compensation Discussion and Analysis."
It's prudent to start doing some analysis, DaSilva adds. "There clearly is going to be more work, and it's too soon to tell how the investor community or the shareholder advisory community will come out on this."
Ed Zwirn is a writer based in Bethel, New York.
---
Dodd-Frank at Five
Much progress has been made, but there's still a lot left to do.
A response to the Great Recession from which the United States was only just beginning to emerge, the Dodd-Frank Wall Street Reform and Consumer Protection Act was signed into law by President Barack Obama on July 21, 2010. The law was considered the most sweeping attempt at reform or reorganization of U.S. finance since the Great Depression.
But because many of the rules envisioned by the act were either too complicated or too controversial to lend themselves to detailed Congressional action, Congress delegated most of the task to a rulemaking process overseen by at least a dozen federal regulatory
agencies (many with overlapping jurisdictions), including the Securities and Exchange Commission, the Commodity Futures Trading Commission, the Federal Reserve Board, and the Department of Treasury.
Currently, some 271 of the 300 rulemakings mandated by Dodd-Frank have missed their deadlines. Of these, 180 (60%) have resulted in final rules, 58 (21%) have been proposed but are not yet final, and 33 (12%) have yet to be proposed, according to the Securities Industry and Financial Markets Association.
The SEC alone has put in place a foundation for a framework that will support an entirely new regulatory regime, designed to bring greater transparency and access to the securities-based swaps market; adopted rules that will result in increased oversight and transparency around hedge fund and other private fund advisers; implemented the say-on-pay rule regarding executive compensation; and established a whistleblower program that offers incentives for individuals with information regarding securities law violations to come forward.
After a long-drawn-out debate and delays prompted largely by industry objections, the  SEC also succeeded in promulgating the so-called Volcker rule, which goes into effect July 21 and attempts to limit proprietary trading by banks.
In addition to the pending provisions on executive pay, the SEC also has proposed a series of rules designed to improve the practices of credit-rating agencies, including rules to limit the conflicts that may arise when agencies rely on client payments to drive profits, and rules to monitor rating-agency employees who move to new positions with rated entities. — E.Z.