Russia's central bank on Tuesday raised its key interest rate to a sky-high 17% from 10.5%, but the emergency move did little to stem the freefall in the value of the ruble, which plummeted to record lows amid panic across Russian financial markets.
The rate increase fueled a brief rally before the ruble lost as much as 19% Tuesday, sinking below 80 to the U.S. dollar. Russian government officials denied speculation that they were considering currency restrictions to halt the ruble's 52% plunge so far this year.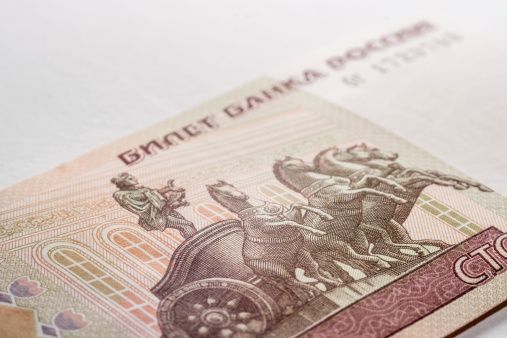 The Russian central bank hiked rates by one percentage point last week but that was seen as inadequate by financial markets.
"I am speechless," Jean-David Haddad, an emerging-market strategist at OTCex Group in Paris, told Bloomberg. "What a failure for the central bank."
The Wall Street Journal warned that "Confidence in Russia's ability to manage its economic plight is evaporating," noting that with little sign of oil prices bottoming out — Brent crude fell below $60 a barrel Tuesday — it is difficult to see the ruble stabilizing.
"The problem for the central bank is that it is swimming against powerful forces," according to the WSJ. "The economic outlook is awful given Russia's dependence on oil and there is no sign of détente with the West over Ukraine."
The Russian central bank warned this week that with oil at $60 a barrel, the economy could contract by 4.5% to 4.7% in 2015.
According to the bank, the latest rate hike was "aimed at limiting substantially increased ruble depreciation risks and inflation risks." But Vadim Bit-Avragim, a money manager at Kapital Asset Management in Moscow, told Bloomberg it may have come too late.
"It's very hard to stop the panic since everyone is betting against the ruble," he said. "Without oil and the economy stabilizing, the ruble won't rise," he added.
The WSJ said Russia's foreign currency reserves "still provide some anchor," but if Russian savers "abandon the ruble — despite massively positive real interest rates — then the risk of bank runs will rise and it will be difficult for the central bank to turn the tide."
Sources: Bloomberg, Wall Street Journal
Image: Thinkstock