This is the fourth story in a four-part series on cash management. The first story, The Value of Cash, looks at how to value $1 of surplus balance-sheet cash. The second story examines How to Segment Surplus Cash. Flight Risk, the third story, explains why there may be a mass exodus of corporate cash from money-market instruments.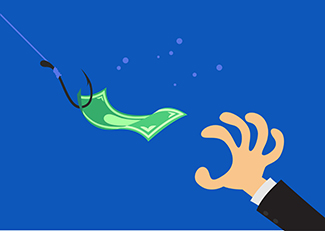 For the past few years, short-term cash investing — at least the safe kind — has been an unrewarding task. Thanks to the abnormally low interest-rate environment, many companies placed idle cash in bank accounts, aware that by doing so they weren't losing much in yield.
The market for short-term fixed-income securities, in effect, has been distorted. "Spreads compressed between asset classes and maturity points along the short end of the yield curve," says Jerry Klein, managing director at HighTower Advisors' Treasury Partners. "It was an environment in which earnings credits and deposits had a favorable return compared with money market funds and other short-term securities."
In a more normalized interest-rate environment, the hope is this will reverse, says Klein. Spending time and resources on investing surplus balance-sheet cash might actually pay dividends, so to speak, because spreads between vehicles of differing maturities and risk profiles will increase.
That's essentially what Klein means when he says, "We think the future of corporate cash investing might look more like the past." Finance will more actively segment the vast amounts of cash sitting in overnight investments to maximize return, companies will consider moving out on the yield curve, and formal investment policies will be tweaked to allow it all to happen.
In the meantime, companies are getting frustrated having earned virtually nothing on cash the last five years. A July 2014 survey of senior treasury and finance professionals by PricewaterhouseCoopers found that 13% of companies were planning to expand their list of permissible instruments in 2014. In addition, 10% "expect to lower their minimum acceptable [credit] ratings in the coming year, potentially signaling a willingness to accept somewhat more risk in pursuit of higher returns," says PwC.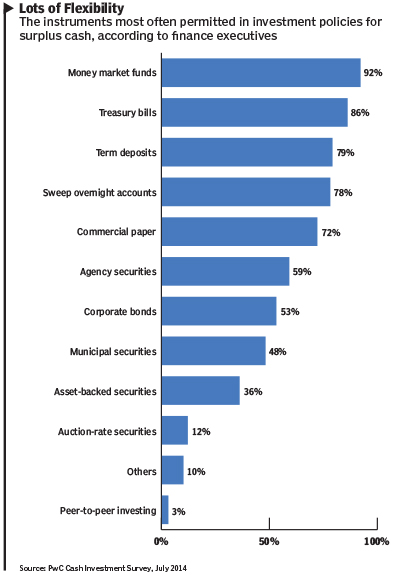 If those numbers sound low, it's because plenty of investment policies already allow investing in riskier vehicles that offer higher returns. Seventy-two percent of the respondents can already invest in commercial paper, for example, and 53% are permitted to invest in corporate bonds. Twenty-seven percent are allowed to invest in repurchase agreements.
Of course, that doesn't mean companies actually put their cash into those vehicles — income on cash investments has not been the priority of treasury post-financial-crisis. For most companies, the quest for yield remains a distant third behind stability of principal and liquidity. Still, finance teams are finally asking (once again) how far they can go within their remit to earn a better return on their excess cash.
"We've spent the last 18 months consulting quite a bit with CFOs, getting them comfortable understanding the rules of the sandbox, if the mandate of the CEO and board is to get better rates on corporate cash," says Michael Brunner, a senior portfolio manager at Morgan Stanley.
Regulatory Revolt?
Money market reform may play a big role in the shift in short-term corporate cash investing. New regulations will make money market funds, once the autopilot of corporate cash investing, less desirable to hold, because they will no longer offer stability of principal and seemingly unparalleled liquidity.
Thanks to those regulations, prime money market funds (which invest primarily in corporate debt) will have floating net asset values, exposing holdings to the possibility of principal loss. In addition, fund sponsors will have the power to slow investor exodus in a crisis through so-called redemption gates and liquidity fees, making shares less liquid, not more. The new rules, some surveys of treasurers predict, could lead to billions of dollars exiting prime funds.
A lot of experts point to this as a good thing. Money market funds give treasurers a false sense of security, says Brunner. "A mutual fund does not have a maturity date; it trades in perpetuity," he explains. "There's never a point in time that we know if we hold a fund to maturity we are going to get full face value." Even if all of the fund's investments are government-backed debt, "by virtue of the fact that it's in a mutual fund it is no longer a guaranteed investment," he adds.
Very conservative companies always have the option, of course, of staying in government-guaranteed securities, like Treasury bills or notes. As benchmark rates are still very low, companies now have to go further out on the maturity curve to capture any yield from them, Klein points out. But by investing in paper with different maturities (laddering), a company can meet its liquidity needs and increase its return, Brunner says.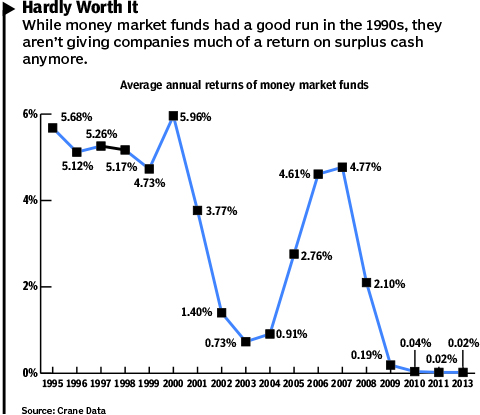 Corporate Play
Many companies seem eager to increase their returns by investing in commercial paper or corporate bonds, which offer a yield premium. According to data from Clearwater Analytics, as of October 1 more than 45% of its clients' corporate cash holdings were parked in corporate debt that wasn't commercial paper.
"We like the corporate space," says Morgan Stanley's Brunner. "The real key is staying in investment-grade [paper]. We have companies that have very strong balance sheets, good cash flows, and are considered very good credit risks."
But what will happen when interest rates start rising — and bond prices fall? "Investors [in general] are likely to become uncomfortable with bond losses and look to stocks," says Lee Levy, founder and general partner at Canid Asset Management. Pension funds and institutional investors, Levy points out, "have enjoyed incredibly strong returns from their bond portfolios for the last 20 to 30 years. They will see those gains reversed for the first time in a generation. The asset allocation landscape will look radically different than the last 30 years, and many managers might not be prepared for this change."
The prospect of higher interest rates is already prompting treasurers to "reexamine their cash forecasts and evaluate their ability to extend maturities through separately managed accounts," says Klein. Of course, they will have to balance the desire for better returns with the exposure to interest-rate risk that longer maturity investments bring.
The hardest thing for treasury departments might be to stay patient and not get too aggressive even when they stay within the parameters of an investing policy. Money market funds have two years to comply with the new federal regulations. In addition, the continuing message from the Federal Reserve, at least as of early November, was that its Open Market Committee would be very slow in raising interest rates.
In the meantime, recent movements in the equity and bond markets hint that the era of low volatility may be ending. The benchmark 10-year Treasury note moved 20 basis points in 12 hours in late October. Volatility, of course, causes wider swings in investment prices. A more normalized interest-rate environment may offer more opportunity — but it contains plenty of risk too.
Image: Thinkstock