When you look at a company's balance sheet, you have to examine both sides of the ledger. That may never be truer than now. While many analysts have taken notice of the large cash holdings of public U.S. companies, few discuss the higher amounts of debt the same businesses have taken on.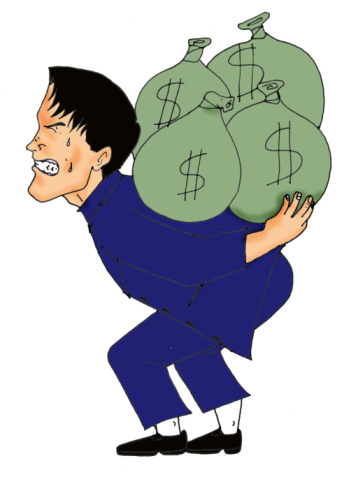 In an analysis of nonfinancial U.S. companies (publicly held) with more than $300 million in EBITDA and $500 million in revenue, CFO found 259 of about 1,100 in total that had increased their net-debt-to-EBITDA ratios.
A similar analysis in May found 295 U.S. companies that had increased their net debt to EBITDA in 2013.
Net debt subtracts cash and cash equivalents from long- and short-term borrowing, and net debt to EBITDA is a popular metric with analysts because "it takes into account a company's ability to decrease its debt," according to Investopedia. The ratio essentially shows how many years it would take a company to pay back its debt if net debt and EBITDA were held constant.
The analysis of data provided to CFO by S&P Capital IQ compared balance-sheet totals at the end of third quarter with the totals one year prior.
The median increase in net debt to EBITDA for the 259 companies was 17.5% and the average increase 24%. The average net debt to EBITDA of the 259 companies group was 4.14 (compared with 2.83 as of the third quarter of 2013).
Bank covenants usually stipulate that debt-to-EBITDA ratios can't go above 5. At that level, it can be hard for companies to meet their obligations out of earnings and cash, raise new debt or even refinance tranches of maturing debt. The larger debt load also provides a thinner margin of safety if revenue or profit turns south.
The 25 nonfinancial companies whose net debt-to-EBITDA rose the most from the third quarter of 2013 to the third quarter of 2014 were Salix Pharmaceuticals (net-debt-to-EBITDA ratio of 6.15), Advance Auto Parts (1.37), Tyson Foods (3.61), Tribune Media (5.98), Cameron International (1.15), Packaging Corp. of America (1.92), General Motors (1.25), Long Island Power Authority (105.6), CF Industries Holdings (1.35), Cliffs Natural Resources (5.82), Civeo (1.44), McKesson (1.53), IDEXX Laboratories (1.18), Catholic Health Initiatives (52.9), World Fuel Services (1.06), Verizon Communications (2.30), SandRidge Energy (3.38), AGCO (1.50), Joy Global (1.57), AmSurg (3.70), NeuStar (1.4), Energy XXI Ltd. (4.13), Dean Foods (4.74), Carpenter Technology (2.57) and Starwood Hotels & Resorts (1.76).
Of course, a fall in EBITDA, a shrinking of cash and equivalents, and a large amount of new debt can all raise the net-debt-to-EBITDA ratio.
Fifty of the companies in the analysis saw their total debt fall, but their net debt ratio increased, meaning they had a fall in EBITDA, cash or cash equivalents, or both. In the total population of companies, 113 had a fall in EBITDA (the average change in EBITDA for the whole group was positive, 2.7%). A larger group, 139, saw cash and cash equivalents drop, which would have driven up their net debt number.
With many companies still raising debt to pay out dividends or buy back stock, this is not surprising.
Judging just by the ratio number, many of the companies in the above list are not highly levered. But among the 259, some companies who increased net debt to EBITDA were already carrying a large debt load.
The 15 companies with the highest resulting net-debt-to-EBITDA ratios in the period were Long Island Power Authority, Catholic Health Initiatives, Toys 'R" Us (27), Tri-State Generation & Transmission Association (15.1), Ford Motor (14.4), Piedmont Natural Gas (13.9), South Carolina Public Service Authority (13.1), Caesars Entertainment (12.8), Land O' Lakes (11.6), Ogelthorpe Partners (11.6), Lions Gate Entertainment (10.5), UGI (9.97), Access Midstream Partners (9.32), Michaels Stores (9.24), Brookdale Senior Living (8.53), NiSource (8.2), and CarMax (7.42).
Overall, 46 of the companies increased their net debt to EBITDA to 5 or above.
Image: Thinkstock