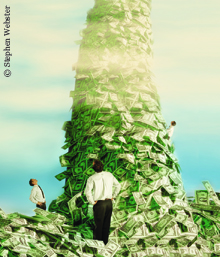 Apple, $145 billion. Microsoft, $74 billion. Google, $50 billion. Cisco Systems, $47 billion. At recent tally, these were the top four U.S. companies in terms of their holdings of cash and short-term investments. Total liquid assets of domestic nonfinancial companies at the end of 2012: $1.8 trillion.
Such eye-popping sums have aroused public indignation. Investors are insisting that companies stop hoarding their cash and start paying it out. Politicians are demanding that they start spending it, in order to create jobs and boost the economy.
But companies are already returning cash to shareholders in record amounts. S&P 500 firms paid $282 billion in dividends in 2012 and are on track to disburse $311 billion in 2013. Buybacks are on the rise, too, as is merger and acquisition activity.
Whether or not individual companies are hoarding cash is debatable. But studies show that among all publicly traded companies, the average ratio of cash to assets has been steadily rising for the last 30 years. Researchers have found good reasons for this rise, but hoarding by entrenched managers isn't one of them (more on this below).
Since the financial crisis, many companies have been keeping more cash on hand. "Most of us large corporates have fundamentally changed the way we approach liquidity," R. Bruce McDonald, CFO of Johnson Controls, told CFO earlier this year (see "Situation under Control," January/February). "We want to have a lot more of it, a lot more comfort from a lot more secure sources."
Similarly, speaking of the need to maintain a "fortress balance sheet," General Motors CFO Daniel Ammann stressed the need to "have a large amount of liquidity available at all times" ("In the Fast Lane at GM," January/February). And at Merck, CFO Peter Kellogg defended the pharmaceutical giant's then-$23 billion in cash: "We want to guarantee that the R&D pipeline is never interrupted" ("The Best Medicines," March).
At some point, determining whether a company has too much cash is a subjective judgment, depending on the eye of the beholder. Recently, CFO asked four expert beholders how they see corporate cash today, and what might entice companies to start using more of it. Here's what they said.
Fear of the Unknown
At the end of the first quarter of 2013, the S&P 500 "old" industrials (a group excluding financial, utility and transportation firms) held $1.1 trillion in cash and current assets, an all-time high for the group. Its cash flow also appears to have set a record in the quarter, according to Howard Silverblatt, senior index analyst at S&P Dow Jones Indices.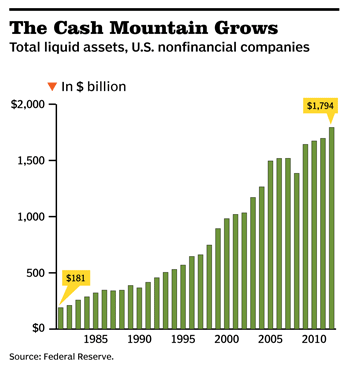 For the full S&P 500, buybacks and dividends are also rising, while capital expenditures reached record highs in fiscal 2012 and Q4 2012. Still, "compared with what they are making, they're not spending as much," says Silverblatt, paying out just 36% of their earnings last year, compared with the historical average of 52%. As for the record capex, it's mainly "old maintenance they've been putting off," says Silverblatt. "We're not seeing a lot of new plants, or expansion, or second shifts coming in."
Not surprisingly, technology companies had the most cash at the end of 2012 — $437 billion, or 41% of the total, up from $388 billion at year-end 2011. "Technology has always had a lot of cash on hand," says Silverblatt, "usually in the 30th percentile. They have a little more on hand than they traditionally do. But other sectors do, too. Health care has a lot of cash, and always has had."
Nobody is happy that so much money is sitting in banks, Silverblatt says. How much yield are companies getting from that $1.1 trillion? "Very little. They're not doing a lot better than you and I are." (For more on how companies are investing their cash, see "Better Than Nothing.")
Companies want to make acquisitions, but they're holding back because of fear of the unknown, Silverblatt believes. A long string of economic events — the fiscal cliff and federal budget sequester, the recession in Europe, the crisis in Cyprus, the Japanese stimulus and continuing Fed stimulus, health care reform — has made for an uncertain environment. "We don't know what tomorrow's going to bring — companies don't know how to plan going forward," he says.
Only the return of confidence and consumer demand will make companies open their coffers wider, says Silverblatt. "Nothing is going to make me build 110 widgets if I can only sell 100."
The Evolution of Cash
Among academics, one of the "traditional stories" for cash holdings is "precautionary purposes," says René M. Stulz, professor of finance at The Ohio State University's Fisher College of Business. "If life becomes more dangerous, you're going to hold more cash — and life has become more dangerous," he says.
But as his research demonstrates, Corporate America's cash mountain began to grow long before the financial crisis. Stulz and fellow researchers Thomas W. Bates and Kathleen M. Kahle trace its buildup over the past three decades in a 2009 Journal of Finance paper, "Why Do U.S. Firms Hold So Much More Cash Than They Used To?" The authors show that the average cash-to-assets ratio for publicly traded U.S. industrial firms more than doubled from 1980 to 2006, from 10.5% to 23.2% (see chart below). By 2006, the average company in the sample had enough cash and short-term investments to retire all outstanding debt.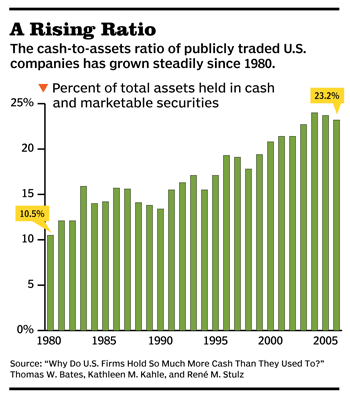 The increase in cash holdings was concentrated among three groups: companies that didn't pay dividends, companies that recently went public, and companies in industries with the greatest increases of "idiosyncratic" (non-market-correlated) volatility. No surprise there, perhaps.
Yet the cash-to-assets ratio rose for all sizes of companies during the study period; its increase cannot be explained by the huge stockpiles amassed by companies like Apple and Microsoft, or by multinationals with large amounts of cash "trapped" overseas by the U.S. repatriation tax, the researchers say.
So why did the ratio grow? Using their model, the researchers single out four reasons. One, companies hold less working capital — in particular, less inventory. Two, the volatility of their cash flows has increased, and riskier cash flows are harder to hedge. Three, capital expenditures have declined. (Stulz can only speculate why; companies do more subcontracting, for example, and "if you buy parts from a firm in China, obviously you're going to have less capex.")
Four, companies are spending more on research and development, and external financing for research is harder to obtain than for, say, construction of a new plant, notes Stulz. "It's a lot easier for outside investors to understand the new plant, and what its value would be if it didn't succeed — you can sell the machines, use the building for something else. It's hard to understand R&D."
The cash-to-assets ratio jumped in the early 2000s, when the economy and markets were reeling from the dot-com bust and subsequent recession. From 1998 to 2006 the median cash-assets ratio nearly doubled, from 7.5% to 13.3%. Why? Many companies relied on equity financing before the collapse of stock prices, says Stulz, in particular high-tech and high-R&D companies — "precisely the firms where you see the accumulation of cash," along with multinational companies. (The dramatic increase in cash holdings in the 2000s didn't take place for private firms, as Stulz and others show in a separate study.)
As for the role of taxation and foreign cash, "we were remarkably unsuccessful in showing that the explanation for holding so much cash abroad is taxes," says Stulz. "Taxes will tell you where to keep the cash. If you want to have a safety blanket, keep it abroad until you really need it. But they won't tell you the amount the typical multinational will keep." From 1990 to 2006, the average cash ratio of companies with no foreign taxable income rose from 14.3% to 25.3%, compared with an increase from 10.8% to 20.2% for companies with foreign taxable income.
And as for cash hoarding, Stulz and his co-authors found no evidence for "agency stories" — that large cash holdings are due to entrenched managers unwilling to distribute cash to shareholders.
The story of large-company cash holdings has changed somewhat since 2006, notes Stulz. Firms initially decreased cash holdings with the advent of the financial crisis, then "went into holding mode big time," especially large firms, he says. "They don't invest as much as they did earlier, and don't give back to shareholders, either."
How Businesses Think
If companies are paying out so much cash in dividends and buybacks while continuing to accumulate it, they must be very profitable — and they are. "There are some remarkable numbers out there," says John Graham, professor of finance at Duke University's Fuqua School of Business. U.S. companies have been averaging close to 10% earnings growth per year over the last decade, he notes, thanks to greater productivity and cost-cutting. Meanwhile, the real economy has been growing only 2% to 3%.
"What would you do if you were having the best financial years of your life?" asks Graham. "You'd be spending some of your money, saving some of it." Or perhaps saving a little more of it: having just gone through a major recession when credit was extremely tight, "it's kind of prudent for companies to say they want to be more self-financed should that happen again," Graham says.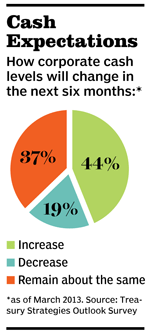 This is especially true for smaller companies, Graham notes. According to surveys over the years conducted by Duke University and CFO, small, private companies keep more cash and liquid securities on hand as a percentage of assets (about 16%) than large companies do (about 10%–11%). "It's harder for them to borrow if they need it," explains Graham. Small, private companies are more afraid of credit crunches, he says. "Also, there's no pressure from shareholders."
Like Silverblatt, Graham doesn't see companies drawing down their cash stockpiles until consumer demand returns. "Politicians say companies need to spend their cash and boost the economy. But that's not the way businesses think," he says. "If the underlying demand is not there, it doesn't make any sense for them to start spending cash — to hire more people, build a plant, make an acquisition. A company's purpose is not to increase job growth, it's to be profitable."
That said, Graham is no fan of fortress balance sheets, either. "GM was making cars that people didn't want. What did it take for them to finally produce the cars they needed to? Bankruptcy." Had GM had plenty of cash on hand, "they might not have woken up to the fact that they needed to change their cars," says Graham.
Similarly, had J.C. Penney and Sears changed their business models 10 years ago, they might be doing better today, says Graham. "Companies have a tendency to wait. Cash reinforces this. In a sense, the pressure to produce now is not a bad thing."
Graham admits that if he worked at today's cash-rich companies, "I would say the same thing — that we believe in our model, we need to be prudent, have liquidity, cash, a fortress balance sheet, all that. But I hope it's not a big shield that prevents them from feeling the pain that is sometimes required to run a business more productively."
So what constitutes excess cash? "It's really hard to know," says Graham. "Companies can justify a large number above and beyond what's needed to run the company the right way; a Carl Icahn might disagree. You have to look at it company by company."
No Such Thing as Excess Cash
The $1.8 trillion in cash held by U.S. corporates is a very big number, but it should be kept in perspective, says Anthony Carfang, partner and director at Treasury Strategies, a consultancy.
"It represents about 11% of U.S. gross domestic product," says Carfang. By comparison, the ratio of cash to GDP was 10% in 2000, he says. "So for all practical purposes, the level of cash relative to GDP has not changed." Yes, the cash held at a handful of companies "is just enormous," he allows, "but otherwise, cash is flat."
Carfang doesn't buy the suggestion that companies are hoarding cash. "At Treasury Strategies, we define excess cash as zero," he says. Zero? "Everything is there for a reason," he explains. If cash isn't used for operations or earmarked for financing requirements, "it's there for a rainy day — when your bank might not be there when you need it, to cushion you against an unexpected surprise in the currency market, and so on. The question is, how nimbly do you want the company to operate? How exposed do you want it to be to its bankers, or to the vagaries of the bond market, the uncertainties of monetary policy?
"All good CFOs know what their cash position is and why it's there."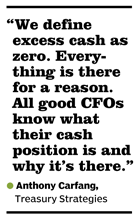 Treasury Strategies divides cash on the balance sheet into four buckets, says Carfang. The first bucket is operating cash, to pay the bills, meet payroll, and so on. The second bucket is reserve cash, which companies hold as a precaution, in case there are hiccups in the business cycle, say. The third is accumulation cash, "a large pool of episodic cash, either being saved for a specific event or because the company just had an event" — spun off a subsidiary or just issued bonds, for example. And the fourth bucket is stranded cash, money that must be kept to meet obligations, such as loan and collateral requirements, or escrow agreements.
Operating cash in U.S. companies is relatively low, says Carfang, thanks to increased efficiency in cash management and working capital management. But reserve cash has grown, as a result of uncertainty and a perceived lack of investment opportunities, he says. Much of that uncertainty, he believes, is due to "the massive intervention in the money market" on the part of the central banks, including the Federal Reserve.
"Before, you could look at the 10-year Treasury rate as the correct market rate for a 10-year investment," Carfang explains. "I would just add my risk premium and that told me what my hurdle rate should be." Today, because of quantitative easing by the central banks, "I don't know what the real 10-year Treasury rate is, and that's the number I need to know in order to evaluate my investment," he says. "So I'm flying blind. My hurdle rate is going to go up to protect myself; I'm going to make fewer investments, fewer acquisitions, fewer capital expenditures."
Eventually, animal spirits will revive, the economy will get back on track, and the Fed will end its policy of quantitative easing. Companies will start using more of their cash for purposes other than dividends and buybacks. "We are all predicting merger mania," says S&P's Silverblatt. "Money cannot sit there forever. But companies need that confidence to spend. They need more confidence in the economy."
Edward Teach is executive editor of CFO.