An American Bankruptcy Institute commission says the growth of distressed-debt markets and secured lending, among other developments, has weakened the 34-year-old U.S. bankruptcy code, or at least shifted its purpose.
"The way both courts and commentators discuss the aims of a Chapter 11 filing has changed," said Robert J. Keach, co-chair of the Commission to Study the Reform of Chapter 11, in his opening remarks at an October field hearing in San Diego.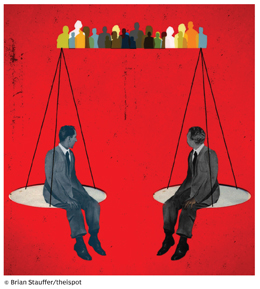 Early court decisions stressed that the bankruptcy code was created to rehabilitate businesses and preserve jobs and tax bases, said Keach, who is a partner at law firm Bernstein Shur. But Chapter 11 cases now appear to emphasize creditor interests, like maximizing asset value for distressed-debt investors, rather than rebuilding and turning around companies, he said.
"There's no longer a situation where the creditors who lent the money or sold the goods are sitting at the table negotiating a restructuring, and that changes how people approach things," says Richard Levin, chair of the restructuring practice at Cravath, Swaine & Moore. But while insolvency professionals admit that the bankruptcy code, last tweaked in 2005, is outdated and needs modification, many worry that changes may affect practices like secured lending, damaging credit markets.
An Unexpected Development
The 1978 code did not anticipate the marked increase in the use of secured credit at all levels of companies' capital structures, the commission points out. "You have companies that enter Chapter 11 fully leveraged, where the entirety of their value is consumed by first-, second-, third-, and sometimes fourth- and fifth-lien debt," Keach said on a December conference call. So "when a company is in trouble, there is less equity in the assets to deal with employees, tort claimants, and other stakeholders." The key to reform, he said, is finding a way to "get value to those other stakeholders while still recognizing the legitimate rights of the secured parties."
Bankruptcy-claims trading, while not necessarily a destructive practice, has grown in recent years, especially with the large bankruptcy cases of Lehman Brothers, MF Global, and AMR. "There's no one who wants to restrict claims trading in any way, because it brings liquidity to trade creditors, who otherwise might have had to wait three years to get money on their claims," Keach said. But while a traditional trade creditor has an interest in the long-term survivability of the company, a person who acquires a claim on the secondary market may not, he said.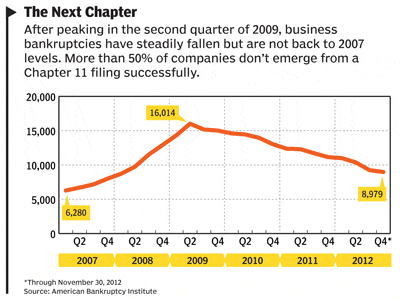 Claims trading — amounting to an estimated $40 billion in each of the past two years — can also complicate creditor voting on reorganization plans, says Levin. "What happens when someone buys multiple claims? Do they get a vote for each claim, or do they get only one vote because they are one creditor?" Levin asks. While the bankruptcy courts are good at working out the issue case by case, he says, "wouldn't it be better if we could all agree on a set of rules that we don't have to slog through the courts to figure out?"
Complaints against distressed-debt investors, meanwhile, have been building for years. Company executives and restructuring advisers rarely want investors like hedge funds buying up distressed senior debt in the secondary markets. They especially abhor those that buy debt to gain a position on the creditor's committee and then push for the firm's liquidation. Hedge funds that pursue a "loan to own" strategy — extending credit to a distressed firm in the hope of converting it to equity — also have few fans.
A Positive Role
Still, there is evidence that secured lenders and distressed-debt investors play a positive role in bankruptcy. Speaking at an ABI commission hearing last October, Edith Hotchkiss, a professor of finance at Boston College's Carroll School of Management, commented that any reforms to Chapter 11 that curb claims trading or weaken the rights of creditors that buy debt in the secondary market would be counterproductive.
"My research and that of others in the field demonstrate that a liquid secondary market for debt has tangible benefits for the bankruptcy process," Hotchkiss said. Academic studies of the past few years have found that consolidating creditor claims boosts the efficiency of the Chapter 11 process, she said. A 1997 study by Hotchkiss showed that when active distressed-debt investors take seats on a company's board or gain control of a firm through stock distributions, they add value by causing the firm's managers to be more disciplined.
A later study of 353 defaulting companies by Hotchkiss found that hedge funds that emerged as majority owners of a bankrupt company often provided capital to fund the reorganization plan. That happens because these lenders "wish to maintain and if possible enhance the underlying value of their collateral," she said.
Still, Hotchkiss admitted that some "passive" distressed-debt investors just want to profit from increases in the value of purchased claims or "seek to influence restructurings in a way that increases payoffs to a particular class of claims."
Some witnesses who spoke at the ABI's field hearings in 2012 expressed concern that the commission could recommend stricter and more-rigid oversight of secured lending or advocate reducing the rights of secured lenders or claims traders in a Chapter 11 case. But at the end of the series of 2012 hearings, Keach said the commission does not view the growth of secured lending and distressed-debt investing as inherently harmful to companies trying to reemerge after a Chapter 11 filing, and it does not intend to advocate that these creditors' rights be diminished.
The ABI, a nonpartisan trade organization for lawyers and turnaround specialists, formed the commission in 2012. The commission expects to come up with a bankruptcy reform proposal by 2014, "the thrust of which we hope the insolvency community will back," says Levin.