Another technical malfunction on the Nasdaq exchange last month may get regulators to pay more attention to core technology and infrastructure issues in the stock markets. In particular, the failure to bulletproof new trading platforms and the lack of robust risk-management systems seem to be behind some of the problems.
On October 3, a day after Kraft Foods completed its switch from the New York Stock Exchange to Nasdaq, something went awry: in the first minute of trading, Kraft shares skyrocketed 29%, to $58.54. The large price move, absent news about the company, led Nasdaq and other electronic-trading brokers to cancel some of the trades that occurred in those first few minutes. Nasdaq OMX said the event was caused by an error by a broker, but some have speculated that algorithms from high-frequency traders also contributed to the price spike.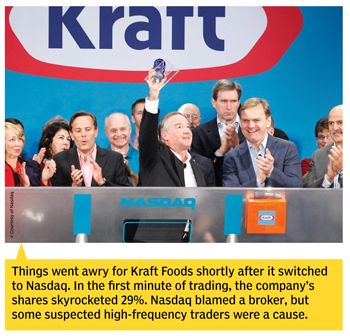 The Kraft-shares mishap is only the latest hiccup to cause wild swings in a company's share price. But while the occurrences have been attributed largely to the complexity and fragmentation of the stock markets — and the lightning speed with which trading orders travel across exchanges — the cause may be more straightforward, says Securities and Exchange Commission chairman Mary Schapiro.
At an SEC roundtable a day before the Kraft Foods glitch, Schapiro said there were technology infrastructure problems on exchanges and with electronic-trading platforms. "Matters of infrastructure are essential to any holistic approach to improving how our markets operate," she said.
Technology glitches are magnified by the current equity-market structure, noted Schapiro. Multiple, interlinked trading venues mean infrastructure failures in one market can "cascade" into other venues, she pointed out, and trading's inherent speed "means that even small, short-lived infrastructure issues can cause drastic harm." Indeed, this year, flaws in software programs or electronic-trading systems disrupted trading orders at Knight Capital and initial public offerings for BATS Global Markets and Facebook.
To protect against malfunctions, firms should have robust processes for developing and testing new software. But the industry also needs "advanced risk-management systems to limit the risk of unintended trading activity by a firm or its client," said Chris Concannon, executive vice president of electronic market maker Virtu Financial, when testifying before a Senate committee last month.
While regulators have some preventive measures in place — like single-stock circuit breakers that are supposed to prevent a stock's price from collapsing when trading glitches occur — the SEC roundtable discussed introducing "kill switches" that could be quickly flipped by exchanges to block a broker's trades when errors are discovered.
Better processes, software safety switches, and testing of new code also need to be supplemented by human monitoring, said TABB Group CEO Larry Tabb at the October Senate committee hearing. "An electronic-trading problem is only an electronic-trading problem for a minute," he said. "After that it is a human problem."