Thanks to the Jumpstart Our Business Startups (JOBS) Act, firms can now trumpet private placements to the public at large, but not without running an additional compliance risk.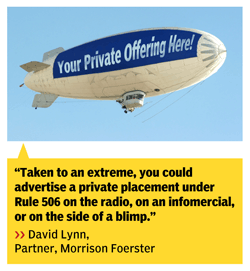 Previously, under Rule 506 of Regulation D, U.S. companies that issued private offerings were prohibited from engaging in "general solicitation and general advertising" of such deals. The JOBS Act lifts that ban. "Taken to the extreme, you could advertise a private placement under Rule 506 on the radio, on an infomercial, or on the side of a blimp," says David Lynn, a partner at Morrison Foerster.
But one requirement of Rule 506 hasn't changed: investors in private offerings must be "accredited" — that is, have a minimum net worth and annual income. Before, they could self-certify that they were accredited, by signing a form. Now, under the JOBS Act, if a company uses general solicitation for a 506 deal, it must take an active role in confirming that investors are accredited, Lynn says. It's not clear what documentation, if any, the SEC would require; in a recent proposal, the agency "kind of punted and said, 'We're not going to adopt any bright-line verification,'" says Lynn.
In a comment letter to the SEC last July, one investment-bank executive said that requiring more than self-certification would make private placements more difficult. Michael Flannigan, an executive at BrokerBank Securities, said many potential investors would be reluctant to go to the trouble of assembling the financial information the issuer needs, or to disclose that data. "By the time most people accumulate a net worth of [more than] $1 million not counting their principal residence, they usually want to keep their financial information very close to the vest," wrote Flannigan.
Companies can still conduct Rule 506 offerings the old-fashioned way. Many issuers — such as a company that is raising a Series C round and returning to its existing financial sponsors — won't broadcast private offerings beyond their inner circle, says Lynn. General solicitation is more suited to firms that don't have access to professional private capital but have customers or individual contacts that might qualify as accredited investors.