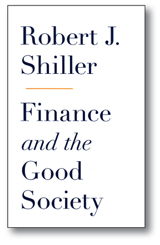 Robert Shiller is well known for having foreseen both the dot-com and the housing bubbles (he is a co-creator of the S&P/Case-Shiller Home Price Indices), and for his pioneering work in behavioral finance. In Finance and the Good Society (Princeton University Press, April, $24.95), the Yale economist comes to praise finance, not to bury it. "Finance," he writes, "despite its flaws and excesses, is a force that potentially can help us create a better, more prosperous, and more equitable society."
After examining the often unappreciated value contributed by finance professionals, Shiller reminds us that finance has already helped build a better world through inventions like amortizing mortgages and mutual funds. Instead of shying away from financial innovation, he argues, we should embrace innovation that can improve people's lives. That could include everything from, say, derivatives for consumer prices and real estate risks to indexing the tax system for income inequality (the greater the inequality, the greater the tax progressivity).
"The key to achieving our goals and enhancing human values is to maintain and continually improve a democratic financial system that takes account of the diversity of human motives and drives," concludes Shiller.