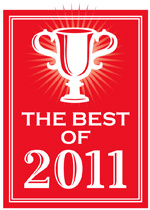 In 2011, companies experienced a material change in the ability to access capital, at least in the debt markets. Syndicated loan volume more than doubled, and commercial and industrial lending had a robust recovery. It was good timing for companies that wanted to lower their debt servicing costs, extend maturities, or both. Some even increased their leverage.
But all still was not well. Much of banking continued to be in turmoil, as tighter regulations and unfavorable economics clouded the future of U.S. financial institutions. Equity markets received new issues with pessimism, keeping many growth companies from becoming publicly owned. And sovereign debt crises (including the U.S.'s own) kept investors on edge. Much of CFO's coverage showed finance chiefs how to navigate the overall volatility of markets, keep financing risk to a minimum, and repair fraying relationships with their bankers.
Here are CFO's best banking and capital markets stories of 2011, as judged by the editors:
Safeguarding Your Liquidity
Capital needs are covered and maturities are pushed out. What could possibly go wrong?
Five Questions NYSE Euronext Shareholders Should Be Asking
The possible sale of NYSE Euronext raises specific questions for shareholders – and larger issues for any CFO involved in a merger.
The Risks of Early-Stage Debt
Start-ups are turning to venture debt to plug the gaps in equity financing, but these loans come with caveats.
Liquidity Floods U.S. Banks
Bank CFOs are cautious about investing the large stores of cash that businesses are depositing.
When the IPO Window Closes
Time to draft a new strategy for financing your company's growth.
Nine Things Affecting Your Stock Price
Why is your company trading at a relative premium or discount to its peer group? Consider these nine factors, says OCE Interactive.
A Small Problem
Local banks are being gobbled up at a fast clip, but there's still time to grab credit.
Follow the Bouncing Stock
Equity markets are more volatile than ever, and many observers say high-frequency trading is the reason.
Beyond Benchmarks
Treasury is far more than a processing center, as companies that can measure its true value are learning.