Who doesn't want to play the hero? Even in the pragmatic world of business, a finance chief may find it hard to resist the allure of stepping into the breach to rescue a company from insolvency. But as tempting as it may be to display the full breadth of your financial and operational acumen, is a true Chapter 11 turnaround really the way to go?
The hard truth is that a distressed company may not make it to the other side of a bankruptcy, and the would-be hero often fails to provide creditors with much recovery. More often, an asset sale — whether a company is in Chapter 11 or out — is the best option.
Why are companies that are in imminent danger of going bankrupt choosing a quicker egress? Although the average duration of a Chapter 11 case has fallen dramatically — it was 8.5 months in 2010, according to Grant Thornton, down from 18 months earlier in the decade — the bankruptcy process is still viewed as a traumatic, value-diluting event. And despite the return of debtor-in-possession financiers, funding a true operational turnaround is difficult.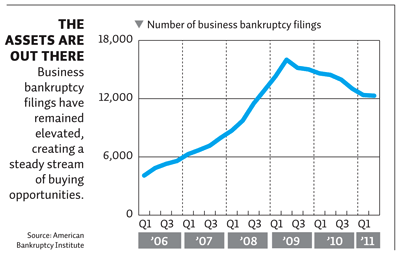 Because senior lenders haven't had the monitoring mechanism of covenants, "by the time a [precipitating] event takes place, all of a company's assets have been pledged," says Jim Peko, a principal in Grant Thornton's restructuring-services practice. "There are a limited number of assets [or none] to finance a Chapter 11."
In contrast, hedge funds and other secondary-market investors have vast resources to buy a distressed company's debt or assets. That has increased transaction activity involving underachieving businesses. "Years ago you had mostly par holders [of debt]," says Alan Gover, a partner at law firm White & Case. "Now debt ownership shifts prior to a filing. Some of these highly sophisticated investors have the capacity to do a control play, but some are looking to exit a position quickly."
Unsecured creditors often consider asset sales in bankruptcy "unfair value grabs," says Gover. Academics have argued that distressed M&A deals produce less value for creditors when the deals are fast-tracked, but Gover says that their empirical analysis is not universally accepted. "The offsetting consideration is the time value of money. There's the burn rate of being in Chapter 11, plus the costs to administer — the legal fees and everything. I don't know that I personally buy their proposition."
A Natural Process?
Turnaround consultants and interim finance executives at near-bankrupt companies are coming around to Gover's view. The gradual movement from doing a sale in bankruptcy to doing it with a fiduciary to doing it even without a fiduciary represents a logical evolution of the free-market economy, says Gerry Sherman, managing partner of Pathway Advisors, an insolvency-services firm. "It drives things to the best result for everybody," he says.
Many distress sales out of bankruptcy are cloaked in secrecy, making them hard to track. But turnaround experts skilled in crisis management say they are working on more such deals, and they are doing more transaction advisory work, alone or alongside crisis-management engagements.
Jacen Dinoff, chief executive officer at KCP Advisory Group, is overseeing two spin-offs from a dying high-tech business that otherwise would have taken the bankruptcy route and left creditors nothing. Dinoff says he carved out "great technology" from the company's portfolio and sold it to a new company. The buyer will distribute the product, but will still rely on the old company to manufacture it. The manufacturing part of the business, meanwhile, is being sold to another company in a "secured party" sale (the sale of a distressed company under Article 9 of the Uniform Commercial Code).
"[The transactions] pay the lender down substantially and create a mechanism that generates excess cash for all the other creditors," Dinoff says. The employees keep their jobs, which is particularly important in this case because the high-tech company was the largest employer in the town where it was headquartered.
Transactions without a fiduciary are unusual and are not without complications, but they can be substantially quicker than those that require court approval, says Sherman. In one case handled by Sherman, the "liquidating dividend" — the return of capital — was paid in 105 days. A key part of such nonfiduciary transactions is total transparency and credibility with the creditor base, say Sherman. "If creditors trust you and are convinced they are going to get more money quickly, they are on board. Do you want 50 cents now or 40 cents in two years?"
Of course, in many cases these are liquidations — ending the company's life as a going concern. But the value obtained doesn't have to be liquidation value. A good adviser can get "operating value" for assets like inventory and receivables, Sherman says. Liquidating buyers look to purchase inventory cheap and sell it, but a strategic acquirer integrating the inventory into its business will pay more.
Giving Up to Get
So-called situational investors, like New York–based Tenex Capital Management, say that liquidation is a last resort, and advise that before entering a formal bankruptcy process owners exhaust all other options, such as giving a significant equity stake to a new investor. "The costs of bankruptcy take away from the value of the company," says Tenex chief executive Mike Green. "We try to get [a transaction] done much earlier and preserve that value."
A Tenex deal typically goes this way: the firm negotiates an acquisition and devises a plan to reorganize the capital structure and operations, securing the agreement of all counterparties, from equity holders to debt holders. Using its own capital, it then buys the debt and converts the debt holders to a new equity class. Usually the challenge for Tenex is to realign the company to focus on profitable, cash-generating operations instead of growth. "It's a very popular style of acquisition when companies have tried to grow aggressively," Green says.
Companies that have launched new services or products that haven't performed according to plan and that have used a variable source of capital to fund the expansion are the kind of "in-transition" businesses that Tenex targets. Others include those whose markets have changed, resulting in lower demand for their product or service (which results in a misalignment between cash production and the capital structure), and family-dominated companies from which a large shareholder wants to exit, says Green.
A Stay in Court
Of course, sometimes Chapter 11 is inevitable. For companies confronting thousands of creditors, for example, it can come down to the pure logistics of dealing with so many parties. Asset sales under Section 363 of the Bankruptcy Code are, fortunately, very attractive to some buyers. "There's no better way to buy a company than in bankruptcy," says Jonathan Carson, managing director of Kurtzman Carson Consultants, a claims and noticing agent. "You can buy all the assets [free and clear] and choose which liabilities you want."
Some secured creditors also value the 363 sale route. When a company is trying to exit a Chapter 11 intact, the secured lender may be wondering, "This company hasn't made money the last six months; what are they going to do to change their operations and start making money?" says Charles Kuoni III of CRG Partners, a turnaround management firm. "A lot of lenders take the view that 'I'd rather take the hit on my debt and do a 363 and open it up to the marketplace and see what the assets are really worth,'" he says. Senior lenders can also "credit bid" — that is, offer to buy the asset themselves.
Unsecured creditors may favor a 363 sale if it doesn't break apart the company. If the business is sold intact, a vendor can sometimes reestablish the supplier relationship. If the supplier contract is assumed by the new owner, that investor or the original debtor may repay the old note. Even in bankruptcy sales that decimate a business, unsecured creditors can get some recovery. If the unsecured-creditor committee objects to a sale, there is little the committee can do except to ensure that bidding procedures are followed, bidders are qualified, and the asset is marketed effectively.
Most times, those are the same goals that executive management, boards of directors, and interim CFOs have, in addition to their overall aim of obtaining maximum value for the assets. Sales of near-bankrupt businesses aren't a slam dunk. But with a company in the zone of insolvency, finding creative transactions that either (1) allow the company to live on through another owner or (2) constitute a graceful breakup that comes close to making (or makes) creditors whole is a good outcome.
A heroic turnaround of a faltering business is great drama, but the state of bankruptcy law now makes such feats extremely risky. In the distressed company cycle of "crisis, stabilization, and restructuring," bankruptcy filings have always been a tool for stabilization, points out KCP Advisory's Dinoff. Now that bankruptcy is stripped of some of its stabilizing power, he says, "it's more about 'What's your exit?'"
Vincent Ryan is senior editor for capital markets at CFO.