Exposure to the "European problem" lurks in companies' short-term cash portfolios if those portfolios are invested in U.S. prime money market funds. These funds have large exposures to the short-term debt of European financial institutions, according to a June 21 report by Fitch Ratings, making them "a potential channel for Eurozone credit market volatility."
Based on an analysis of the 10 largest prime funds, which hold $755 billion of the industry's total $1.66 trillion in assets, Fitch found that in the aggregate money market funds had 50% of their assets parked in short-term debt of European banks. (Money funds invest in bank certificates of deposits, commercial paper, asset-backed CP, and repos.)
In aggregate, through May 31, money market funds have the greatest exposure to French banks, at 14.8% of assets, and U.K. banks, at 9.7%. Investments tied to German banks have declined to 6.3%. Exposure to banks in Spain and Italy has fallen to less than 1% of assets.
By individual institution, money funds have invested the most in Deutsche Bank (4.5% of total assets), BNP Paribas (4.1%), and Dutch lender Rabobank (3.8%).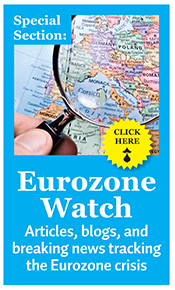 The funding nexus between U.S. money market funds and European banks arises from the needs of both groups. Since 1999, European banks have quadrupled their appetite for U.S. dollar funding, while European bank instruments have given money market funds a higher-yielding alternative to Treasuries and have filled in for a lack of asset-backed securities in the United States.
But the exposure is problematic because the sovereign debt crisis in Europe could infect its banks, even those outside the countries that are in immediate crisis. U.S. corporates have already recorded losses tied to investments in banks overseas. This week Aflac reported an expected second-quarter loss of $610 million on investments in some banks in Greece, Ireland, and Portugal.
The threat of a default by Greece has Moody's contemplating downgrading the long-term debt of French banks BNP Paribas, Societe Generale, and Credit Agiricole SA because of their holdings of Greek bonds. Moody's is also warning on possible cuts to the ratings of 16 Italian banks.
Importantly, Fitch sees the problem as one of volatility, not default. "Money market funds have been selective in their exposures to European banks," explains Viktoria Baklanova, a senior director in the fund and asset manager rating group at Fitch. "I don't see money funds breaking the buck in this situation. If credit quality deteriorates below [regulatory] requirements, money market funds don't have to just dump the securities — it would be an orderly rolling off."
Moreover, says Baklanova, because money markets are invested in short-term instruments, "if a bank doesn't go into default overnight, most likely the security will mature." 
The Investment Company Institute came to the defense of the U.S. money market fund industry this week. "Money market funds are more resilient today than they were in 2008," said a statement from the ICI. "In 2010, the SEC amended regulations that raised these funds' standards for credit quality, shortened portfolio maturities, improved disclosure, and imposed for the first time explicit liquidity requirements for fund portfolios."
Total money market fund assets fell by $34.4 billion in the week ended June 15, but the ICI attributed the decline to "large estimated tax payments by companies and individuals [which] historically cause outflows from money market funds in mid-June."
The problem with money markets funding European banks' balance sheets is potentially a problem for the banks themselves. Money markets account for as much as 3% of some banks' short-term funding. The new Basel III liquidity ratios, however, are designed to reduce banks' reliance on these short-term liabilities. (In stress scenarios run by bank regulators, points out Fitch, unsecured funding of less than 30 days is assumed to run off completely.) At the same time, the Rule 2a-7 amendments (referenced by the ICI) incent money funds to increase the liquidity of their investments, which could create "disincentives for money market funds to invest in longer-dated bank CD and CP issuance," says Fitch.
If money market funds withdraw their investments in bank instruments, "it could create negative perceptions about an institution's financial condition," says the Fitch report.