Decisions to extend or withhold credit can be difficult to make at any time and in any economy. In a global pandemic and economic downturn, these decisions can be even more difficult as businesses struggle to manage cash flow and keep the lights on. Every company wants to bring new customers in the door and drive sales. But doing so in a way that doesn't ultimately hurt the business requires smart, thoughtful policy and a willingness to take some risk.
The amount of credit that companies offer can vary quite a bit, depending on industry, size, and financial strength. Through its Open Standards Benchmarking Performance Assessment in Customer Credit and Invoicing, APQC finds that respondents offering the least amount of credit (those in the 25th percentile) bill 20% of their invoices to customers with credit terms. Respondents in the 75th percentile are a little more than twice as generous with their credit, billing half of their invoices to customers with credit terms (see graphic).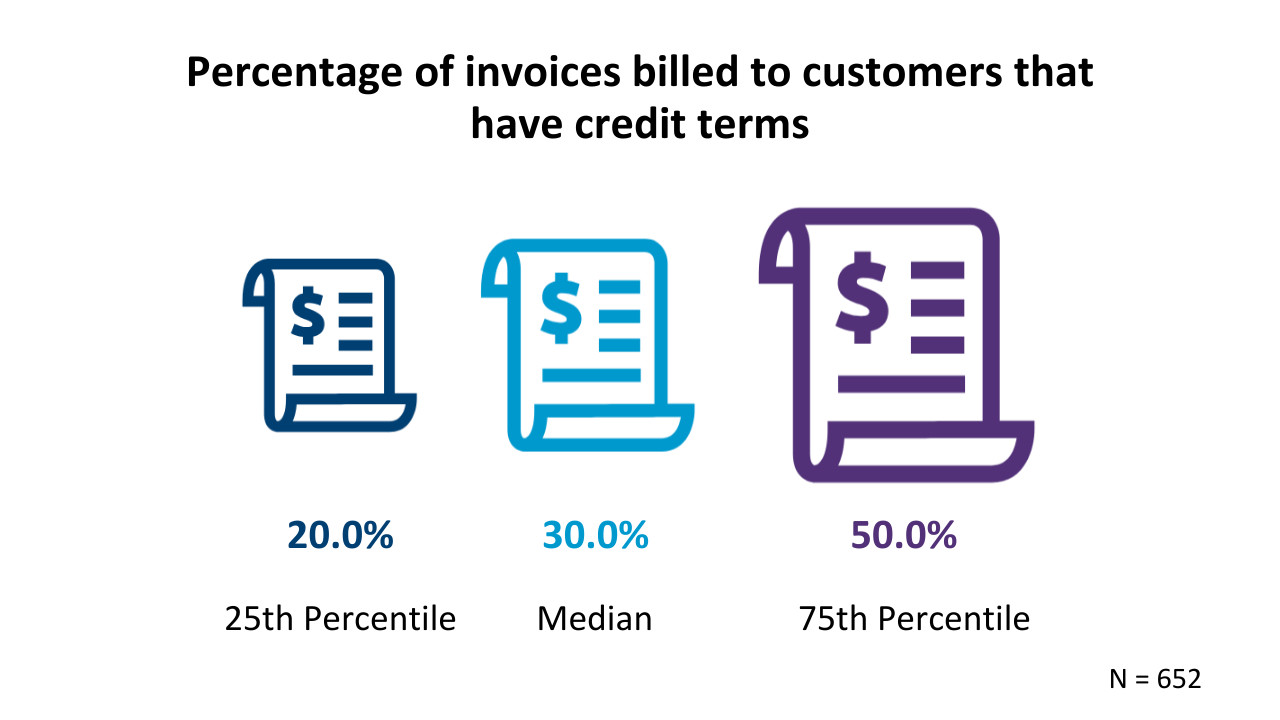 This cross-industry benchmark includes a wide range of companies, but some industries are naturally more credit-heavy or credit-averse. For example, few customers — especially in a pandemic and economic downturn — will walk into a car dealership with the cash on hand to pay the full price of a vehicle at the point of sale. It thus makes sense that automotive respondents at the 75th percentile bill 83% (or more) of their invoices to customers with credit terms. 
Meanwhile, the health care industry is generally less flexible about credit, often requiring payment upfront for procedures. Health care respondents at the 75th percentile bill only 30% of invoices to customers with credit terms. As always, we recommend that you benchmark this and other measures within your industry for a sharper picture of where you stand relative to peers and competitors. 
Weighing the Benefits and Risks
At a broad level, credit decisions require a delicate balancing act. Credit policies that are too lenient may expose a company to undue risk with higher numbers of customers unable to pay. Policies that are too restrictive, on the other hand, also carry risk because they may freeze out customers that otherwise would have had the ability to pay with credit terms. Each company needs to weigh the benefits and tradeoffs against factors like risk appetite, strategic goals, and financial strength. Finance leaders should remain cognizant of the pros and cons of extending credit as they work through those decisions.
Advantages of Extending Credit
Credit programs can work to a company's advantage, provided that the program is backed up with a thoughtful policy. If you can afford it, the additional payment options made available through credit terms can open the door to new customers by making it easier to purchase the product or service. Extending credit can also drive competitive advantage, especially if your competition cannot offer the same payment options. Existing customers, meanwhile, will appreciate having more flexibility over payments and will be more likely to remain loyal customers. 
Challenges of Extending Credit
Decisions to extend credit always carry some amount of risk. Extending credit to more customers increases the likelihood of late-paying customers or customers who cannot pay, which can put the brakes on your cash flow. It may also result in higher expenses down the road, requiring you to build up your collections infrastructure (or else pay a third party) to pursue payments from customers that find themselves unwilling or unable to pay. It might also lead to higher expenses through increased uncollectable balances that subsequently need to be written off. 
Know Your Customers
When it comes to decisions about extending credit, customer knowledge and relationships, strong policies, and finance tools and technologies are all keys to success. Because of the work that they carry out, some industries like banking and some leading companies like Cargill leverage sophisticated analytics programs and workflow tools to determine whether to extend or withhold credit. And certainly, services that provide consumer or business-to-business credit scores are valuable tools, especially when assessing new customers. Examining existing customers' payment histories and behaviors can also help provide a clearer picture of customer behavior patterns and whether it's worth the risk to give them a bit longer to pay.  
There is also a relational element to some credit decisions that can't be ignored. Especially for a company's most strategic and mutually-beneficial relationships, it may be worth compromising on credit terms. Your business and its employees are the priority, but keeping your most important and valuable customers might make it worth accepting slower payments over time. 
In an ideal world, your company would get paid at the point of sale for every product or service it sells. Still, the reality is unlikely to match this ideal — especially in an economy that remains battered by a pandemic. Particularly if you're in an industry where credit is a necessary part of doing business, carefully weighing the pros and cons and developing smart policies will help minimize the risk and help your company maximize the potential opportunity that comes from having more customers on credit. 
Perry D. Wiggins, CPA, is CFO, secretary, and treasurer for APQC, a nonprofit benchmarking and best practices research organization based in Houston, Texas.