As the returns of activist investors have soared, so have their popularity, and their impact on public companies. That, in turn, has forced CFOs to keep a weather eye on their movements, and ponder how they will respond when an activist investor comes calling.
Activist hedge funds have been the top-performing hedge fund type for the past two years, posting returns of 15.2% in 2012, 19.1% in 2013, and 3.9% through February 2014, according to eVestment, an investment data company. Institutional investors have taken note. Currently such funds manage about $100 billion in total, according to Hedge Fund Research.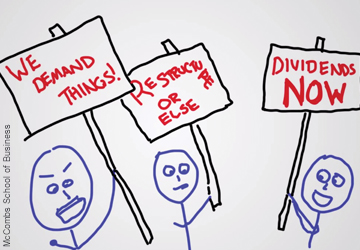 "When the stock market goes up for five straight years, the way that it has, it's harder to find cheap investments," comments Stephen Raneri, head of LionEye Capital Management, an event-driven hedge fund manager in New York. As a result, hedge fund managers are "seeking value where it might be locked up," he says. That may be in balance sheets with lots of cash and little debt, or in companies that underperform because of ineffective strategies.
Activist investors must think a lot of companies are undervalued: they have targeted nearly 20% of companies in the S&P 500. They also appear to be getting more aggressive. Last year, 90 campaigns resulted in board seats procured, up from 77 in 2012, according to SharkRepellent.net. In the first two months of 2014, 16 activist investors grabbed board seats at U.S. companies, the most during that period since 2009.
Activists have even succeeded in forcing out chief executives. For example, Microsoft investor ValueAct Capital launched a campaign last year for a change in management, and several months later chief executive Steven Ballmer announced his resignation.
Changing Perceptions
Activist investors are often characterized as predatory investors interested only in short-term results. But there is evidence that their model has been successful at creating shareholder value through share-price appreciation, stock buybacks, spin-offs, and the like.
[contextly_sidebar id="8e14fab48e14a99117605b5e8a3db1e4″]
In a forthcoming article in the Columbia Law Review, "The Long-Term Effects of Hedge Fund Activism," researchers Lucian Bebchuk, Alon Brav, and Wei Jang studied 2,000 interventions by activist hedge funds between 1994 and 2007. They found that interventions resulted in improved operating performance in the five years following an activist campaign. This was true even in cases when the activist used controversial tactics, such as forcing the company "to lower or constrain long-term investments by enhancing leverage, beefing up shareholder payouts, or reducing investments."
Such results have been changing how activist hedge fund investors are perceived. Even Mary Jo White, chair of the Securities and Exchange Commission, has said that depicting all activist investors as short-term profit takers is an outmoded way of thinking.
"The nature of the practices and objectives associated with shareholder engagement is changing," White said in a speech last December. "More and more, investors have become comfortable with being called an 'activist' in part because of the support they have received for their goals and, in some cases, even the tactics that they use."
As for responding to activist investors, "the process has become less defensive and more proactive," said White. "We are seeing a concerted effort to persuade shareholders of the wisdom of management's choices and practices."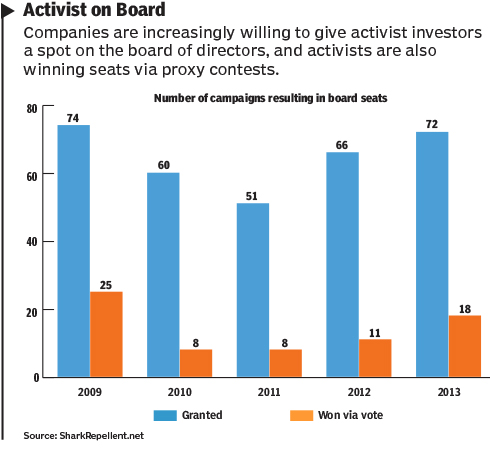 Speaking for Others
CFOs should keep in mind that activists often speak for the views of other investors who also want changes at the company, says Jeff Morgan, president and chief executive of the National Investor Relations Institute.
"Sometimes good long-term investors get a little frustrated, and so behind the scenes they will support activists, so you can never assume anything," says Morgan. "I think in years past that wasn't the case, because of the negative connotation of activists."
Companies need to stay up-to-date on who their investors are and what their views are, advises Morgan. They also should strategize about how they will handle activist investors and determine whether an activist shareholder is going to take action. Sometimes, he says, "you hear folks within the company say, 'Well, the activist, after all was said and done, really had some good points.' And the company came out the other side and was much better for it."
That doesn't mean, of course, that companies should simply roll over for activist investors. They can still adopt structural defenses, like shareholder rights plans, to protect against the possibility of actions that wouldn't be in the best interests of shareholders.
Hertz Global Holdings, for example, adopted a one-year poison pill in late 2013 after noticing unusual activity in the options market. At the same time, however, Hertz initiated discussions with important shareholders and stated that it welcomed their "input towards the goal of enhancing shareholder value." In the end, the activists got what they wanted — a spin-off of Hertz's equipment rental business — without a full-scale public shouting match with management. Indeed, the activists didn't even kick up a fuss over the poison pill.
In general, when an activist investor knocks on the door, the CFO should welcome it as an opportunity to communicate why the company has chosen the path it's on, says Raneri of LionEye Capital Management. Simply circling the wagons and hunkering down is a mistake, he says. "If you pursue openness with your shareholders, then ultimately it will lead to good outcomes for your company."
---
Keith Button is a freelance writer based in New York.