Normalized adjusted EBITDA less capex. Adjusted consolidated segment operating income. Adjusted EBITDA (as adjusted).
The practice of using financial reporting measures that do not comply with generally accepted accounting principles is as popular, and controversial, as ever. Of course, a small number of non-GAAP measures, like free cash flow and earnings before interest, tax, depreciation, and amortization, enjoy widespread acceptance among companies and investors alike. But even ardent advocates of non-GAAP metrics have to admit that some measures, like the ones cited above, sound a little far-fetched.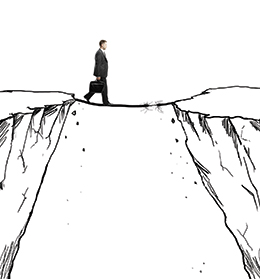 The Securities and Exchange Commission has shown little patience for the wilder varieties of non-GAAP measures. In December, David Woodcock, chairman of the SEC's Financial Reporting and Audit Task Force, told a meeting of the American Institute of Certified Public Accountants that his group was "looking at non-GAAP measures," according to the Wall Street Journal. But the commission has long subjected such metrics to scrutiny.
For example, Groupon, the proponent of "adjusted consolidated segment operating income," took heat from the SEC in 2012 because the metric excluded online marketing expenses (a critical part of the firm's business model) from company performance. The daily deal company eventually dropped the metric from its initial public offering filing, although it absorbed further criticism for its post-IPO use of other non-GAAP measures.
Black Box, a telecommunications company, got some bad press in January, when it included the metric "adjusted EBITDA (as adjusted)" in its quarterly earnings release. The metric subtracted from net income ordinary expenses such as a $2.7 million loss on a joint venture, creating EBITDA (as adjusted), then further excluded stock-based compensation expenses to create the redundant-sounding measure. Black Box said the metric demonstrated its ability to service its debt, but others thought it made the company look like, well, a black box.
Non-GAAP metrics "may be perfectly understandable to accountants who know what that company is doing but confusing to others," says Michele Amato, partner at accounting firm Friedman. But companies that use such metrics argue that they often depict financial performance more accurately than GAAP measures do, and afford investors a window to how management sees things.
Excluding Hail
Public companies are allowed to disclose non-GAAP metrics in their SEC filings, press releases, and earnings calls, subject to certain rules. Under Regulation G, mandated by the Sarbanes-Oxley Act, use of a non-GAAP financial measure must be accompanied by the most directly comparable GAAP measure and a reconciliation of the two metrics.
Robert Rostan, CFO and principal at financial training firm Training the Street, says there's nothing wrong with using a non-GAAP metric to provide an additional perspective about something germane to a company's performance — such as its valuation, credit standing, or working-capital management — that can't be communicated well through GAAP metrics alone.
At the same time, however, Rostan understands that some nontraditional metrics can be misleading and erode a company's credibility. He cites one firm that excluded hail damage in calculating adjusted income from continuing operations (a non-GAAP metric) in the second quarter, even though the firm was located in an area that regularly experienced hail in the spring. "Is that really a one-time item that you should take out when talking to analysts?" asks Rostan.
Some say companies shouldn't use non-GAAP measures at all. Anthony Catanach, a professor at Villanova University, has long railed against the practice on his blog, "Grumpy Old Accountants." "What disturbs me is that adjusting GAAP underestimates the intelligence of institutional investors," he says. "Are you telling me that good research analysts can't subtract a couple of numbers from earnings?"
Non-GAAP metrics also may be a red flag, he says. "In my experience, companies that have strong earnings year after year, that have strong operating cash flows and are good at what they do, don't report non-GAAP metrics," says Catanach. "It's only the ones where the business model is a bit suspect, and where the company's marketing has gotten out in front of its performance."
From Non-GAAP to Nonfinancial
Rostan says CFOs can find a middle ground by leaving non-GAAP metrics out of investor presentations and public filings but including the "building blocks" in their financial-statement disclosures so that investors can "do the calculations on their own," Rostan says.
Catanach says CFOs who want to be more transparent in how they measure success could supplement financial metrics with nonfinancial ones, like new accounts opened or a breakdown of sales volume by corporate customers versus individuals. "Tell me something about your business model and how well it's working," he says.
Companies could also include measures that show how they are investing in the future — through employee training and education, for example. "Why are we focusing on a financial-statement number from which you subtract one or two amounts, when the universe is so wide open with so many other measurements that could really would help the investment community?" Catanach asks.