In a hypercompetitive marketplace, a company can't count on stealing market share from its bigger rivals by swooping in and undercutting their prices. And improving quality alone isn't enough of a sustainable (or affordable) advantage to lure customers away. So how can a David wage a respectable war with Goliaths?
According to a study conducted by CFO Research in collaboration with American Express, smaller companies compete best with larger opponents by using their market-bred smarts. The modern marketplace, where the identities and aims of competitors and the tastes of customers change faster than the weather, requires ambitious businesses to continually reinvent themselves, following their target customers and adjusting to their changing needs and perceptions. To help them succeed, smaller firms require an arsenal that, as one manufacturing CFO listed, includes "service excellence, reputation, customer delivery, safety [and] customer relationship management."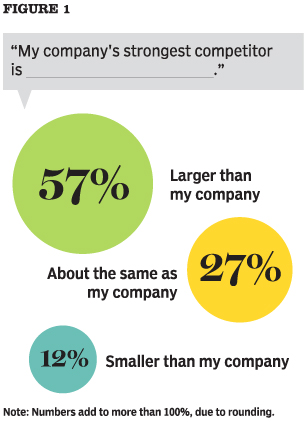 The study, "A Valuable Turn for Finance," is based on a survey of 275 senior finance executives at U.S. companies with annual revenue of between $4 million and $2 billion. Nearly 60 percent reported that their strongest competitor is a bigger company (see Figure 1, left). The study reveals how such companies focus relentlessly on value in dimensions beyond their competitive strategies — in their disciplined approach to how they manage their finances, and the choices they make about where they decide to spend and invest. (To download the full report, go to cfo.com/research).
Despite spongy demand and firm constraints on capital, such companies recognize the need to manage every aspect of the business with the overarching goal of maintaining — or even enhancing — their organizational flexibility, so they can exploit opportunities as fast as possible.
Like Water over Rock
In almost every aspect of management, these companies know they need room to move. When it comes to improving cash and working capital management, finance leaders at smaller companies reported that their big-company customers aren't interested in resetting payment terms or lowering their price to help their smaller counterparts. "We deal with many large companies that don't really care much about small companies," said the EVP of finance at a media/entertainment company.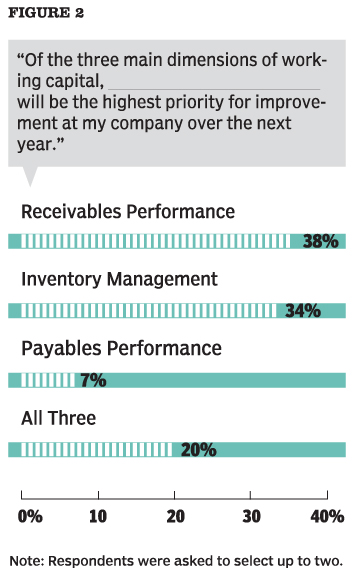 But, survey respondents insisted, that doesn't discourage them from continuing to push on collections, payables and inventory management. Slow but steady pressure pays off. "You must be like water running over a rock," intoned the CFO of a wholesale/retail trade company. "Stay constant and vigilant, and eventually you'll erode some resistance."
Asked to rank the three facets of working capital in order of their priority for the coming year, nearly 40% of respondents selected receivables performance on top, while 34% chose inventory management (see Figure 2). The survey also found that companies were moving toward making greater use of credit- or purchasing-card float as a tool for buoying their cash positions.
Spending More, Carefully
When it comes to spending, CFOs are — again — focusing on making such decisions smartly. They aren't reflexively cutting back on spending, though; 45% of respondents said that their companies would spend and invest more over the next year than they did last year, with only 19% planning to spend less (see Figure 3 below).
"[We] need to fully evaluate every penny to ensure it will get the return necessary for our future, both in the long run and in the short run," said the treasurer at a food/beverages/consumer packaged goods company.
Cost control, survey respondents stressed, remains critical. A solid majority of respondents, 82%, said that their companies' focus on financial discipline would increase in the next two years. The reason: in an unforgiving market environment, they want to make sure that their companies are competing from a position of strength. Failing to implement such a rigorous approach would increase their vulnerability, leaving them constrained and stifled — and allowing others to move ahead.
Price-War Casualties
Larger companies have the scale to endure — and emerge triumphant — from most price wars. For smaller companies, competing as a low-cost provider is almost always self-defeating. Slicing prices means cutting into profit margins, reducing operating capital available for such functions as R&D or quality control. Also, customers are unlikely to develop any loyalty to a low-cost provider; they'll leave when a cheaper upstart comes along.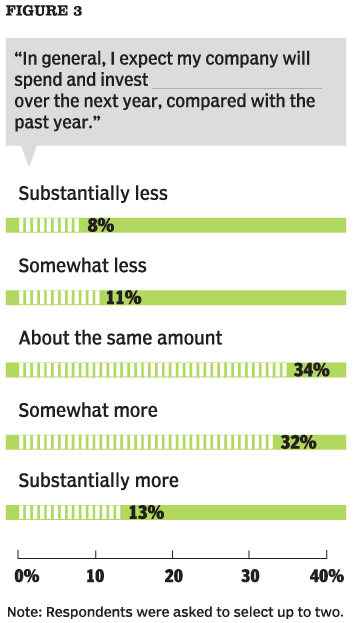 Avoiding that fate means providing better quality and service than your competitors, no matter their size. "Price only goes so far," said the CFO of a wholesale/retail trade company, adding that "the ability to maintain local inventories; ship accurately and timely; and provide simple, clear invoices while servicing customer needs will win out in the long run."
Smaller enterprises need to take advantage of their own inherent capabilities. That means not just articulating what sets their products or services apart, but also understanding why it's a good deal for their customers. The form their competitive strategy takes needs to emerge, and shift, based on an in-depth understanding of their customers.
By paying attention, these companies may, for example, decide it's prudent to segment their customers, creating a lower-cost version (or offering an entry-level service) for their more transactional, price-sensitive customers. Successful market segmentation requires executives to understand not only the relative size of the different segments, but also how each segment defines and measures quality. Sometimes all it takes is a small adjustment to strengthen a company's appeal and improve customers' perception of value.
"Because I am smaller, I need to have both — better quality and better price," said a finance executive at a business/professional services firm. That's possible, it seems, as long as management stays clearly focused on why it belongs in the market (or markets) it's in. A well-founded sense of purpose may be the most enduring competitive advantage of all.