President Barack Obama called for a number of solutions to U.S. tax problems in his State of the Union address to Congress in February. In particular, he attempted to appeal to small businesses with a plea for simplicity.
"The American people deserve a tax code that helps small businesses spend less time filling out complicated forms, and more time expanding and hiring," Obama said.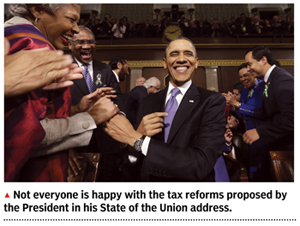 But small-business advocates have been some of the most vocal opponents of the President's tax-reform proposals, questioning the reforms' ability to help them jump-start their businesses. Some of his nontax reforms, such as the Affordable Care Act, have had a negative effect on the taxes of firms with more than 50 employees.
What's more, Obama's plan to lower the corporate tax rate to 28% from 35%, while good for the overall economy if U.S. corporations regain competitiveness, doesn't particularly help small businesses, notes Edward Karl, vice president of taxation at the American Institute of Certified Public Accountants.
"Reducing the corporate tax rate doesn't do a thing for a small business that operates as a two-person partnership," says Karl. Small businesses tend to be created as pass-through entities that pay the individual tax rate on their business income. Indeed, that group has opposed the President's plan to raise the top individual marginal tax rate to 39.6% from 35%.
Similarly, the proposal to raise the minimum-wage rate to $9 from $7.25 is another sticking point for small businesses. While they could benefit from customers having "more money in their pockets," as Obama noted in his speech, the higher-wage requirement could also discourage firms from hiring. The President did say that the government should "give new tax credits to businesses that hire and invest."
Small-business owners have been particularly challenged by the growing number of U.S. jobs moving overseas, driving up relative labor costs domestically. To address their concerns (as well as those of larger companies), Obama said the United States needs "a tax code that lowers incentives to move jobs overseas, and lowers tax rates for businesses and manufacturers that create jobs right here in America."
The President has already put in place a number of projects aimed at helping small businesses from the standpoint of taxation. In 2011, he put forth the Startup America Initiative and the private-sector Startup America Partnership, projects that offer tax cuts for small businesses that hire workers and eliminate taxes on capital gains for key investments in small businesses. In 2010, he created the Small Business Jobs Act, which offers tax cuts, loans, and training while also extending loan provisions set up under the U.S. Small Business Administration.