Revenues of nonfinancial companies surpassed prerecession levels for the first time in the second quarter, according to a study by Cash Flow Analytics of almost 2,900 nonfinancial publicly traded firms with market caps of at least $50 million.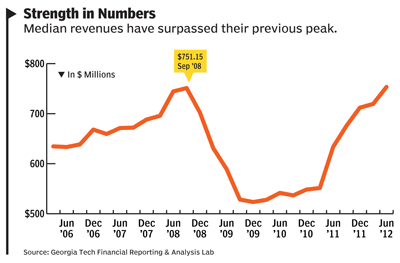 Median revenues for the 12 months ending in June rose 18.9%, to $753.4 million, from $633.6 million for the same period one year ago. That's more than the precrisis peak of $751.15 million for the reporting period ending in September 2008. In fact, the median revenues for the four quarters through Q2 are higher than they have been in any other period in the survey dating back to 2000. On a quarterly basis, those revenues rose 4.7% from Q1 2012 to Q2 2012.
The report shows that the U.S. economy has found its footing, says Charles Mulford, director of the Georgia Tech Financial Reporting & Analysis Lab. "The U.S. has had an extended period of weakness, and we're continuing to see a snapback in revenues, which hopefully will continue," he says.

Rising revenues do not necessarily signal a clear-cut economic revival, Mulford notes. He maintains that a company's financial success is dependent not only on its ability to generate revenue and earnings but also on its cash flow, especially free cash flow. Still, the report is positive in that respect as well: median free cash flow rose 16.7% for the June reporting period, to $25.21 million, from $21.69 million in June 2011.
Signs of a recovery are also reflected in Mulford's own "free cash margin" metric (free cash flow divided by revenue), which has now stabilized at prerecession levels. During the recession, free cash margin rose only because of significant corporate cuts in selling, general, and administrative spending and inventories, according to the report. As those trends reverse and spending returns to normal levels, growing median revenues "point to strength in the U.S. economy," the report says.
During the year ended June 2012, median free cash margin rose in 7 industries, was relatively stable in 25, and dropped in 12 industries. Among the gainers, the ability to curb spending was a key factor.