Nearly two-thirds of small businesses surveyed by the National Small Business Association spent more than 40 hours on federal taxes last year, a 7% jump since the year before.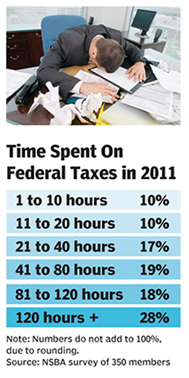 Sixty-four percent of the 350 NSBA members surveyed said they spent more than 40 hours dealing with federal taxes in 2011, including calculating payroll and self-employment tax, filing reports, and working with their accountants. Forty-six percent of respondents spent more than 80 hours.
Tax-code complexity may be partly to blame for the increase, says Todd McCracken, president of the NSBA, a trade group. "There are a lot of expiring temporary measures in the tax code that have been enacted over the last few years, and we've also changed the way we're doing payroll taxes," he says. "All of that is on the administrative side for small companies."
Indeed, the majority of respondents said that when it comes to tax compliance, the administrative burden is a bigger challenge than the tax bill itself. "We often talk about the overall burden of how much we pay in taxes, but especially from a small-business perspective, the burdens of administering our tax code are at least as large," McCracken says. "For small companies, so much of it is keeping track of all of your activities in the way the IRS wants you to, in order to support your various deductions." On the whole, respondents ranked income taxes as their most significant administrative burden, followed by payroll taxes and sales tax.
The small-business respondents generally supported reforming the tax code. Seventy-three percent favored reducing corporate and individual tax rates and deductions, and 53% supported a solution similar to the "fair tax," a proposal backed by the NSBA and others that would replace all income and corporate taxes with a national sales tax.
Of the respondents, 42% are S corporations, 32% are C corporations, and 13% are limited liability companies. Most operate in the manufacturing, professional services, construction, and retail industries.