Finance chiefs of privately held companies will no longer be faced with the difficult and costly task of applying public accounting standards to their situations. In May, the Financial Accounting Foundation (FAF) established a new council to improve standard setting for private companies. The decision comes after scores of comment letters, roundtables, and heated discussions that often pitted the Financial Accounting Standards Board against the American Institute of Certified Public Accountants. (The FAF is FASB's parent organization.)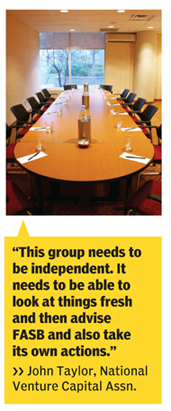 The new Private Company Council (PCC) will be the go-to body for private-company accounting issues and will advise FASB on all things related to private companies. It specifically will have to determine whether U.S. generally accepted accounting principles need to be altered to better address private companies.
The council is similar in scope to what the AICPA originally proposed back in 2009, when a blue-ribbon panel recommended a separate body with standard-setting ability for private-company accounting. Unlike what FASB had favored, the PCC will report to the FAF's board of trustees, which will select the council's chairperson and staff of 9 to 12 members. The board will also create a Private Company Review Committee, which will have primary oversight responsibilities for the PCC.
In some respects, the new PCC reporting regime will differ dramatically from the original recommendations. The council will be smaller, for example, and will hold more frequent meetings, with at least five a year in its first three years of operation. The PCC will also be required to provide quarterly written reports to the FAF's board of trustees.
"This group needs to be independent. It needs to be able to look at things fresh and then advise FASB and also take its own actions, which would then be brought to FASB," says John Taylor, vice president of research and a CFO Task Force point person at the National Venture Capital Association. "We wanted to make sure actions coming from the council would be as close to veto-proof as possible."
Is 1 GAAP Better Than 2?
Establishing the council strikes an important balance in recognizing that the needs of public- and private-company financial-statement users, preparers, and auditors are not always aligned, FAF president and chief executive officer Teresa S. Polley said in a statement. The plan, she noted, "ensures comparability of financial reporting among disparate companies by putting in place a system for recognizing differences that will avoid creation of a 'two-GAAP' system."
Although some industry participants have said that having multiple sets of accounting standards would not be a problem since they already exist amid certain Securities and Exchange Commission reporting requirements, others feel more of a one-GAAP system would be more beneficial.
For its part, the AICPA does not favor a one-GAAP accounting system, although it does support the new standards body. Gregory Anton, chairman of the board of directors of the AICPA, said in a statement that a "one-size U.S. GAAP does not fit all companies, especially smaller privately held businesses."
The AICPA believes more work needs to be done when considering the accounting needs of small and midsize enterprises. It plans to launch an "other comprehensive basis of accounting" financial-reporting framework just for SMEs and for those that do not need to comply with U.S. GAAP.