Dhananjay "DJ" Nanda studies finance executives at both ends of their careers. As a managerial accounting professor in the University of Miami's MBA program, he works daily with the next generation; in his research, he examines how and why executives get fired. One of his recent projects found that the longer a CEO's tenure is, the less likely he or she is to be let go. That's both good and bad news for CFOs, he notes. His next step, he hopes, is to run the same kind of analysis on CFO exits.
Early next month, Nanda will be appearing as a speaker at CFO's Playbook for Private Companies conference in Miami to discuss more of his work with current finance executives. He recently talked with CFO about how his students view finance and accounting, and what his school is doing to form those views. An edited version of the interview follows.
Do many of your students want to be CFOs?
Quite honestly, I think most students who come for an MBA or a master's in accounting don't think of themselves as CFOs, they think of themselves as CEOs. Very few know what the corporate controllership function is. Their ideal jobs would be on Wall Street; when they look for corporate finance positions, they see them as a stepping stone to CEO.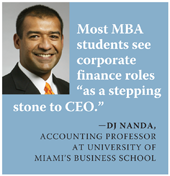 Do you think there needs to be better marketing around the CFO role?
Yes, I do, and one of the things we've started to do is to add another track in our master's in accounting program. Previously we had two tracks, one for auditing and one for tax. The third track we've added is a corporate track for students who want to work in corporate finance. These are young [recent] undergrads, and when they get into accounting, they think of themselves as working in public accounting. One of the things we've tried to do is get CFOs to come in and talk about their roles, [especially CFOs who were previously in public accounting].
How have students responded to that new corporate track?
Well, we have had it for two years, and so far we have only had 2 students pick it, out of about 40 students in the master's program. We are trying to market it better by having those "meet and greets" with CFOs. This year we have also gotten more aggressive about trying to get companies to come in and recruit here, and once they show up, educating students about what they offer. We have had several companies, including Royal Caribbean, recruit our accounting students into the corporate controllership function.
Has the long shadow of corporate fraud cases like Enron had any effect on students' interest in corporate finance?
Most of the students I have in my class weren't even in high school then. They don't remember the dot-com bubble; they think the Internet started with Facebook. So I don't think anyone really knows about Enron and WorldCom anymore.
What do students have today that they didn't have five years ago?
Students today are much more adept at using information technology, and things like cloud computing and social media are second nature to them. They'll pick up new systems quickly, which can be very helpful in recruiting.