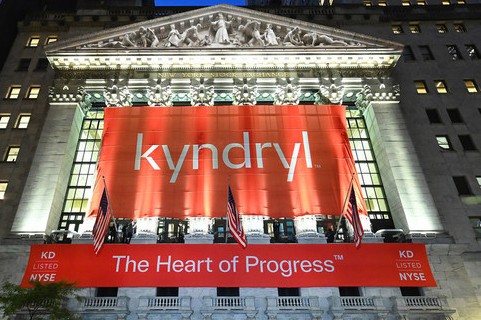 IT services provider Kyndryl made its stock market debut on Thursday amid hopes that its separation from IBM will enable it to reverse a decline in revenue.
A day after IBM completed the long-planned spinoff, Kyndryl shares fell 6.6% to $26.38. IBM shareholders received one share of Kyndryl for every five shares of IBM held on Oct. 25, 2021, the record date for the distribution, with IBM retaining a 19.9% stake.
"The separation of Kyndryl is one of many actions we are taking to sharpen our focus on hybrid cloud and artificial intelligence, leverage a portfolio clearly focused on technology and consulting, and achieve our growth objectives," IBM CEO Arvind Krishna said in a news release.
Kyndryl Chief Executive Martin Schroeter, who formerly served as CFO of IBM, said the company expects to show revenue growth in 2025, now that customers are less likely to see it as tied to IBM technology.
"The spin now allows a whole new set of customers who felt as though…we were just there to sell the IBM technologies to now open up a new set of discussions," he told The Wall Street Journal.
As a unit of IBM, Kyndryl focused primarily on managing IBM customers' data center equipment, a business that has been contracting as corporations move to the cloud, according to Schroeter.
Kyndryl's revenue declined 4.6% to $19.35 billion for the year ended Dec. 31, 2020, after a 7% drop the previous year, and it lost $2.01 billion. ."The on-prem world is shrinking dramatically. And that's where … Kyndryl is overweighted," Schroeter said.
The company is now looking to help clients shift to cloud platforms such as Microsoft Azure, Amazon Web Services, and Google Cloud, while adding new capabilities in networking, security, data management, and artificial intelligence.
For 2021, Kyndryl estimates revenue will be in the range of $18.5 billion to $18.7 billion and expects adjusted EBITDA, or earnings before interest, taxes, depreciation, and amortization, of between $2.8 billion and $2.9 billion, about flat with the $2.9 billion reported on a pro forma basis in 2020.