For some time now, executives have been touting teamwork as a competitive tool. The complexity brought on by globalization, they argue, creates challenges so grand they can be addressed only by multiple minds. And the rise of internal networks and social-media tools makes far-flung collaboration increasingly feasible. Indeed, the knowledge that employees already devote so much time to websites like Facebook and Twitter has surely made more than one CFO wonder: Why can't we work this way?
That turns out to be a better idea than anyone may have realized. Two years ago, in "The Rise of the Networked Enterprise: Web 2.0 Finds Its Payday," McKinsey & Co. found that companies that used internal and external networks outperformed their rivals financially. Such capabilities correlated, for instance, with rising market share and thickening operating margins. Twenty-seven percent of the 3,200 global executives in McKinsey's survey reported that they had gained real economic value through collaborative and social-media tools.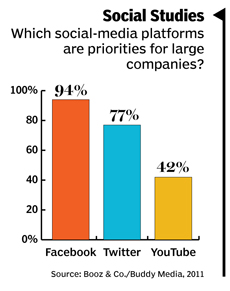 Those results were explored earlier this year in a CFO Research study sponsored by Ariba, the maker of business software. Based on interviews with 18 executives, academics, consultants, and authors, the study examined how companies have embraced the network model of doing business, embedding technological advances in every job and using it to generate increased productivity. "Technology is serving as the enabler," says Walter Wallace, instructor in the department of managerial sciences at Georgia State University's Robinson School of Business. "Businesses now have the tools to take trust to a whole new level."
Part of this development is due to the emergence of easier-to-use technological tools for internal networking — tools that mimic the capabilities of, for example, Twitter. "A lot of the stuff that is happening out on external social networks is influencing the collaboration systems that are being developed for the inside of enterprises," says David Armano, executive vice president of innovation and integration at Edelman Digital, the interactive arm of the public-relations firm. "As those evolve, they will change the way employees will work together and the level at which they collaborate."
Companies are also shifting their goals for the technology, from merely reducing operating costs (travel, for example, or communications) to boosting capabilities such as time to market and rate of innovation through collaboration. "The notion is that collaboration can be a competitive advantage," says Bruce Weinberg, professor of marketing at the Isenberg School of Management at the University of Massachusetts Amherst. "It's beyond having a social-media strategy; it means infusing the company with the kind of collaborative spirit that can give the business an edge."
Becoming Socially Aware
Adopting collaboration technology typically starts with the awareness of its value as a marketing or customer-service tool. Richard Binhammer, who is now director of social media and community at Dell, recalls that he first began responding to online posts (in blogs, forums, and so on) about the computer giant in 2006, when such posts numbered about 4,000 a day. Today, that figure is up to 25,000. The company now offers formal social- media training to employees.
"We came to a very early realization that the discussions that go on on the Web touch every part of the business," says Binhammer. "To be effective, you need to embed the use of social media across the fabric of the company."
Chuck Hollis, vice president for global marketing and chief technology officer at data-storage company EMC, says that about six years ago, he realized that "you could take just about any fundamental process you might care about and you could envision it in a social-media world and how it might look different and better." For example, using social-networking tools to identify the top candidates for a position is cheaper than pursuing traditional routes. And an internal social network can help new employees get up to speed much quicker than weeks of training can.
"We do a lot of R&D and project development, which is basically smart people working together," says Hollis. "More and more those smart people are scattered around the world, and may or may not be badged employees of the company. So how do we start doing collaborative product development with the very best ideas out there? This other theme, around our core business processes, began to emerge."
Fortifying a business's value proposition through social-media tools requires patience, flexibility, and adaptability. New applications and tools are constantly emerging (have you "pinned" anything lately?). But by sharing information — both internally and externally — a company can tackle problems more readily, collaborate more freely, and compete more flexibly.
Does all that teamwork slow things down? Quite the opposite: "Collaboration speeds you up and gets you to market. It gets you into the race faster and better and cheaper," says Zachary Tumin, a senior researcher at Harvard University's Kennedy School of Government and co-author of a recent book, Collaborate or Perish! Working Across Boundaries in a Networked World. "It's always been true that collaboration has given people tremendous advantage. Today that advantage is really decisive."
That's because the pace of competition is constantly accelerating. "It's like the [wording] you see on the rear-view mirror of your car: 'Objects may be closer than they appear,'" says Joel Babbit, co-founder and CEO of Mother Nature Network, which supplies environmental news. "It's much closer than you think, and it's coming up right behind you at a speed much faster than before."
This article is based on a CFO Research report called "Collaborate to Win."
---