Faced with mounting legal costs, companies are adopting risk-prevention approaches and doing more in-house work to stem the tide, according to a recently released survey of corporate legal chiefs at U.S.-based companies with yearly revenues of $250 million or more.
More than half of 117 corporate general counsel said in December 2012 that over the previous 12 months their companies' spending on litigation either increased slightly or increased significantly, according to the survey by AlixPartners, a business-advisory firm. (See Figure 1.)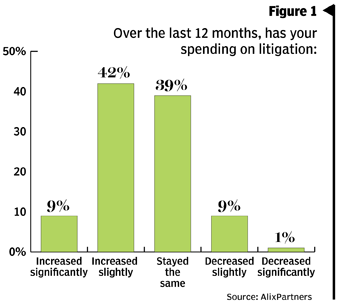 Perhaps more worryingly, one in 10 respondents reported that their employers had been involved in a "bet-the-company" lawsuit last year. Such litigation could have "a material impact, including whether the company could survive," explained Louis Dudney, the firm's co-leader for North America.
Some of the overall surge in legal costs may stem from companies' tendency to hire outside law firms. Twenty-five percent of the respondents reported, in fact, that their employers' use of non-corporate lawyers jumped 25 percent last year.
The surge in hiring outside counsel comes at a time when almost every merger and acquisition is being met with a lawsuit. Indeed, 60 percent of the respondents to the AlixPartners survey said they hired outside counsel in connection with M&A or other such transactions. (See Figure 2, below.)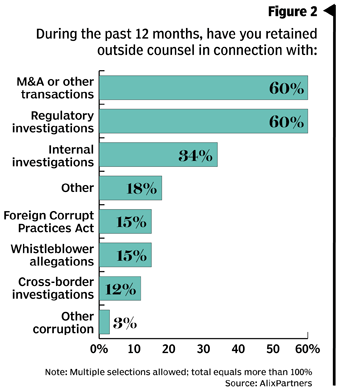 Yet even as companies are retaining large numbers of outside lawyers, they're hauling more work in house to reduce the risk of potential litigation. Fifty-two percent of the respondents said that retaining work internally is important, while 27 reported a rise in the size of their legal departments.
Many companies are retaining "less critical" work in-house, Dudney observes. The tasks include document production, the collection of information and the electronic exchange of documents during the legal discovery process.
More strategically, companies are trying to curb the risk of lawsuits before they occur. For instance, 84 percent reported that their companies increased "reviews of existing compliance programs"; 64 percent are installing "tools to mitigate risk"; and 63 percent are "[m]onitoring and enforcing document retention policies."
An example of the rise in companies' legal risk-reduction efforts is their increasing attempts at reducing bribery and other violations of the Foreign Corrupt Practices Act. "They want to make sure they don't have rogue employees looking to obtain benefits from inappropriate payments" to foreign officials, according to Dudney.
Efforts to restrain the costs of lawsuits after they've been filed are also going forward, with 59 percent of the respondents saying they believe alternative dispute resolution is important in keeping down expenses, and 55 percent saying the same about alternative fee structures.
Alternative fee structures are arrangements in which outside lawyers or other legal employees are paid at least partly on non-hourly basis. In a similar way to plaintiffs' lawyers, they may be paid on a contingency basis.
Dudney offers a hypothetical example. In a case in which one company is suing another for $500 million in damages, the law firm representing the defendant estimates that it would cost it $15 million to pursue the case.
In an alternative fee arrangement, the company might cap the law firm's fee payments at $7.5 million, offering it a percentage of whatever gains it achieves above that. The law firm may take on the risk of earning less than $15 million in the hopes of earning much more than that.