With the Terrorism Risk Insurance Act (TRIA) set to expire at the end of 2014, corporate risk managers are worrying aloud about what would happen if there's no property, casualty or workers' compensation coverage available in connection with a terrorist act.
The anxieties include the possible unraveling of funding for future construction projects, as financiers get cold feet contemplating the total loss that could transpire in the event of an attack. For existing multi-year projects, the risk managers fear that loan covenants could break apart if their companies can't provide proof of coverage.
Such occurrences are more likely in the real estate industry and in densely populated urban areas. In the wake of the Boston Marathon bombings, however, the sports and entertainment industries are now seen to be at risk. The transportation and petrochemical industries have long been considered vulnerable to attack.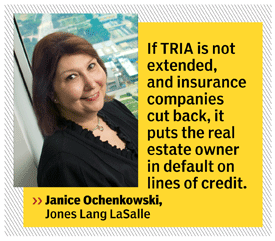 Geographically speaking, the inability to procure workers' compensation coverage relating to terrorist acts can affect companies in any region.
As they did in the run-ups to the first extension of TRIA in 2005 and a later one in 2007, risk managers are growing jittery about what might happen if federal backing for terrorism insurance abruptly dries up. Considering current skepticism about government bailouts of companies deemed too big to fail, that's a distinct possibility, some think.
Indeed, the fear that federal support will sunset starting in 2015 is already roiling commercial insurance policies. "Without the certainty of an extension of [federal backing], we are beginning to see provisos written into new insurance contracts that limit or eliminate terrorism coverage after  December 31, 2014," Alexandra Littlejohn, an insurance-placement officer with Willis, the large insurance brokerage, testified at a New York City Council hearing on Monday. The council was mulling whether to submit a proposal to extend TRIA to the U.S. Congress.
Under the act, which became law in 2002, federal benefits paid to insurers suffering losses from a certified terrorist attack start being calculated once the industry's aggregate insured losses from the attack exceed $100 million.
Once that threshold is exceeded, an insurer that suffers losses must pay claims up to a deductible of 20 percent of its previous year's premiums. After reaching that deductible, insurers must absorb 15 percent of any added losses up to the program cap of $100 billion. (The law doesn't address how losses above the $100 billion cap would be handled.)
If in fact the law does expire, "insurance companies will again review their portfolios and will refuse to offer affordable terrorism coverage in high risk areas," said Lori Seidenberg, senior vice president of enterprise risk management, Centerline Capital Group, testifying on behalf of the Risk and Insurance Management Society.
"This would hold true for workers compensation, property, and even third-party liability lines of coverage for both large and small businesses and public entities," Seidenberg said.
Worse, the lack of available coverage could produce a domino effect. "This will undoubtedly delay, if not scrap, major development plans, thereby jeopardizing an already fragile economic recovery," said Littlejohn, who testified on behalf of the Council of Insurance Agents and Brokers.
Not a Good Place to Be
Often, banks require the recipients of lines of credit supporting development to have terrorism coverage. "If TRIA is not extended, and insurance companies begin to cut back, it puts the real estate owner in default of those lines of credit," Janice Ochenkowski, a managing director at Jones Lang LaSalle, a real estate and investment firm, told CFO. "That's not a good place to be."
Ochenkowski, a former RIMS president, recalled what happened when the reauthorization of TRIA hung in the balance in 2005 and 2007. "It placed projects on hold," she said, and "caused financial backing to be reconsidered because of a change in insurance costs."
Besides their own insurance costs, real estate developers must ultimately foot the bill for workers' comp terrorism coverage for electrical contractors, bricklayers, steel workers and other tradespeople who work on a given building, according to the risk manager. Indeed any industry that has a high concentration of risk — including accounting and marketing, for example — can be hit with such expenses, according to Ochenkowski.
The cost of terrorism insurance could increase by "multiples" and the availability of coverage for a complex project could "drop by 80 percent or more" if federal backing vanishes, says Aaron Davis, a managing director of operations with Aon Risk Solutions. "The insurance market does not enjoy uncertainty."
Since terrorism risk is a relatively new peril that lacks the loss history of natural hazards like hurricanes and earthquakes, insurers find it almost impossible to price and are thus extremely wary of selling it, according to Davis.
What's more, terrorism has a unique feature that makes it highly unpredictable. "For every major action that that U.S. takes to protect itself, there's an adaptation" on the part of terrorists, he says, noting, for example, how shoes replaced suitcases as a bomb receptacle when security officials made suitcases impractical.
A number of bills that would extend TRIA have been introduced in Congress. One bill, H.R. 508, calls for a five-year extension of the act. Others, including H.R. 2146, call for longer extensions.