The Securities and Exchange Commission has requested $1.6 billion for its 2013 fiscal year, an 18.5% increase over 2012. But some legislators think the agency doesn't need it.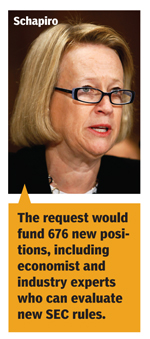 SEC chairman Mary Schapiro told the House Appropriations Subcommittee on Financial Services in March that the agency would "make effective use" of the increase. "I believe we have been underfunded for many years," said Schapiro, who has asked for a budget increase every year since she took over the agency in 2009.
Much of her justification comes from the 2010 Dodd-Frank Act, which requires the SEC to create new programs and rules and assume new oversight responsibilities (over hedge funds, for instance). Although Schapiro estimates the agency has implemented or proposed 75% of the regulations assigned to it under Dodd-Frank, many controversial proposals remain, including the so-called Volcker Rule, which will bar banks from proprietary trading in private-equity and hedge funds.
While acknowledging that Schapiro has "an incredibly difficult job" and her staffers "are working very hard," subcommittee chairman Rep. JoAnn Emerson (R–Mo.) expressed wariness about granting the budget request. She said that despite "tremendous growth in resources over the past decade," the agency missed the Madoff and Stanford Ponzi schemes and had "several embarrassing management lapses." Emerson said the subcommittee would be reluctant "to throw money at the SEC" until the agency solves what she believes are structural problems.
Schapiro noted that the SEC's budget request is deficit-neutral, since the additional funding would be fully offset by fees on securities transactions.