Dozens of countries are riskier places to do business, in terms of terrorism and political violence, than there were last year, according to the 2012 Aon Risk Solutions risk map, released today. The map shows 37 countries with greater business and financial risk, including France, Germany, Italy, Portugal, Spain, and the United Kingdom, all of which moved from low-risk to medium-risk status. Only 6 countries are considered to be less risky than they were in 2011: Australia, Egypt, Ivory Coast, Macau, Macedonia, and The Netherlands.
Nearly half of the world map now includes some level of terrorism threat, notes David Claridge, managing director of The Risk Advisory Group, a consultancy that helped Aon with its latest assessment. Africa, in particular, is a problematic area, with six countries earning a higher-risk ranking because of an increased likelihood of terrorist activity.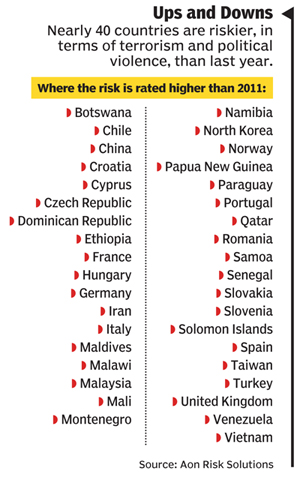 With last year's map, the companies expanded their evaluation of terrorism risks to include political violence as well, and this latest presentation takes into account last year's spate of political uprisings in the Middle East. Insurance buyers have reacted to those events by seeking broader political-risk coverage, according to Neil Henderson, head of terrorism in Aon Risk Solutions's crisis management practice. 
Although policies with broader coverage may cost more than narrower offerings, they reduce confusion over when companies can make claims following an incident that involves civil unrest. After all, wording is key for insurance claims; there was much debate over whether violent protests in Bangkok in 2010, for example, should be considered riots, a terrorism event, or civil commotion, says Henderson.
While one could argue that a riskier environment bodes well for insurance companies' business, the greater likelihood of peril may also raise prices, which could make potential insurance customers think twice before buying. "Underwriters have become much more sophisticated in how they monitor current activity and incidents globally," Henderson says. "As the situation changes, they will change their pricing accordingly. That will be a combination of their risk appetite and how much capacity they will have in any given territory."
At the moment, insurers collectively can cover approximately $2.5 billion for terrorism-related policies but only $500 million to $700 million for political violence, according to Henderson.
Still, demand is up. New business for political-risk insurance policies reached $43 billion for the first half of 2011, according to export credit and investment insurance association Berne Union, compared with just $10 billion during all of 1998.
Last year businesses rated political risk as their top concern regarding foreign direct investments, according to the Multilateral Investment Guarantee Agency, which is part of the World Bank. That was rated higher than access to qualified staff, macroeconomic instability, and corruption, among other worries.