Productivity and output per hour are down - and workers are also more likely to leave. However, CFOs can improve revenue per employee with these six strategic workforce action items.
Inflation, shrinking budgets, and a tight labor market have made productivity measurement and capacity utilization paramount to a company's strategic advantage. But productivity and output per hour are down and not only are workers less productive, they're also more likely to leave—and that puts additional pressure on remaining employees and further dampens operational efficiency. 
Leaders are also concerned about the lack of visibility in a hybrid work environment but employees don't like monitoring. As illustrated by a Microsoft study graphic below, a disconnect in real and perceived productivity between employees and managers has eroded workplace trust.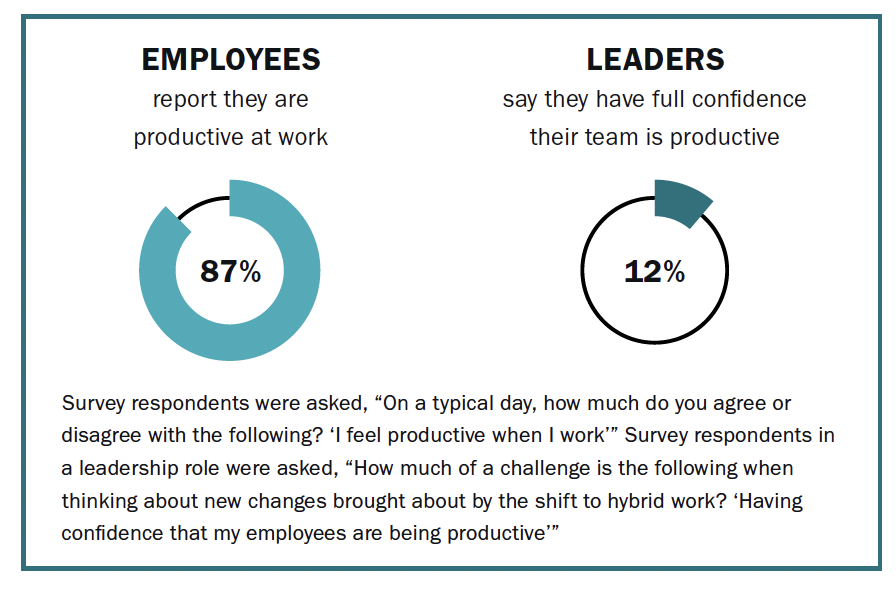 After reading this whitepaper, you'll understand how to measure productivity and determine how much revenue each employee should generate, and have a clear vision of the action items you should take to improve revenue, including how to:
Confront productivity paranoia by looking at impact and not just tracking worker activity
Invest in social programs that foster friendship and collaboration in the workplace
Shape workforce policies to send a clear message that productivity will be rewarded for all workers: in-office, remote and hybrid