No, it's not the latest trendy neighborhood in New York City. "SoMoClo" is shorthand for a phenomenon that will have a lasting impact on business intelligence: the convergence of social media, mobile technologies and a cloud IT infrastructure.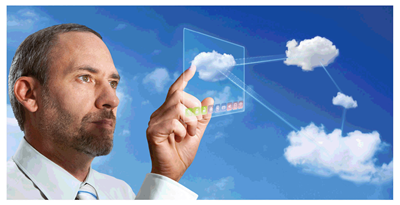 Credit Andrew Borg, research director for enterprise mobility and collaboration at Aberdeen Group, and his team for coining the term, if not for being the only ones who saw the significance of the trend. Picture SoMoClo this way: Everyone in the organization is connected to enterprise data and business applications via the cloud, wherever they may be—thanks to their mobile devices—and are sending business messages to each other on internal and external social media. "It's today's business reality," says Borg.
The benefits of this new reality are organizational agility, accelerated decision-making and increased collaboration. "Organizations that align their technology infrastructure according to the SoMoClo principles—cloud at the core, mobile at the edge and social as the connection from edge to edge through the cloud—are on an evolutionary path," says Borg.
Although this path is now coming into focus across the enterprise world, the journey toward SoMoClo began five years ago, via the introduction of user-friendly, graphically sophisticated mobile apps on smartphones and, later, tablets. These apps, says Borg, provided a common end-user experience of mobile cloud connectivity and collaboration without requiring the traditionally complex, expensive IT support infrastructure residing behind an organization's firewalls. "The apps provided access to remote data that was stored somewhere in the cloud," he explains. "Once social-media functionality was added to the mix, the full SoMoClo experience was born."
"SoMoClo on Steroids"
As with any new technological concept, there are pioneers, most of them in the business-intelligence space. Among them is MicroStrategy, a provider of business intelligence, mobile software and cloud-based services. At its headquarters in Tysons Corner, Va., almost every employee has various mobile devices for business purposes; every conference room is equipped with Apple TV devices attached to large flat-screen HDTV monitors; and data flows through the cloud to these mobile and office-based screens via AirPlay, Apple's wireless streaming device. MicroStrategy, says Borg, is "SoMoClo on steroids."
Doug Thede, MicroStrategy's CFO, says SoMoClo is helping him fulfill his role as the company's BI steward. "All the information I need to make an informed decision is in the palm of my hand and accessible from anywhere," says Thede. "I don't have to go to my desk to run a report. It's all on my iPad and iPhone." That information includes sales data (products in the pipeline, customer orders, bookings year-to-date, customer service utilization metrics) coming in from the field in real time; top customer rankings; outstanding accounts receivable; purchase-order requests in real time; and the status of job openings that need to be filled.
Each of these reports is now contained in an app on a mobile device, and their respective status is shared across the enterprise. "In the past, each CXO [C-level executive] would bring two-inch-thick reports to our management meetings," says Thede. "Today, we carry iPads into our CXO meetings, and we all have the ability to instantly drill into corporate data in seconds."
The management team can hold productive conversations based on facts and figures, and react to performance across sales, services and maintenance—essentially every department across the organization, Thede says. "If we have a question as it relates to a specific department, we can use the iPad to drill into the data in real time, as opposed to having to call someone and wait for a report to be printed from a desktop."
In the past, these tasks were held up because the data sat in someone's in-box on the corporate system. "Not anymore," says Thede. "We're putting business intelligence at people's fingers. And it flows right up to me instantly."
Heightened agility and responsiveness to rapidly evolving market opportunities seem to be what companies want these days. According to a May survey of 930 CFOs by Accenture, 79% said access to information was a key factor that would make their organizations more agile, and 57% saw investments in Big Data and analytics as a source of competitive advantage. The same survey indicated that mobility is the top technology investment priority for the finance officers through the next three years. In another survey of more than 500 IT and business executives by CompTIA, the key driver for mobility adoption is "productivity gains," cited by 62% of respondents.
"Tying mobility and the cloud together provides deeper, faster access of information," says Scott Brennan, managing director of enterprise performance at Accenture. "Add to this social media's impact on sales, and the promise of SoMoClo is profound."
The Power of "So"
While the value of SoMoClo lies in its convergence or "continuum," as Borg calls it, it's instructive to examine its constituent parts, beginning with "So."
The power of social media from a sales play is obvious. As Brennan puts it, "If you were lucky enough to get Justin Bieber or Lady Gaga to tweet something about your company, you would hit 80 million people. Two people tweeting something about your product or service to 80 million people in the same second—no one could have imagined this a decade ago."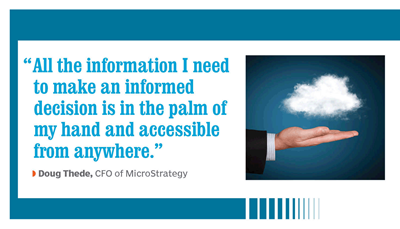 True enough. But savvy companies like Coupa Software, a provider of spend-management solutions, are also leveraging social media inside their organizations and behind their firewalls. Think of it as their private Facebooks. "It just made sense, particularly as we became more geographically diverse in time and place," says Coupa CFO Mark Verbeck. "Just the other day, someone tweeted into our internal social site to understand who was using our products and why, and I watched as some customers tweeted back. That's pretty interesting and powerful."
At Ceridian, "So" provides a forum to peruse transaction updates from internal users. "I receive workflow updates about overtime overages from HR or individual transactions from sales on the last day of the month on my mobile device," says Lois M. Martin, executive vice president and CFO of the Bloomington, Minn.-based HR solutions provider. "These social feeds give me the ability to monitor what is going on in our ecosystem. I then can make informed decisions much faster than in the traditional linear bureaucratic structure."
Asked for an example, Martin says the social-media feed from sales allows her to engage directly with the field. "Two days before the end of last month, I saw that a sales rep, that minute, was submitting for my month-end formal approval new terms for an important sale to a new client," she says. "I knew enough about the deal to approve it right then and there, saving two days' time that might have soured the transaction."
Boloco also has its own internal social media and has made it a vital part of its business strategy, integrating it into the customer dining experience. "From our Twitter handle to our Facebook page, our goal is for customers to contact us and their friends with positive or negative experiences," says Patrick Renna, CFO of Boston-based Boloco, a fast-growing chain of fast casual dining restaurants in the Northeastern United States. He provides a few examples: "It could be, 'I'm @boloco right now and their smoothie is awesome.' We then hit back with 'Thanks.' Or it could be, 'The new burrito was not so good,' in which case we can actually hit up that customer while in the restaurant and pick up the tab or give them points on their loyalty card for a free meal next time."
Boloco then aggregates all these feeds from the different channels to discern customer preferences, using a salesforce.com product called desk.com. The data is sliced and diced, noting the restaurant location, time of day and positive or negative feedback regarding service, atmosphere or food. "Having this detailed data can help me provide some color as to certain business trends at specific locations," Renna says. "If a restaurant has a trend of positive customer service that could point back to an increase in sales, this becomes a big help to me when trying to provide qualitative reasoning for results."
Both Boloco and TripAdvisor, the largest travel website in the world, feast on a wide range of information flowing to them from external social media. "Under my umbrella is HR, and we do a lot of recruiting through Twitter, Facebook and LinkedIn," says Julie M. Bradley, CFO of TripAdvisor, which links 200 million unique monthly visitors to its website with more than 100 million (and counting) reviews and opinions of other travelers. "I can use my smartphone to catch up on which job postings remain open or what might be a new job position we're looking for," she says.
The Next Level: "Mo" and "Clo"
What takes SoMoClo to the next level is that the information provided by both internal and external social media is transported to and from every employee's mobile devices via the cloud—the "Mo" and the "Clo," respectively.
Boris Evelson, vice president and principal analyst at Forrester Research, says the ability to leverage a mobile device to conduct business has become a competitive differentiator. "If I run into a customer on the street and he or she asks to buy some new product, I can look up the numbers, do the analyses and close the deal right on the spot," he explains. "If I have to travel back to my office to do the analyses, it might be too late. We call these decisions 'sweet spots.' The distance between thought and action is narrowed to nothing."
Then there's "Clo"—the more efficient allocation of resources provided by the cloud. Through the cloud, companies trade capex-intensive IT systems for more manageable opex solutions. "You don't need separate silos for social, mobile and the cloud," says Borg. "You can work with IT to monetize this and then charge it back to the businesses."
The cloud also presents the benefit of elasticity—the ability to dynamically address a variable workload by utilizing some other organization's infrastructure, such as salesforce.com or Amazon. "Most companies don't need an infrastructure built to handle peak-demand situations," says Evelson. "If you're a seasonal company that processes billions of transactions during Christmas, and the rest of the year just a few hundred thousand, why spend all that money on something you use only part of the time?"
Attached to Apps
All of this sounds almost too good to be true—reaching 80 million people with a single tweet, instantly altering products to suit customer preferences, nailing big deals on the fly. "How do I know SoMoClo is vital to business? Because if you took it away tomorrow, people would scream," says Borg.
Indeed, all those workers already using an array of innovative business apps to conduct business from anywhere wouldn't take the loss of SoMoClo lightly. At Coupa there are about 40 cloud-based apps in general use, notes finance chief Verbeck, many of them available on smartphones.
CFO Renna of Boloco is also attached to his apps, for personal-productivity reasons. "I have my mobile banking app to make deposits and reconciliations into more than a dozen banks, since we have 22 locations right now," he says. "I also rely on Dropbox to share and retrieve files whenever I need them. I have an app called TripIt to help me organize my travel, and another one called Concur to document my business expenses, among others that grow in number all the time."
Useful apps like Meeting Mapper, a meeting organizing tool; EchoSign, an e-signature solution; Workshare, which synchronizes files with mobile devices; and Fusebill, an automated billing and payments platform, are proliferating by the week. The very notion of "office" is becoming almost quaint in the SoMoClo world.
Meanwhile, SoMoClo is making work more palatable, whether done in an office or out.
"Most of us in business spend more time with our work colleagues than with our families, and we have found that SoMoClo builds a better atmosphere for work, helping retention and teamwork," says Padraig Hayes, CFO of Enterasys Networks, a global provider of wired and wireless network infrastructure and security solutions. "We leverage a salesforce.com tool called Chatter that allows workers to communicate and collaborate on their mobile devices in the cloud, wherever they are at any time of the day.
"Personally, it helps me get away from e-mail overload," continues Hayes. "I now have an alternative tool to disseminate useful, important information to my colleagues, and vice versa."
Russ Banham is a contributing editor at CFO.