It's no secret that productivity has shot up since the beginning of the recession. One measure, profit per worker, increased by more than 50% between 2009 and 2011. It now stands at what is at least a 10-year high of $15,278, according to recent data from Sageworks, which aggregates private-company financial information.
Exactly how and why those improvements have come about, though, is a matter of some debate. Are companies asking existing workers to work harder, so they don't have to hire more people? Are they outsourcing more jobs to shrink the payroll? Are machines taking over processes that humans once handled?
While none of the answers seems to bode well for job creation in the United States, a new survey by Deloitte of CFOs and other executives at middle-market companies sheds some light on the issue.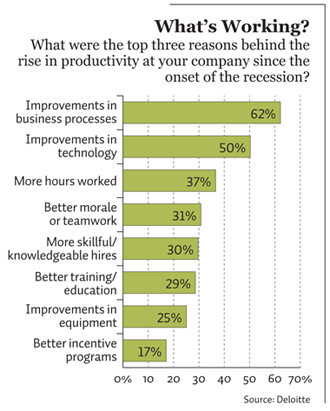 A full 70% of the nearly 700 survey respondents said they've seen productivity improvements in the past three years, with about half of those reporting gains of 5% or more. Respondents attributed the gains largely to improvements in business processes and technology. "The responses would suggest that there's a real emphasis on using technology to increase productivity and make individual workers more efficient," says Tom McGee, national managing partner for Deloitte's growth enterprise services division.
Among the technology investments, business-process automation tools ranked first in boosting productivity scores, followed by business-intelligence tools. Robotics came in last, cited by only 10% of respondents.
Still, many companies are clearly pushing employees to do more. Close to 40% cited "more hours worked" as one of the top three reasons for the productivity bump at their firm, and "labor" is the category of costs CFOs are controlling most tightly.
"There will be an interest in hiring, but companies are carefully targeting areas of strategic need, and many are indicating they're having a hard time finding people with the right skill sets, too," says McGee. "Right now, I think technology is winning out from an investment standpoint, versus investments in talent."
The tension around hiring doesn't look as if it will resolve any time soon, at least in the middle market. Close to half of survey respondents said improving productivity is one of their top three corporate goals. Only 20% expect to see any kind of slippage in past improvements in the near term.
That's as it should be, says Steve Firszt, a management consultant to smaller and midsize businesses at Fast-Forward Business Coaching. "Output per employee is one of those big, top-of-the-list metrics," he says, "and I don't think most companies are maxed out yet." He says he is counseling clients to focus further on efficiency before hiring more employees.