Finance chiefs already have plenty on their plates: in addition to all the core finance functions, IT, HR, and various other departments often report to them. Now, says a new report from Ernst & Young, CFOs have yet another job. As sustainability initiatives become ever more closely tied to risk management, and as companies do more reporting of their sustainability efforts and liabilities, the issue is moving out of its organizational silo into a more-prominent place on the finance chief's agenda.
"There is a definite increase in the number of CFOs recognizing the importance of the sustainability function," says Ann Brockett, Americas assurance leader in the climate change and sustainability practice at Ernst & Young. "It's a business opportunity. It isn't just about reporting. It's about the opportunity for increased revenue generation and reduced costs." (See "Going for the Other Green," September CFO.)
Also catching CFOs' attention is the growing amount of shareholder interest in corporate social responsibility and sustainability. Shareholder resolutions focusing on social and environmental issues made up the largest portion of all shareholder proposals in 2010 and 2011, with 40% of all proposals targeting such issues in the most-recent proxy season, according to E&Y. Average shareholder support levels for such proposals have doubled since 2005, reaching 21% in 2011 (see chart). Nearly a third reached the critical 30% level of shareholder support.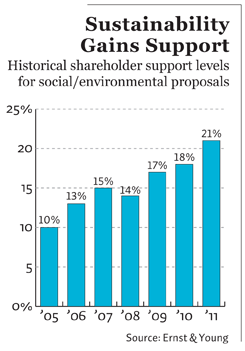 "Important mainstream institutional investors are asking questions about sustainability and getting behind these resolutions," comments Brockett. "These are no longer just radical groups."
As finance chiefs consider the importance of sustainability from a risk-management and shareholder-relations perspective, how can they best approach this new area of responsibility? The CFO can take the lead on identifying the company's sustainability challenges, risks, and opportunities for improvement and savings, says Brockett. Finance executives can also use their data gathering, reporting, and analysis skills to develop a sustainability reporting system in which they track and quantify various metrics, such as the company's carbon or water use, which can then be reported back to various stakeholders in a sustainability report. More than 3,000 companies worldwide now publish such reports, according to E&Y. "Sustainability reporting helps drive measurement of sustainability-related items, which allows you to manage them," says Brockett.
Finance chiefs can also make the case that sustainability metrics should play a role in gauging employee and executive performance. "They may find that when they align the performance metrics with environmental and sustainability metrics, they're going to better align compensation with risk," says Brockett.
Perhaps most important, finance executives need to ensure that sustainability at their company is not practiced in isolation by a lone task force or department, says Brockett: "Those folks who do this well really have it embedded in their business and reporting processes."
While Brockett acknowledges that there will always be executives and companies who see sustainability as a "soft" issue, and admits that there are finance chiefs who are not yet on top of it, "It is starting to register as a risk issue," she says. And that makes it a job for the CFO.