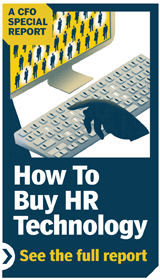 This is the fourth of five articles in a special report looking at the buying of HR technology from a CFO's point of view. Also included are Why Upgrade Your HR Systems?; What Kind of HR Automation Do You Need?; Making a Mess of People-System Purchases, which explores pitfalls to avoid; and Anatomy of a Buying Decision, one CFO's journey to procurement success.
---
Over the past two years the human-resources technology market has grown more competitive than ever. The market wars have been tempered slightly by high-profile acquisitions that have removed some key players. But the buying spree has given some of the larger incumbents a long-overdue dash of presence in the cloud, adding a new level of competitiveness to the field.
In the context of this market, some of the deals have been fairly seismic. SAP, long a vendor of installed, on-premise systems, acquired cloud-based talent-management vendor SuccessFactors billion in late 2011. A few months later Oracle announced it had acquired another cloud talent-management-system vendor, Taleo, for $1.9 billion.
Then, last August, IBM launched itself into the HR software market by revealing its $1.3 billion acquisition of Kenexa, which wrapped up in December.
Now, Oracle and SAP are working to integrate those technologies with their existing ones while also developing new cloud applications, while IBM reportedly is seeking other acquisitions.
In large part, the HR technology market is really multiple markets aimed at different-sized companies. The human-capital-management (HCM) challenges facing one with 50 employees are very different from those facing one with 50,000, notes Gartner research vice president Thomas Otter. Solutions that work for large enterprises tend not to work for small companies. Still, he says, "It's a very large market, and the options are myriad."
Here's a look at the major players in the two broad categories of HR technology – core HR and talent management – and their key differentiators.
Workday
Workday, like SAP and Oracle, focuses highly on large companies with thousands of employees. Its software is touted for its user-friendly interface, which is designed to increase adoption across an entire organization and thereby leads to richer data. The Workday platform manages such core HR tasks as benefits and payroll and also offers several talent-management applications. It doesn't, Otter points out, offer a recruitment solution, but the company announced last year that it would release one by 2014.
Of special interest for CFOs is that Workday also offers financial-management applications linked to the HR software. "It gives you the ability to look at your workforce through a financial lens and understand the true cost of the workforce," says Leighanne Levensaler, vice president of applications product management at Workday.
The company is coming on fast. In the most recent HR Systems Survey by information-systems consulting firm CedarCrestone, released last November, Workday's share of the core HR technology market was projected to jump from 3% to 10% by late this year. Among the 10 largest vendors tracked by the report, which surveyed 1,246 participants (the bulk of them HR leaders), SAP's SuccessFactors was the only other one expected to increase its market share, and that only by a single percentage point.
Similarly, with regard to talent management, Workday was expected this year to double its share of the market, reaching 6%. Perhaps more tellingly, of the 426 survey respondents who provided their vendor choices for both 2012 and 2013, 23.5% indicated they would make some kind of change, and among those, one in four planned to go with Workday.
Many HR technology experts are enthusiastic about the potential of Workday. But the long-established players are fierce competitors that are hardly sitting idle, and in the end Workday's current edge in cloud technology may well be temporary.
Workday's growing popularity lies in its flexibility and innovative approach. From the beginning it has gone to market with a single solution and allowed users to subscribe to whichever applications they please. Users are presented only with the information they've deemed valuable, in a cloud-based environment accessible from anywhere, including mobile devices, with an interface that is said to greatly reduce the need for training. "If you know how to shop online, you know how to use our application," Levensaler asserts.
When Workday launched in 2005, it had a brand-new and compelling story to bring to organizations, says Steve Boese, co-chair of the annual HR Technology Conference & Expo hosted by LRP Publications and a well-known blogger in the space. "It was really the only viable [software-as-a-service] core HR system that could scale to midsize and larger enterprises," he says. "This was before SAP and Oracle got wise to what was happening in the trend toward SaaS."
Workday was founded by former PeopleSoft executives who, Boese believes, "put together a good product with a great delivery model. They definitely had a head start as organizations were starting to embrace the idea of putting HR in the cloud."
With about 350 customers as of February, Workday's reach is still far from that of SAP and Oracle, but it is "a significant disruptor in the HR market," says Otter. "They've come on in leaps and bounds and they're providing a major alternative to the incumbent players."
Oracle and SAP
Oracle has been offering on-premise HR software for more than 15 years through its big ERP system, Oracle E-Business Suite. Eight years ago, says Oracle's vice president of HCM strategy Gretchen Alarcon, it began designing its Fusion family of HCM applications, which were designed for the cloud from the beginning.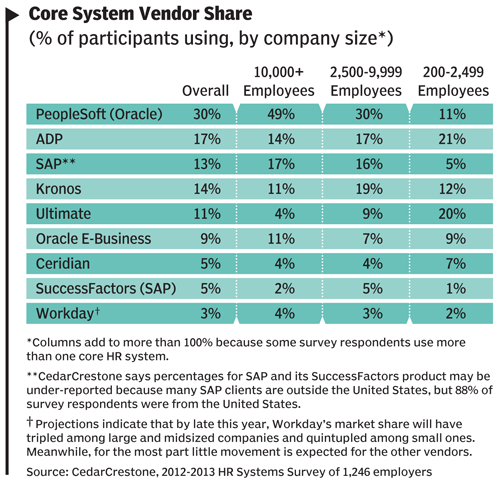 With Fusion, which did not launch until October 2011, a company gets to pick and choose what processes it wants in the cloud and what it would rather keep behind its own walls.
Oracle's plethora of HR-related offerings also includes PeopleSoft, which it acquired in 2005 and still updates. "If PeopleSoft is still meeting your needs, you can continue to get functionality that way, but if you're ready for a change and want to move to the cloud, you have the opportunity to migrate from PeopleSoft to Fusion applications," says Alarcon.
The company also has its foot in the cloud-based talent management door with Taleo. "Taleo's strongest equipment is definitely in the recruiting space, which meant we completely filled out the recruiting part of talent management," says Alarcon. "Now we have a comprehensive solution that incorporates everything together in the cloud if the customer wants that."
SAP has been in the HCM space for more than 25 years with its Business Suite ERP system. It moved into the cloud by acquiring SuccessFactors, which itself had 10 years experience with core HR, talent management, and workforce analytics.
David Ludlow, group vice president of HCM solutions for SAP, asserts the company can offer a platform enabling full cloud capabilities for HR deliveries and has been investing heavily in cloud-based solutions for some time. "Now, that's not say we're abandoning our on-premise systems," Ludlow notes. "We still have 14,000 customers worldwide using the on-premise core HR system. Certainly not all those are going to move to the cloud overnight, although we anticipate the majority will over time."
Oracle and SAP remain the major players in the market, despite HR technology's shift away from catch-all ERP systems in favor of more lightweight, scalable offerings that live in the cloud and follow a SaaS business model.
The CedarCrestone report says that with the acquisition of Taleo and the availability of Fusion, "Oracle will continue to keep its lead in the overall HR technology market for years to come."
Human-capital-management strategist and consultant Naomi Bloom agrees. Both companies, she notes, are justifiably concerned about the SaaS trend, as shown by their recent acquisitions. "But these flagship ERPs are going to have a long tail," she says. "They are very capable of moving heaven and earth to have competitive next-generation offerings, and I think there's a fair amount of business out there for them in the next few years."
Boese also believes that SAP and Oracle will remain as major forces in the HR technology arena. "In 2013 and going forward, the field is evening out quite a bit because Oracle and SAP are catching up or have caught up in terms of being able to offer almost like-for-like capability in the cloud," he says.
Oracle and SAP still control their destiny in the global market, adds Gartner's Otter. "For the last 10 years or more it's been a duopoly. It's very easy to say, 'This new vendor is much better,' but SAP and Oracle have dominated the space for so long because the products have developed great strength over time."
But with licensed, on-premise software, Bloom points out, the customer is burdened with labor costs for implementing upgrades. "In this day and age you have a professional obligation if you're a CFO of CIO to say, 'Before we spend millions on this upgrade, shouldn't we contemplate what the other options are?'" And competitors, especially Workday, are opening the door to that type of analysis.
IBM and Kenexa
IBM is new to the HR technology arena, although it has offered numerous HR-related services, in such areas as outsourcing, analytics, and talent management, for some time. And after acquiring talent-management and recruiting veteran Kenexa last year, it has moved to cloud-based solutions with its Smarter Workforce initiative, which emphasizes social learning, social recruiting, social performance management, and social rewards, aspects which are more and more being applied to HR practices.
"Prior to the Kenexa purchase, IBM's presence and impact on HR was more on the advisory and consulting side," explains Boese. "The company has pretty big practices that advise on HR and workforce strategy, as well as implementation practices for the larger products like SAP and Oracle."
Kenexa was built around helping companies hire good people, then motivating and engaging them, says Tim Geisert, the company's CMO. It offers recruiting and other talent-management solutions through a combination of Cloud-based software and consulting services. "If IBM is going to do what it does best, which is help businesses become better, it has to help them hire better people," Geisert says.
Boese believes it may be smart for IBM to bet on social characteristics becoming a key influence in HR technology. "For the last few years, all the established vendors have been adding social features to their solutions, and lots of new startups that offer social solutions have entered the space, so I would say it is indicative of overall trends."
And, of course, with IBM's deep pockets, if it wants to become a bigger player in HR technology, the company should be able to give it a good go.
ADP
With an enormous customer base composed of companies of all sizes,  but primarily midsized and small companies, ADP provides outsourced core HR, payroll, and benefits administration services. Customers also have the option of combining those core solutions with a suite of talent-management applications that ADP has been acquiring over the last few years. ADP talent applications are now fully integrated with one another and with the company's core HR technology, according to its CFO, Jan Siegmund.
"With strong financial viability, a very large customer base for payroll and core HR, and a large sales force, ADP is positioned for growth in talent management," wrote Claire Schooley, senior analyst at technology research firm Forrester, in a March 2013 report.
Click here for more coverage of ADP.  
Other Key Players
One of the key advantages of cloud software is that companies can pick and choose applications from many different vendors, integrate them through application programming interfaces or third-party cloud integration services, and have a complete suite in a matter of weeks.
For those who prefer best-of-breed applications over a single solution, the market is saturated with them. In the cloud-based talent management space, Cornerstone OnDemand is one of the strongest players, Otter says, while iCIMS excels at recruiting and applicant tracking.
Cornerstone OnDemand is a cloud-based talent management software company with a customer base that spans the globe. It offers a career-development product, performance management, a full recruiting suite, and a learning-management system released last November, all of which is available to customers via mobile devices. The company was ranked among the top talent-management providers in the Forrester report.
"Cornerstone is the fastest-growing talent-management vendor in organic growth of new customers, active customer increases, and company employees," Schooley wrote in the report, in which she also cited SumTotal, Peoplefluent and ADP as top performers in the talent-management space. Another well-known talent-management vendor, with a particular specialty in learning systems, is Saba Software.
Otter also recommends Halogen, a strategic talent-management software vendor with a particular proficiency in performance management. And Fairsail offers a core HR system based on the familiar Force.com platform created by Salesforce.
Founded in 1990 as an on-premise solution, midmarket vendor Ultimate Software now offers a complete HR system that includes some talent-management aspects through a SaaS business model. Bloom notes, though, that the company does not offer a complete talent-management suite.
Ultimate has established itself as a leader in cloud-based payroll, benefits, and talent-management software, which it offers in two suites: UltiPro Enterprise, designed for companies with 1,000 employees or more, and UltiPro Workplace for smaller businesses. The company, which has about 1,300 customers primarily in the United States and Canada, announced in the spring of 2012 its new Global HCM solution, giving organizations one system of record for their worldwide workforce.
---
This is the fourth of five articles in a special report looking at the buying of HR technology from a CFO's point of view. Also included are Why Upgrade Your HR Systems?; What Kind of HR Automation Do You Need?; Making a Mess of People-System Purchases, which explores pitfalls to avoid; and Anatomy of a Buying Decision, one CFO's journey to procurement success.