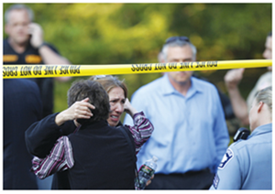 On an August morning outside the Empire State Building, a man shot and killed a sales executive who worked for his former employer, Hazan Imports. Nine other people were injured in the shoot-out between police and the gunman.
In November, an Apple Valley Farms employee gunned down two of his co-workers at a chicken processing plant in Fresno, Calif. Weeks later, a worker at ConAgra Foods in Indianapolis shot and killed his co-worker outside a plant break room.
Such highly public workplace shootings might give employers the impression that workplace violence is growing. In fact, violent deaths in the workplace have remained relatively constant over the past few years, according to data from the Bureau of Labor Statistics (BLS). Still, nearly one out of every five on-the-job fatalities is the result of workplace violence, and these numbers do not include the incidents that employees survive.

Under federal law, enforced by the Occupational Safety and Health Administration, companies have an obligation to provide a workplace "free from recognized hazards." In most industries, OSHA does not mandate that companies have a workplace violence prevention program, but it will issue citations of up to $70,000 to employers that are not properly protecting workers, says Meagan Newman, a senior associate who focuses on workplace safety and health compliance at law firm Seyfarth Shaw. Companies could also be liable for negligent hiring if an employee commits an act of workplace violence, Newman says. "Somebody could claim that the employer did not do enough to ensure that the person they hired would not commit a crime like this," she says.
Unfortunately, there is no one overall solution to workplace violence. Assailants differ depending on the workplace and gender, Newman points out. But employers can take trends into account. For instance, employees of either sex are more likely to die at the hands of an outside attacker than a co-worker. In 2011, 39% of women killed at work were slain by a relative or domestic partner, according to BLS data. With this in mind, employers could train managers to recognize warning signs and offer support and security to employees who need it.
On the other hand, 36% of men killed at work in 2011 died during a robbery. Men often work in fields that are vulnerable to robbery-related homicides, including jobs in delivery and late-night retail, Newman says. In industries like these, OSHA may mandate workplace violence prevention programs.
Companies can also encourage employees to use security systems as intended. "Sometimes part of your program is awareness training for employees, to remind them that the reason we have these measures is not just to make it difficult to come in and out of the building," Newman says. No matter what the preparations, "in all cases, it is less expensive to prevent an incident than it is to deal with the aftereffects," she adds.