Like the rest of the executive team at Steelcase, CFO Dave Sylvester works in an open work space, not an office. Occasionally he'll make a confidential call in one of the shared enclaves, or pace during a conference call at a shared walkstation, a treadmill desk designed by one of the brands within Steelcase. He is just as likely to meet with his staff by teleconference and e-mail as in person, having recently turned about half of his finance team into mobile workers and decommissioned their cubes in the process. "Why dedicate a 10×10 space to someone if they're in that space less than half of their work time?" he asks.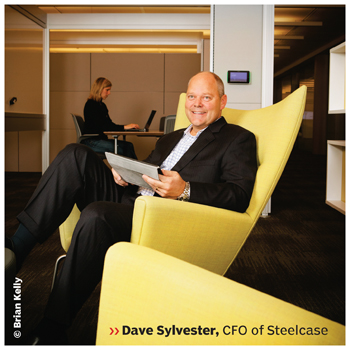 When there are in-person finance meetings at Steelcase, they frequently take place at shared spaces dotted around the workspace in the open plan, rather than in a traditional conference room. A lunch-table-style desk embedded with technology connections and surrounded by high-definition screens might host, say, an accounting team preparing quarterly Securities and Exchange Commission filings, or a group working out a postmerger integration strategy.
As an office furniture and design company, Steelcase is at the vanguard of a growing trend toward open-plan design and shared spaces in the workplace. (The finance team's work area also serves as a prototype for potential customers.) But many companies across all industries are moving along the same spectrum toward the office of the future — which, it turns out, is not much of an office at all. Companies are dramatically reducing the amount of space dedicated to individual workers, even hauling executives out of their corner offices. They're creating hyperconnected versions of Starbucks, allowing workers to plug in anywhere they choose on a given day. Walls are coming down in other ways as well, with conference rooms being replaced by huddle areas and collaboration zones in the middle of high-traffic areas.
With such dramatic changes come benefits — but not always the ones hoped for. Happily, cost savings is generally a given, if only because lower walls mean lower costs. But beyond that, nothing is guaranteed — not increased collaboration, not higher productivity, and certainly not employee satisfaction.
Getting good results from a major office overhaul involves more than choosing the right furniture; it requires strong leadership. "It's a lot about change management," says Anne-Laure Fayard, a professor at the Polytechnic Institute of New York University who has studied the results of corporate space changes for more than a decade. Based on her research, including interviews with managers about office redesigns, she has concluded that "open floor plans, or indeed any type of design, can either encourage or discourage informal interaction, depending on a complex interplay of physical and social cues," as she wrote in a recent Harvard Business Review article co-authored with John Weeks. What often makes the difference: leaders who are able to communicate what the company is gaining by moving to the new space, to set policies as needed to help people adapt to it, and to model the behavior they are expecting to see from others.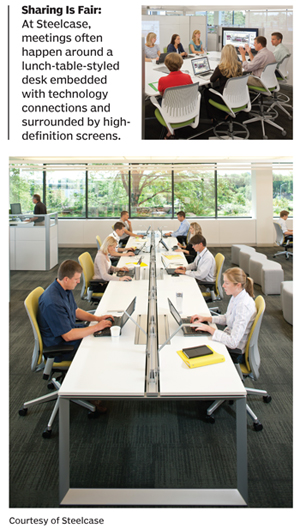 What won't produce the desired results, says Fayard, is "just tearing down walls and hoping people will work differently."
Untethering Finance
At Steelcase, the finance team's work area was one of the oldest in the company, and ripe for change. Before setting out to make a new space, though, Sylvester engaged in months of intense observation, using video and motion sensors to see how his team really worked. What he discovered: despite finance's reputation for being antisocial, team members actually spent less than 40% of the workday at their desks.
The rest of the time, says Sylvester, "we found people collaborating whenever and wherever they could: on windowsills, on file cabinets, and in hallways, and almost always around technology and with other leaders across the business." As a result, he decided to "untether" nearly everyone who didn't have to deal with large volumes of confidential papers. He told them they were free to work wherever they chose — in one of the unassigned spaces at work, adjacent to the business unit they support, or from home, or even from a coffee shop. From an office-design perspective, this meant the finance team would use half the square footage it initially occupied, but would have more access to meeting spots for small groups and other types of workspaces that previously didn't exist.
The change to a wandering workforce was "scary" for many, admits Sylvester, particularly for managers who ended up with teams they couldn't see every day. But he adds that "while it felt like I was pushing them, I was really just enabling what they were already doing."
Today, 18 months into the new environment, Sylvester says the move has had exactly the effects he was hoping for. After an initial exodus, most workers now come to the office regularly to use the tools and technology it affords. Many have moved closer to their business units, increasing and improving the communication along that vector. For that matter the finance team as a whole has a better view of operations, thanks to the fact that the new space is a highlight of customer tours. "One of my goals was to get finance more connected to strategy, and now they're talking with customers every day about our products — what works and what doesn't," says Sylvester.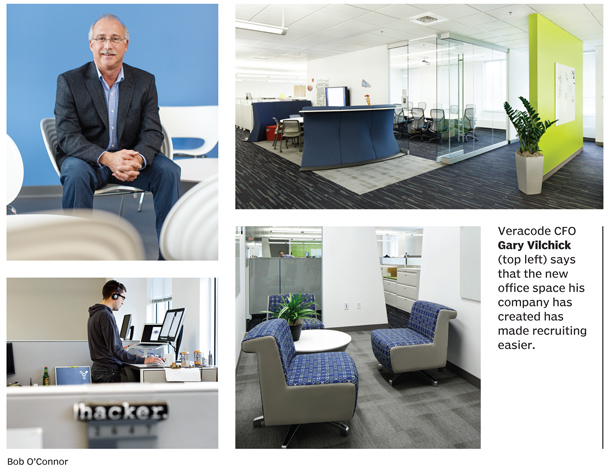 Space and Culture
Few companies can afford such deep research ahead of an office transformation, however, and not every company is ready to cut workers loose on a regular basis. Fortunately, there are some basic rules that serve as useful starting points and hold true in many corporate cultures.
For one, shrinking partitions and cubes without offering alternative spaces that afford quiet and privacy is generally a big mistake. "People may develop coping mechanisms to work in noise, but it's also important to create space where they can go hide," says Martin Powell, president of The Design Alliance, an architecture and design practice, and lead architect for the landmark open-space headquarters that Alcoa constructed in 1997. Such spaces "can be very tiny, but they need to signal that people in them are not to be disturbed."
Indeed, offering a variety of spaces, and the choice that goes with it, is a guiding principle of the most cutting-edge offices, experts say. "What we tried to do 25 years ago was come up with a one-size-fits-all [design]," says Barbara Armstrong, principal and workplace experience strategist with design firm Kahler Slater. "Now we recognize that if employees have a choice about where to go, they can be more productive." What also helps, the experts say, is basic elements like daylight and fresh air, both of which encourage people to stay in the office longer.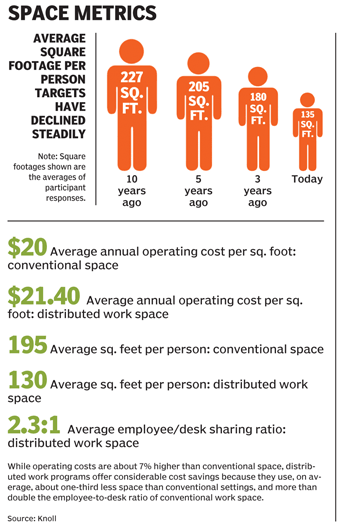 What each company can and should assess for itself, however, is where its corporate culture currently is, and where its leaders want it to go. Burlington, Massachusetts-based Veracode is a rapidly growing application security provider that wants to be seen as both credible (for its Fortune 500 clients) and trendy (for the 20-somethings it is hoping to attract as employees). Moving out of its antiquated space, with six-foot-high cubicles and little natural light, was an obvious choice, says CFO Gary Vilchick, particularly since the company is expecting to achieve nearly $40 million in revenues this year and has doubled its workforce in the past 12 months. But pinpointing exactly what should take its place has been a learning process.
Veracode's executive team set three governing principles for its redesign: collaboration, openness, and transparency. That led to low cube walls encompassing glass, bright colors, and the ability to see almost anyone anytime, which for the most part has energized the staff, says Vilchick. The inside sales team, for example, is now in a centralized space, with desks that can be elevated to standing level and computer monitors broadcasting each rep's real-time ranking. The result is something akin to a Wall Street trading floor.
"It creates a very competitive atmosphere, and they really draw energy from each other," Vilchick says. He also feels that the new space has made recruiting easier, which will lead to financial savings, and may ultimately make sales easier as it becomes more attractive to bring customers into the office and demonstrate the company's capabilities in a sophisticated demo room. "Those kinds of intangibles are hard to quantify, but can really reflect a culture," he says.
But even with all of those benefits, Vilchick was hardly able to sit back and relax once the move was over. Particularly with the product-development team, "we have gone through a big cultural shift, because the distractions that come with more open space can be a productivity killer for them," he says. To help, he has moved that team to a less-trafficked area, and is considering increasing the number of frosted panels at workstations. Still, there's just so much the company can do. "It's probably the hardest question you grapple with when doing a build-out: how do you accommodate the needs of each function while creating as uniform as possible a space?" Vilchick says. Uniformity is important to reinforcing a culture, plus it carries practical consequences: the more similar the spaces, the easier they are to reconfigure as the company grows.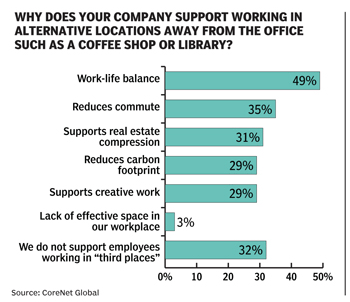 Egalitarianism in Action
Even in the most uniform and open of open office spaces, executives generally get offices. There are plenty of good reasons for that, but still, it can breed ill will among those who have been cast out into what feels like the wilderness.
At Black Duck Software, a fast-growing open-source software and consulting firm, CFO Ken Goldman says the firm "had a very strong desire to create an egalitarian space" in designing its new office space during the summer of 2011 and considered abolishing offices altogether. Although they didn't go that far, executives took a number of other steps to make the space feel more equitable. For one thing, all of the offices are on the interior of the space, meaning employees in cubicles get more of the highly coveted natural light and views. For another, all the offices — including the CEO's — are exactly the same size, and use the same furniture that is in the cubes, with nary a mahogany desk in sight. Fewer people have offices than did in the old space, and an office assignment isn't based on title or position, but rather on whether an employee is managing others. "If you're managing a number of people, chances are you need to have a conversation behind a closed door from time to time," says Goldman.
At the same time, Black Duck added plenty of options for privacy that employees in cubes could take advantage of, such as expanding from 5 conference rooms to 14, and adding five small phone rooms where employees can go to make personal or business calls. Working from home remains an option for most employees when they prefer that over the corporate space. On the flip side, a single large café area at the entry to the office made for a new communal space where casual group interactions are encouraged.
Sounds great, right? But "people still felt like they were losing something initially," says Goldman. Employees were "up in arms" about the cubes being one foot shorter than in the previous office, and about having only one storage pedestal instead of two (even though Goldman's research had shown that candy bars and sneakers were typically the main inhabitants of the storage units). Then there were the efforts to establish territories, with certain departments asking for their own coffeemakers so they didn't have to go to the café area.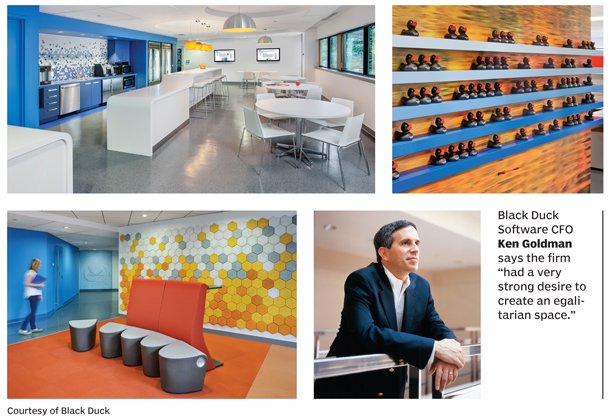 The message that Black Duck executives had to repeat over and over, says Goldman, was this: "Yes, we're taking away some 'me' space, but we're giving you more 'we' space." Along those lines, the CFO decided to nix the request for departmental coffeemakers, to force employees to interact at least occasionally. "Those coffeemaker conversations lead to a lot of creativity," he says. To reinforce the ideas, executives spend a fair amount of time in the café area themselves, with the CEO now known for initiating conversations there.
Quiet, Please
Even with phone rooms and quiet spaces, open-plan offices present the problem of noise. Short of putting up more walls, or redesigning the redesign, there are a number of ways a leadership team can address the distraction factor of minimalist cubes, experts say.
One of the easiest is to sanction practices like the use of headphones as a signal that someone is not available for conversation. White-noise systems or noise scramblers can also help, though they offer "a modicum of change, not a complete change," says architect Armstrong. There are also temporary and pop-up privacy panels, such as those made by BuzziSpace, that can create an office feel almost anywhere.
And then there's always the option of closeting a talker. At analytics firm QlikTech, offices have always followed an open-plan design, says CFO Bill Sorenson. He's never heard any complaints about the noise level being distracting, except once. "We had one person who tended to talk very, very loudly and disrupted everyone, including me," he says, "so we quietly promoted her to an office." Problem solved.
The trouble, of course, is that quiet comes with its own problems. In many offices, employees end up collaborating less in an open space than in private offices for fear of disturbing others, or resorting to continuous instant messaging to carry on non-work-related conversations. Consider the fate of a Manhattan innovation consultancy that temporarily compressed 100 people from four floors onto one floor while waiting for the renovation of its space into an ultraopen version. "At first everyone was very excited that they would all be together," says NYU's Fayard, who studied the firm. "But soon, they were hardly talking at all. Since they saw each other all the time, they would just say hi and never go beyond that."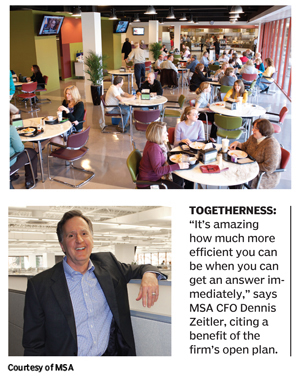 Productivity: An Open Question?
The elephant in the open-plan room is the productivity question. Does putting people closer together actually help them work more collaboratively, hence better and faster, or does it lead to more distractions and less work being done? One answer is that it depends — on the previously mentioned factors like the variety within the space and the quality of leadership around the change, as well as the type of work in question.
Another answer is that no one really knows how to measure the results. Some finance executives say the results are simply obvious. "Productivity is absolutely up," says Dennis Zeitler, CFO and senior vice president of safety-equipment maker MSA, which recently moved to a retrofitted factory with an open plan. While it took about a month for employees to adjust to the new environment, "it's amazing how much more efficient you can be when you can get an answer immediately," says Zeitler.
Veracode's Vilchick says the new space also helps integrate finance better into operations; the three people who have joined his team since the office move have already met more of the staff than they would have in a year in the old space, he says. Black Duck's Goldman uses employee turnover as a proxy: it's about half the rates at other technology firms at similar stages, he says, while employee surveys have provided positive feedback, including the firm being recognized as one of the top places to work in Massachusetts.
Some executives dodge the question, saying they are more concerned with the long-term and indirect consequences of having an outdated space. "When I started my career, it was about how many people you could pack into a space," says Armstrong. "Now we start with issues, like, We want our employees to be happy."
Whatever the goals of an office redesign, all experts agree that the best thing a CFO can do is to be clear about them up front, proactive in communicating them to the staff, and thoughtful about working through the inevitable glitches. "There's no perfect solution, but understanding you have to work on behaviors is a good first step," says Fayard. That, and perhaps a few rounds of musical chairs at the next office holiday party.
Alix Stuart is a contributing editor of CFO.