To businesses that want to expand internationally, the value of a well-known brand cannot be overestimated. Among global apparel companies, VF Corp. has the advantage of owning not just one or two famous brands but a portfolio of them, ranging from Wrangler and Lee to The North Face, Nautica, Vans, and more.
It wasn't always so. When Robert Shearer arrived at VF in 1986 as assistant controller, most of the company's then $3 billion in sales came from intimate apparel and jeanswear. But not long after Shearer became CFO in 1998, VF changed course. "To an extent, the market dictated our changes in strategy," he recalls. "Consumers were beginning to look for brands that understood them — brands for which they could feel an emotional connection, that said something about what they really liked to do. That was the change going on in apparel, and that meant we needed to change VF from a category-driven business to a lifestyle-driven business."
The company succeeded, thanks to a series of acquisitions (and divestitures) in which Shearer played an integral role. Most recently, VF paid $2.3 billion to acquire Timberland in 2011. The company is now ranked 277 on the Fortune 500, with 2011 revenues of $9.5 billion. With a portfolio of more than 30 brands, VF somewhat resembles a consumer packaged goods company, notes Shearer. Recently, the 60-year-old finance chief talked with CFO about the challenges of growing VF's brands around the world.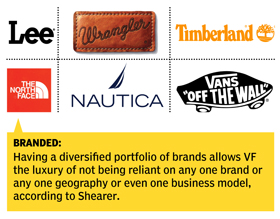 What are the advantages of having a diversified portfolio of brands?
We think it's a significant positive in terms of our overall story. We're not reliant on any one brand or any one geography or even any one business model. It gives us protection against fluctuations that might occur in a given region or in a given brand or category. It's been a great approach for us; we've had a lot of consistency over the years.
Which are the largest brands in the portfolio?
Five are above $1 billion in revenue: The North Face, Wrangler, Timberland, Vans, and Lee. They represent about 70% of our total revenue.
How is the company structured around its brands?
We have five groups of businesses [Outdoor & Action Sports, Jeanswear, Imagewear, Sportswear, and Contemporary Brands] which we refer to as coalitions, and we have strong leaders over each group. We try to capture the synergies made available by grouping those businesses. Most of those synergies are within the back end of the business — manufacturing, supply chain, and distribution — and through other areas like finance and HR. We look at those on a consolidated basis across the globe. However, we're very careful to keep our brands distinct. So we have individual brand owners for every one of our brands, in every region of the world.
How do you decide when to divest a brand? For example, VF recently sold John Varvatos, which sells luxury apparel for men.
It was different from the majority of our businesses. We've been headed toward lifestyle businesses and brands, particularly in the outdoor and action sports areas; our acquisition of Timberland is an example. John Varvatos is a very high-end business, and highly fashionable. It was just a little inconsistent for VF Corp.
We sold our intimate-apparel business, Vanity Fair, a few years back. That was the namesake of VF, so it was a pretty tough decision. But as we looked at the growth prospects for the brand and how intimate apparel was sold — generally from a wholesale standpoint — we didn't see the same opportunity there that we saw in other, more lifestyle-driven businesses.
VF has changed considerably since you became CFO — adding and shedding brands, growing from $3 billion in revenue to $11 billion. How has this affected your job?
We have targeted that in five years, 45% of our business will be outside the U.S., and 22% of our business will be direct-to-consumer. That changes the role of the CFO. Along with an international business comes a lot of complexities and challenges that didn't exist before.
We need to be the absolute closest business partner of our business leaders — to really understand the business, what makes our brands work in various regions of the world, how we make money in every region of the world. We need to understand what direct-to-consumer means to us — which brands are appropriate for that, the size of the stores, where to put the stores. What about e-commerce? What does it take to get that going? In the end, all of these things relate to the profitability and ultimately the share price of a company. We expect not only me but also our [business-unit] CFOs to have a much stronger strategic point of view than ever before.
Of the revenues that will come from outside the U.S. in five years, how much will come from China?
Our total Asian business this year will be around $900 million, and we expect that to grow to $2 billion five years out. A lot of that will come from China.
What are the challenges of selling in the Chinese market?
You really need to understand the cultural differences in China and what that means to a branded business. For example, I'm a big outdoors enthusiast, and when I think of getting outdoors, I think of getting away from it all — you know, doing some mountain climbing. And I'm not alone in that. But in China, there's much more of a social connotation to getting outdoors; it's something to be shared with friends. So if we advertise our North Face brand about getting to the top of the highest mountain, it just won't resonate.
Another example is Vans, [which is associated with] skateboarding. Skateboarding is thought of as being somewhat dangerous in China, so we build off the Southern California lifestyle a little more than we might in the U.S.
We've gone into consumers' homes in China and actually gone into their closets. We just talk about why they bought this and that, what's important to them, what they wear more often and why, and so on.
You mentioned that it's important to understand how the company makes money. In its latest annual report, VF declares that total shareholder return "drives decisions made every day." Why is TSR so important?
The reason we put a lot of emphasis on total shareholder return is because it's the number-one metric that shareholders use. If it's really important for our shareholders, it needs to be important for the people who are running our businesses.
We went through an education process in terms of the drivers of TSR — in other words, the drivers of a higher P/E [price-earnings ratio]. We did a lot of correlations with different metrics, and we found that gross margin had the strongest correlation with P/E: the higher the gross margin, the stronger the P/E. And there's good reason for that. Gross margin is very representative of the equity of the brand, that it will earn a great return and be able to record sustainable growth.
So TSR helps shape our portfolio, but even more important, it's a great measure when we have discussions with our businesses. It puts shareholders at the top, where they need to be. It leads to really good conversations in terms of building our plans and making sure we are driving businesses toward the right goals and challenges.
Last question: What parts of your job do you personally find the most rewarding?
One is developing the growth strategies that we've been employing around the globe, seeing them come to life. I also really enjoy telling our story to investors; that's a very important part of my role. We've got a great story, and it's fun to tell.