Remember the summer of 2008? On the brink of the financial crisis, all anyone could talk about was the price of gas. The market meltdown and recession brought an end to those conversations and provided some relief from the steady upward climb of commodity prices (although clearly raising a slew of other problems). Now, that relief has officially dissipated.
With gas close to $4 per gallon and other critical commodities up substantially from their 2010 prices (despite sliding in August), 87% of finance chiefs say they are concerned about inflation's potential impact on their business, according to CFO magazine's latest quarterly Deep Dive survey. And 59% say their companies have already been directly affected, citing a hike in the price of everything from steel to fertilizer.
While a majority — 68% — of the 150 finance executives surveyed say they are only somewhat concerned about inflation, 23% are very concerned. Just 9% say they are not very concerned. Rising energy costs are the most worrisome, followed by rising interest rates, a concern that seems likely to fade, given the Federal Reserve's summer pledge to keep the federal funds rate near zero into 2013. Metal prices, other commodities, and labor costs tie for third place.
"We've seen our expenses rise with fuel and shipping costs increasing, and of course our health insurance [has gone up]," says Laura Beverly, finance chief at Half Price Books, a Dallas-based chain with stores in 17 states. "Our expenses are rising and I know consumers are feeling the pinch, too."
Tim Wissner, CFO at Windermere Services, a real estate firm based in Seattle, says rising food and energy prices have taken a toll on his business. "As people are trying to recover from the recession, they're not really making ground on wages, because they're losing any increases to pay for gas," he says. As a result, many would-be buyers are hesitant to move to larger homes outside of the city, because of the cost of the commute. Low interest rates have been helpful for realtors, but a spike in rates could actually spur business, adds Wissner, as people might rush to buy homes before rates climb higher. Right now, with rates low and prices flat, there isn't much driving people to buy, he says.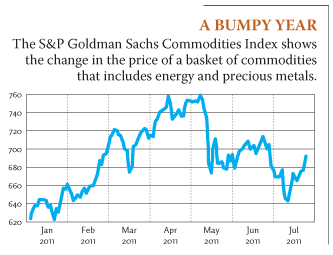 What to Do?
While Wissner has little control over the external forces affecting the real estate market, other finance executives are making changes where they can (see "Going for the Other Green"). Like many of her fellow CFOs, Beverly is hesitant to raise prices, given the weakness of the economy. Nonetheless, she says, "We're constantly looking at our pricing. One thing we did was, where we had price points ending in 98 cents, we bumped them up to 99 cents. It's a very small increase to the customer, but it will make an impact on our bottom line." The company is also considering some larger price increases, but Beverly points out that the company's name means that there's a ceiling — merchandise must remain half price or cheaper.
Forty-five percent of CFOs say their companies have raised their prices in response to rising costs, boosting them just over 5% on average. Nearly 40% have negotiated with suppliers to attempt to address their costs, 11% have hedged commodities, and 9% have added surcharges to their bills, charging customers directly for fuel or other specific costs.
Still, 54% of finance chiefs say their companies have absorbed their higher costs rather than passing on price increases. Many say they are afraid to raise prices and cause sticker shock among their customers. Writes one respondent: "There is a delicate balance between our increased cost and keeping the customer happy…. We could lose core work if we're not careful." Other finance chiefs say they are in regulated industries where prices are set at a certain level and are inflexible.
Competition also poses an impediment to price hikes. Another CFO writes: "We are in the capital-goods industry. With a weak economy, there are a lot of 'hungry' suppliers willing to discount, and the competitive pressures have not allowed for price increases to match our cost increases."
To offset the costs that are eating away at their margins, finance executives are searching yet again for ways to increase their businesses' efficiency. Beverly says Half Price Books is reviewing all of its stores' operations and trying to promote some of the practices of the chain's most profitable locations to other stores. She is scrutinizing employee benefits as well, although, she says, "we are very hesitant to do anything that affects employees in a negative way."
Some of those who have resisted raising prices thus far say they won't be able to do so much longer; nearly 15% of finance chiefs say they can continue to absorb their increasing costs for only three months or less. But another 54% plan to take the margin hit for another six months or more.
As for the lucky few who haven't felt the impact of inflation in the past 12 months, just 10% say they don't expect to be affected in the future, while 26% aren't sure. The rest anticipate some inflationary effects within the next two years. Of course, a lot can change between now and then. And that uncertainty may pose an even bigger challenge for CFOs than inflation itself.
Kate O'Sullivan is a deputy editor of CFO.
---