Donald Trump is the overwhelming choice for the next president of the United States among finance executives and other CFO readers, with about 55% of 576 respondents favoring him compared with about 35% for Hillary Clinton.
The real estate businessman was also the respondents' preferred choice on eight out of nine selected issues, with the former U.S. senator and secretary of state besting Trump only in the area of climate change, 40% to 34%.
Those who answered The CFO 2016 Presidential Election Survey during the week of September 4 preferred Trump over Clinton by a huge margin on the issue of corporate taxes, 61% to 23%. On his website, the Republican nominee says he would curb taxation of business income to 15% in contrast to the current 35% maximum and would make corporate tax rates "globally competitive and [make] the United States the most attractive place to invest in the world."
Clinton's website, on the other hand, says that "Corporations don't need another tax break" and that as president she would "crack down on companies that shift profits overseas to avoid paying their fair share in U.S. taxes."
Asked to elaborate on their answers to the survey, some respondents were less than enthusiastic about the choice this November 8. "Terrible. I don't really embrace either candidate," said Deborah S. Gardner, finance director, Responsive Holdings Group, a personal lines insurance company in Plantation, Fla.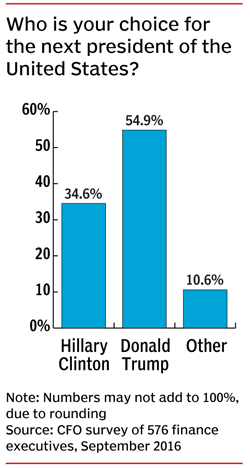 "I do believe, however, that Hillary will be Obama on steroids, and I do not approve of the regulations that have been imposed by this administration. I think they're over the top, especially for small businesses," says Gardner, who indicated on her survey that she favors Trump, although she feels he's still a "wild card."
Similarly, Clinton supporter Todd K. McCoy, vice president of finance and risk management at the University of Kentucky Federal Credit Union, Lexington, Ky., says the choice in this election is between "mediocre/normal and unpredictable."
While "I'm not going to tell you I'm a huge Hillary Clinton fan," he says, "she probably has the experience in government and understands how it works, so that I don't think we would have the upheaval we might have under a Trump presidency."
Although Steve Underhill, the treasurer and controller of R.O. Whitesell & Associates, a Carmel, Ind.-based electronics manufacturers' representative firm, favors Trump, he summed up the views of many survey respondents this way: "I think it's an absolute shame that in a country the size of ours and with the history of ours that we're down to these two candidates for president."
CFO survey respondents, who largely consisted of senior finance executives but also included controllers and risk and accounting executives, also favored Trump over Clinton by big margins on the issues of homeland security (56% to 31%), health care (52% to 33%), and energy policy (52% to 34%).
Concerning health care, a large number of respondents called for renunciation, restructuring, or repeal of the Affordable Care Act, or Obamacare, in answer to the question "If the incoming president could sign one major piece of legislation in his or her first year, what would you want it to be?"
On her website, Clinton says she would "Defend and expand the Affordable Care Act, which covers 20 million people, and make a "public option" possible. On his site, Trump says, "On day one of the Trump Administration, we will ask Congress to immediately deliver a full repeal of Obamacare."
Gardner feels the ACA has hit small businesses hard, with her company a case in point. She notes that the insurance firm will this year exceed 50 employees for the first time, which would make it subject to Obamacare regulations. Reaching that headcount "should be an exciting thing," rather than something to worry about, she said.
In anticipation of being subject to the rules, the firm has outsourced its entire payroll and benefits processing operation to ADP because it would rather be focusing on its core business rather than "stupid compliance issues, where you've stubbed your toe on some minor issue, even though your intent and your spirit was to comply with the law," Gardner added.
On the issue of climate change, the only one in which Clinton scored higher with CFO's readers than Trump, Clinton declares that it represents "an urgent threat and a defining challenge of our time." On the first day of her administration, she adds, she would "set bold, national goals" including the installation of half a billion solar panels, the elimination of energy waste by a third, and the reduction of American oil consumption by a third.
For his part, Trump says he would "[r]escind all the job-destroying Obama executive actions including the Climate Action Plan and the Waters of the U.S. rule"; "[s]ave the coal industry and other industries threatened by Hillary Clinton's extremist agenda"; and cancel the Paris Climate Agreement.
A number of survey respondents saw the election through the lens of the economic difficulties of their regions. McCoy, the Kentucky credit union executive, offered this advice to the next president on his survey form: "Build things.  We need things, and people need good jobs."
Acknowledging in an interview that the federal government has "borrowed a lot," he says that it could "could borrow a little bit more and spend money fixing some bridges, fixing some roads that will actually be more of a concrete effort to bring back some real blue-collar jobs."
The construction and engineering skills needed to perform such big public projects would provide a bigger boost to the economy, "rather than just contributing to a financial system that is really just supporting stock prices right now," he added.
McCoy thinks the nation's top legislative priority is to enact a bill that would provide substantial funding for infrastructure improvement. He acknowledges that the central Kentucky region where he works, which abounds in hospitals and universities and has a number of large corporations, has enjoyed a "relatively decent, steady economy."
But in the eastern, rural, part of the state, coal production "has gone away, and I don't think it's going to come back," he said. To build roads and other forms of access to that region would be essential for other industries to replace coal production there, according to McCoy.
In Michigan, the CFO of a manufacturing company that takes in $20 million in annual revenues feels that "the whole NAFTA policy of the 1990s has ruined manufacturing in the Great Lakes area of the United States." He indicated his support for Trump on the survey.
What Hillary Clinton didn't talk about when she spoke in Michigan after the Democratic primary was "the unopened manufacturing facilities that she passed," according to the finance chief, who did not want to be identified. "She was gloating at the one that she was at, which was a relatively new facility."
Many assert that the North American Free Trade Agreement and other free-trade policies of President Bill Clinton, which are commonly linked to Hillary Clinton as well, led to the loss of manufacturing and jobs in the United States. "She passed hundreds of other locations that were boarded up," said the CFO, who blames Congress, including Clinton when she served as a U.S. Senator, for supporting those policies.