Tuesday was this year's "Equal Pay Day," its date purportedly representing how far into the new year women have to work to catch up with the amount of money men earned in the prior calendar year.
Across the country and around the world, women (and some men) wore red clothing to symbolize that women are "in the red" with their compensation, compared with men.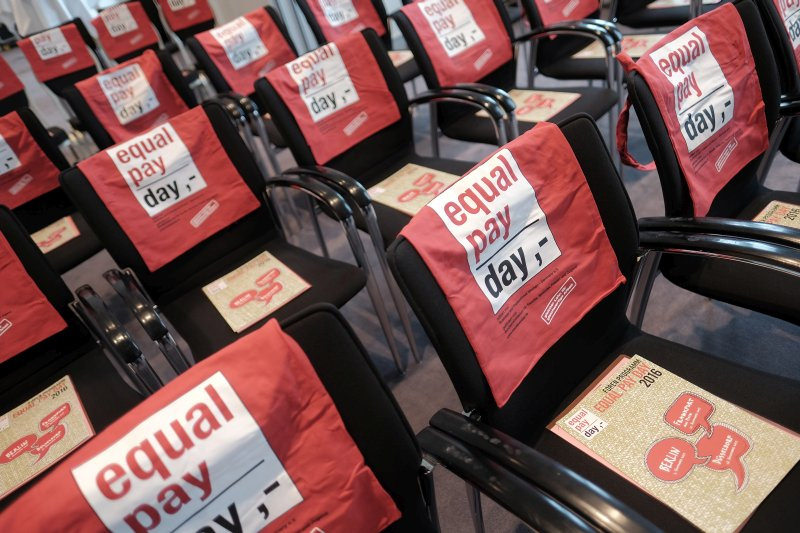 But according to a new analysis from talent strategy firm Korn Ferry, in one sense the genders are paid rather equitably.
Korn Ferry researchers analyzed information in the firm's PayNet database, which it claims is the world's largest compensation database. The study looked at gender and pay for more than 1.3 million employees at 777 U.S. companies.
Overall, the study found that in 2017, on average men were indeed paid 17.6% more than women, which was in line with other research on the subject. (According to that figure, Equal Pay Day actually should have occurred about a month earlier.)
However, when evaluating employees at the same job level — "director," for example — the gap fell to 7%. Further, looking at people at the same job level at the same company, the gap further reduced to 2.6%.
And for men and women with the same-level job at the same company and also working within the same function, there is virtual pay parity, with the gap amounting to just 0.9%.
That women's overall average pay is so much lower than men's "is a real, significant issue," says Maryam Morse, a senior client partner at Korn Ferry, "but it doesn't paint a complete picture."
Of course, a complete picture would show that fewer women hold highly remunerative positions, which accounts for most of the big overall earnings gap.
Morse called on employers to "strive to increase the percentage of women in the best-paying parts of the labor market, including the most senior roles and functions such as engineering and technical fields."
Photo: BPW Germany, CC BY-ND 2.0. No changes were made to the original.