From his vow to shred the current regulatory framework to championing a major cutback in corporate tax rates, President Donald Trump made a number of promises during his campaign for office that positioned him as business-friendly.
Companies didn't have much to say, at least publicly, about another idea he floated: "a total and complete shutdown of Muslims entering the United States until our country's representatives can figure out what's going on."
But in response to the new president's Jan. 27 actions that go part of the way toward that stated intention, including his ban on inbound travel from nationals of seven countries, the corporate community is starting to push back against their presumed ally.
On Monday, 97 companies, most of them in the technology field, signed a motion in support of a lawsuit against the travel ban brought by the attorneys general of two states, Minnesota and Washington.
The companies include such heavy hitters as Apple, eBay, Facebook, Google, Intel, Microsoft, Netflix, Salesforce.com, and Uber.
As of this article's posting, the travel ban was on hold, following rulings in favor of the plaintiffs by a federal district court and the 9th Circuit Court of Appeals. The latter merely declined to immediately issue a final ruling, pending receipt of additional evidence in the case. Most observers of constitutional law are betting, however, that the legal challenge will shortly land in the Supreme Court.
The motion signed by the 97 companies — an amicus curiae (or friend-of-the-court) brief — states that the president's order "hinders the ability of American companies to attract great talent; increases costs imposed on business; makes it more difficult for American firms to compete in the international marketplace; and gives global enterprises a new, significant incentive to build operations — and hire new employees — outside the United States."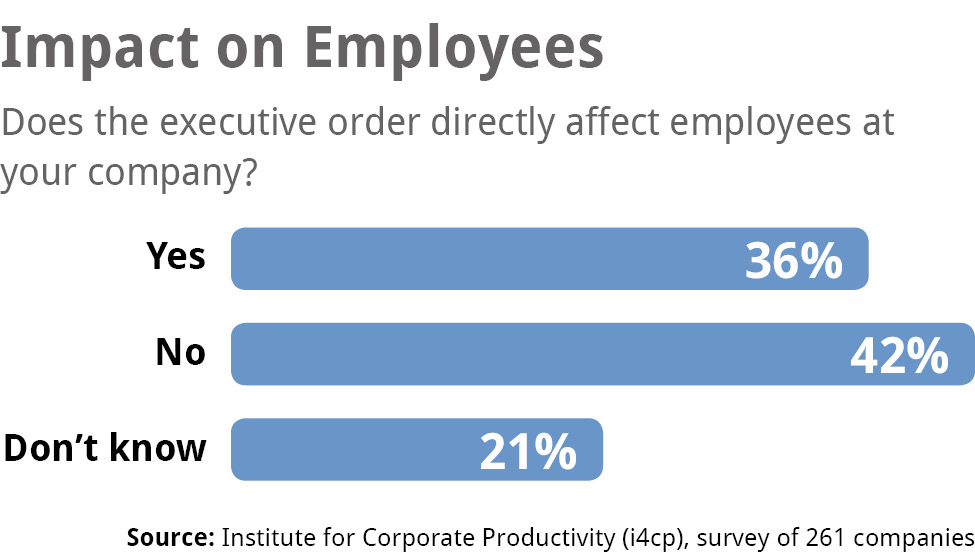 Meanwhile, the Institute for Corporate Productivity (i4cp), a research organization, revealed the results of a poll showing that a large minority of companies are experiencing effects from the travel ban. The 261 participants included representatives, mostly human resources executives, of the i4cp's member organizations (mostly Fortune 1000 and Global 1000 companies), its partner organizations, and large government agencies. More than a third of the respondents said their organizations have employees that are directly affected by the president's executive order. (See "Impact on Employees," above.)
Also, almost a quarter of those polled said they anticipate the order will have a negative effect on organizational productivity this year. (See "Impact on Productivity," below.) Many more companies than that may ultimately end up experiencing a negative impact, however, as more than 40% of the participants said they were either undecided or didn't know what impact the travel ban would have.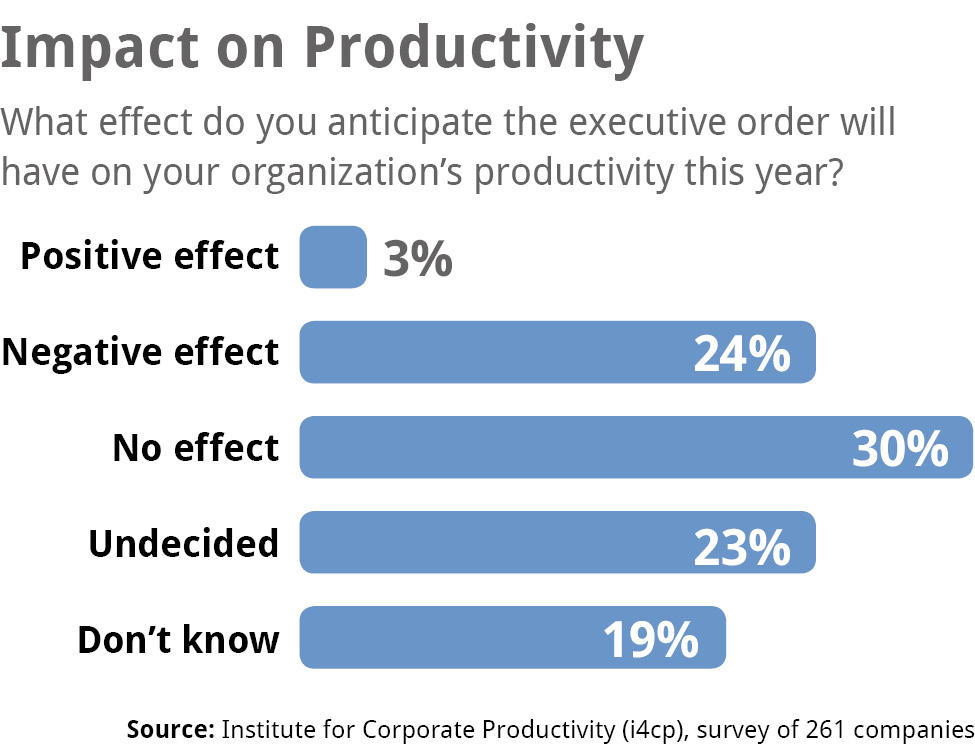 "These are large organizations, many of which have expatriates working in other countries and employees with green cards that they didn't know about," says Kevin Martin, chief research officer for i4cp.
In fact, Martin notes, in many cases companies don't know who is affected or will be. That's because while employees are managed in human resource information systems, contractors are often managed in vendor-management systems. "They literally have to have people self-identify that they're affected" by the executive order, says Martin.
"Think about their ability to move talent around, which for many companies is critical to growth," he adds. "Maybe there's a certain project that only one person has the right knowledge for."
Respondents didn't necessarily indicate that large numbers of employees are affected. Despite the size of the organizations polled, 42% of those that said employees are affected put the number of affected employees at 20 or fewer. For 63%, the number was 100 or fewer. And 27% said they didn't know how many were impacted.
Still, the issue appears to be of great concern to many companies. Martin says that in a Friday conference call with eight large companies, all said the travel ban and the potential impact on productivity has taken on a significant sense of urgency.
"The travel ban is one thing, but the bigger thing is a general uncertainty," says Martin. "These companies don't know what else may be coming their way. On the call, we talked about the need for companies to start doing different kinds of scenario planning, to think about and plan for scenarios that are almost unthinkable."